Word on the BLOCK: 30th September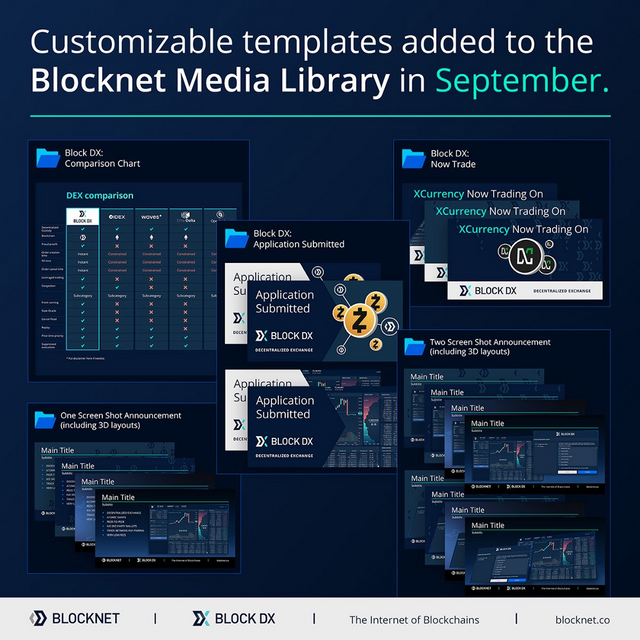 Hello everybody and welcome to the latest (and slightly different) Blocknet newsletter! We are trying out a modified format due to community feedback and internal discussions about the newsletter. These changes will help to streamline Word on the BLOCK and remove some unnecessary repetition. Let us know what you think in the Discord #feedback channel! This newsletter is released twice per month to keep the community up-to-date on what is happening with Blocknet. You can view all previous newsletters here.

A new wallet has been released: 3.10.4. (This will shortly be updated to the 3.10.5 version. — See below for more details) This release is required for Service Nodes and anybody using XBridge or Block DX. This update is to improve trader and Service Node order handling and performance. Any orders placed with the old wallet will not be visible after updating. Orders will need to be replaced after upgrading. You can download the new wallet here.
Final updates are being made to the new wallet (3.10.5), which will need to undergo final QA. The redesigned version of the wallet will have the Transaction History and Address Book screens completed. This update is expected to be released by October 3rd.
All Block DX related roadmap items have been completed and are undergoing final QA before the scheduled release tomorrow. This release includes the ability to place and view orders of any market pair in terms of BTC prices and the integration of trade history to provide a 24hr price chart.
An intermediate roadmap with new milestones will be released tomorrow with a full Q4 roadmap released later in the week.

Blocknet brand lead cryptoved was invited to participate at the IBM Blockchain Summit in Los Angeles. It was a very productive event, and cryptoved was able to make a few notable connections for Blocknet. You can read all about the event here.
Various marketing templates have been created for the community to utilize. In a matter of minutes we can make announcements, Block DX graphics, comparison charts and more. In the spirit of decentralization, these templates will be pushed out to the community in October so anyone can be a part of Blocknet's graphic creation! All you need is Photoshop. You can check out a preview of the templates at the top of this newsletter and view a video to see how easy and fast it will be to create graphics with these templates. Check it out here.


Episode 2 of The Internet of Blockchains Podcast, hosted by @scott_wehman, has been released. Featured in this episode is an interview with Blocknet Strategic Advisor Dungor. The podcast is a community driven initiative to create an accessible podcast that discusses Blocknet, interoperability, and the future of crypto. Listen on Libsyn, Apple Podcasts, YouTube, or the Blocknet compatible LBRY.

The proposals for Superblock 604800 can now be viewed here. Voting will close on block 601920, but your node must remain active until block 604800 for your vote to count.
The current live (and previous) votes can be viewed on block-node.info.
Please note, proposals are being submitted to the forum individually so please make sure you scroll down and take your time to look over each proposal.
An introduction to Superblocks and a guide to submitting and voting for proposals, can be found here. There is also a proposal category in the Blocknet Discord for focused and specific discussion of proposals and ideas. Within this category, there is a channel called #anon-snode-feedback for Service Node owners to provide anonymous feedback on proposals.
For Service Node notifications such as critical updates or voting reminders, join this mailing list. (Separate to the Word on the BLOCK newsletter email list).
Blocknet Service Node stats can be viewed on Master Nodes Pro, on Masternodes Directory, and on Block Core.

The Blocknet Protocol currently supports 92 blockchains, all of which can be traded on Block DX. A full list of the supported blockchains can be found on the Blocknet's Coin Hub. In addition to this list, there are another 27 blockchains that will be released when announcements resume in October. You can also view the current prices, ranking and market cap of of these assets (including BLOCK) on the same page.
A constantly updated list of compatible blockchains can be found here.
125 blockchains are in progress for error resolution + finalization.
Besides Block DX, BLOCK is also listed on the following exchanges: Bittrex / CryptoBridge / UPbit / CoinSwitch / Cryptopia

Many thanks for reading. We hope that you are as excited as us with what the future holds for Blocknet. A decentralization project fundamentally requires an engaged community, and so if you would like to help with anything, have something to add, use your professional skills or have a problem, we want to know about it.
Please also be aware that a community project is run by a diverse group of people with varying time-constraints (in a number of time-zones) and personal lives, so remember to be kind and patient!
If you want to be the first see these updates, you can receive the newsletters directly to your email by subscribing here. Our next update is due on October 15th. Until then we look forward to hearing from you!
Sincerely,
The Blocknet Team.
— — — — — —