Word on the BLOCK: 30th October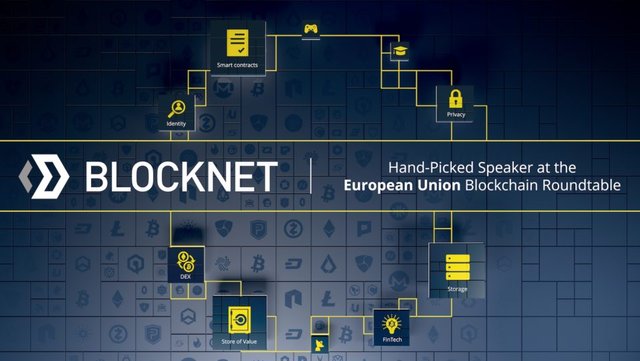 Hello everybody and welcome to the latest Blocknet newsletter! This newsletter is released twice per month to keep the community up-to-date on what is happening with Blocknet. You can view all previous newsletters here.

Ethereum - ETH is now testing on testnet. Further work on security and merging is still required. There is no estimate for completion at this time. Blocknet's technology stack is in continuous development, and the project has a high demand for talented developers. Ethereum developers are invited to contact Blocknet if they want to contribute.
CloudChains Inc. (a separate entity from Blocknet) will be creating a lite multi-wallet dApp which uses XRouter's multi-chain SPV. Development is scheduled to begin Q1 2019. The dApp will utilize a serverless architecture by hosting microservices on XRouter's plugin system (XCloud) to provide functionality. XCloud allows developers to run decentralized serverless functions with the ability to interact with blockchains for microtransactions and monetization. Development on the lite multi-wallet is scheduled to begin Q1 2019.
Gitian builds have been updated to use newer packages. (Boost, QT, Openssl)
The updated roadmap will be released shortly with a new format.

Blocknet has just attended the E.U. Blockchain Roundtable Event. Blocknet was excited and honored to receive this invitation as it recognizes Blocknet as leaders in blockchain, interoperability, and the future of the blockchain ecosystem. Blocknet Co-Founder Arlyn Culwick and Blocknet Strategic Advisor Alexander Koch presented at the roundtable on the topic of overcoming IT infrastructure challenges and addressing the question of whether current IT infrastructure can support a large-scale move to Blockchain. You can read the full details here and read the text version of the speech that was delivered here.
Blocknet Strategic Advisor Alexander Koch will be attending the Malta Blockchain Summit on the 1–2 November.
Blocknet Co-Founder Arlyn Culwick will be attending Devcon4 in Prague on the 31st october — 2nd November.
Blocknet will have a booth at the North American Blockchain Expo on the 28th — 29th November. Come and say "hi" at booth 690.
The Coin Portal MVP is being launched on October 31st. A public-facing website spec and press release will be created to showcase the capabilities of the website's infrastructure.
A Marketing Roadmap is underway. A limitation to traditional quarterly marketing plans is that they don't allow for changes due to roadmap adjustments and product development. To enable more flexibility, Brand Leads are focusing on a roadmap that can show goals while also being dynamic to account for changes in the market and evolving product development.
Several articles are in the final stages of editing in preparation for the marketing push for Block DX. In addition, promotional, walkthrough and trading videos for Block DX are also being planned.



The proposals for Superblock 648000 can be viewed on the website or directly in the proposal forum. Voting will close on block 645120, but your node must remain active until block 648000 for your vote to count.
The current live (and previous) votes can be viewed on block-node.info or within the Proposals screen of the wallet.
Please note, proposals are being submitted to the forum individually so please make sure you scroll down and take your time to look over each proposal.
An introduction to Superblocks and a guide to submitting and voting for proposals, can be found here. There is also a proposal category in the Blocknet Discord for focused and specific discussion of proposals and ideas. Within this category, there is a channel called #anon-snode-feedback for Service Node owners to provide anonymous feedback on proposals.
For Service Node notifications such as critical updates or voting reminders, join this mailing list. (Separate to the Word on the BLOCK newsletter email list).
Blocknet Service Node stats can be viewed on Master Nodes Pro, on Masternodes Directory, and on Block Core.

Coin announcements will resume on the 15th of November.
The Blocknet Protocol currently supports 92 blockchains, all of which can be traded on Block DX. A full list of the supported blockchains can be found on the Blocknet's Coin Hub. You can also view the current prices, ranking and market cap of of these assets (including BLOCK) on the same page.
In addition to this list, there are another 36 blockchains that are unannounced.
A constantly updated list of compatible blockchains can be found here.
130 blockchains are in progress for error resolution + finalization.
Besides Block DX, BLOCK is also listed on the following exchanges: Bittrex / CryptoBridge / UPbit / CoinSwitch / Cryptopia

Many thanks for reading. We hope that you are as excited as us with what the future holds for Blocknet. A decentralization project fundamentally requires an engaged community, and so if you would like to help with anything, have something to add, use your professional skills or have a problem, we want to know about it.
Please also be aware that a community project is run by a diverse group of people with varying time-constraints (in a number of time-zones) and personal lives, so remember to be kind and patient!
If you want to be the first see these updates, you can receive the newsletters directly to your email by subscribing here. Our next update is due on November 15th. Until then we look forward to hearing from you!
Sincerely,
The Blocknet Team.
---