Word on the BLOCK: 30th November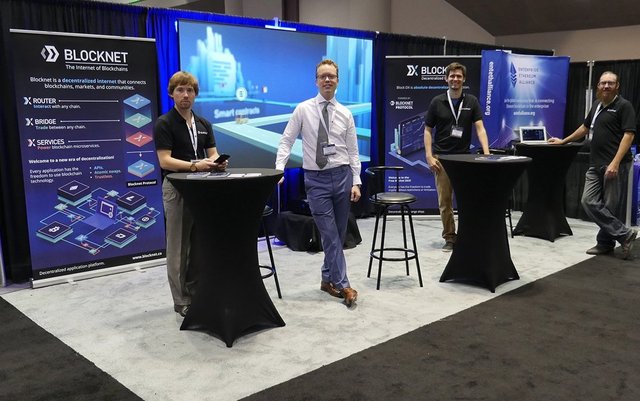 Hello everybody and welcome to the latest Blocknet newsletter! This newsletter is released twice per month to keep the community up-to-date on what is happening with Blocknet. You can view all previous newsletters here.

An updated version of Block DX was recently released. This release includes the ability for Block DX to pull updated configuration files directly from Github when performing the setup. This allows for configuration updates and new listings to be available without updating the app. Also included is a revamped 'my orders' table for overall better clarity with updated column headings, improved datetime stamp, and the market the orders were placed in. After community feedback, a way to distinguish your own orders in the orderbook has been added, as well as an error displayed if you try to take your own orders. Check out the full details with download links.
The first ever demonstration of a decentralized lite multi-wallet took place at the North American Blockchain Expo! The lite multi-wallet was built by Cloudchains Inc. and powered by Blocknet's XRouter and is 100% serverless! This is the blockchain ecosystem's first ever decentralized lite multi-wallet! Stay tuned for more information next week.
A demonstration of Ethereum, Syscoin, and many other blockchains running on XRouter also took place at the Expo. XRouter is a decentralized inter-blockchain SPV client (or "lite wallet") backend, enabling the verification of blockchain records from any blockchain without needing the blockchain in question to be installed locally (read more about XRouter). Those that came by and witnessed the demonstrations were visibly pleased and excited for the technology being developed and the capabilities it enables.
The wallet is undergoing final QA for all items to be included in the next release. If no issues arise, the release can be expected next week.
The updated roadmap will be released on Monday. This updated roadmap has a new format to provide a better outlook on the project as a whole with various product tracks and milestones.

Following our attendance at the E.U Blockchain roundtable event, the ICPS has invited us to create a second EU government roundtable, this time aimed specifically at blockchain interoperability and agreeing to an interchain standard. This will be explored further in the coming months.
Blocknet representatives attended various Blockchain events in Malta, Prague and Berlin. These events were very productive and resulted in many interesting leads: crypto market-makers, investors in interchain technology, and an experienced IEEE Blockchain engineer. These will be pursued in due course.
Blocknet recently attended, sponsored, and spoke at the North American Blockchain Expo in Santa Clara, CA. While attending, a live Block DX trading demonstration took place with the following wallets: Blocknet, Litecoin, Syscoin, Odin, Vitae, Helium, and Bulwark. Those that came by and witnessed the demonstrations were visibly pleased and excited for what was being developed. A full report on the expo is coming next week.
Arlyn Culwicks presentation at the expo was recorded. Titled "Blockchain interoperability and the inter-chain era: how decentralized API's will transform the internet", it will be released in December.
Coin Announcements 2.0 began last week with the announcements of ODIN last week. Block DX is ODIN's only exchange right now, and their community was excited to be able to trade. We welcome their community and developers to the Internet of Blockchains and encourage them to check out the ODIN Portal to get promotional material and start trading ODIN on Block DX! Read more here. The Blocknet Support Team received a lot of feedback on tweaks that would improve the experience for new communities, so Coin Announcements 2.0 will continue with the coming Block DX release.


Discord member @littleeagle has added a new Governance page to blockdx.co to view information on in-progress proposals, including the proposal name, a link to each proposal, the cost, start and end blocks, current vote tally, and if the proposal is currently passing or not.

The proposals for Superblock 691200 can now be viewed here. Voting will close on block 601920, but your node must remain active until block 688320 for your vote to count.
The current live (and previous) votes can be viewed on block-node.info or within the Proposals screen of the wallet.
Please note, proposals are being submitted to the forum individually so please make sure you scroll down and take your time to look over each proposal.
An introduction to Superblocks and a guide to submitting and voting for proposals, can be found here. There is also a proposal category in the Blocknet Discord for focused and specific discussion of proposals and ideas. Within this category, there is a channel called #anon-snode-feedback for Service Node owners to provide anonymous feedback on proposals.
For Service Node notifications such as critical updates or voting reminders, join this mailing list. (Separate to the Word on the BLOCK newsletter email list).
Blocknet Service Node stats can be viewed on Master Nodes Pro, on Masternodes Directory, and on Block Core.

The Coin announcements 2.0 campaign was recently launched. To kicks things off, ODIN was recently announced as being compatible with Blocknet and ready for trading on Block DX! We welcome their community and developers to the Internet of Blockchains and encourage them to check out the ODIN Portal to get promotional material and start trading ODIN on Block DX! Read more here.
The Blocknet Protocol currently supports 93 blockchains, all of which can be traded on Block DX. A full list of the supported blockchains can be found on the Blocknet's Coin Hub. You can also view the current prices, ranking and market cap of of these assets (including BLOCK) on the same page.
In addition to this list, there are another 22 blockchains that are unannounced.
A constantly updated list of compatible blockchains can be found here.
123 blockchains are in progress for error resolution + finalization.
Besides Block DX, BLOCK is also listed on the following exchanges: Bittrex / CryptoBridge / UPbit / CoinSwitch / Cryptopia

Many thanks for reading. We hope that you are as excited as us with what the future holds for Blocknet. A decentralization project fundamentally requires an engaged community, and so if you would like to help with anything, have something to add, use your professional skills or have a problem, we want to know about it.
Please also be aware that a community project is run by a diverse group of people with varying time-constraints (in a number of time-zones) and personal lives, so remember to be kind and patient!
If you want to be the first see these updates, you can receive the newsletters directly to your email by subscribing here. Our next update is due on December 15th. Until then we look forward to hearing from you!
Sincerely,
The Blocknet Team.