Word on the BLOCK: 30th June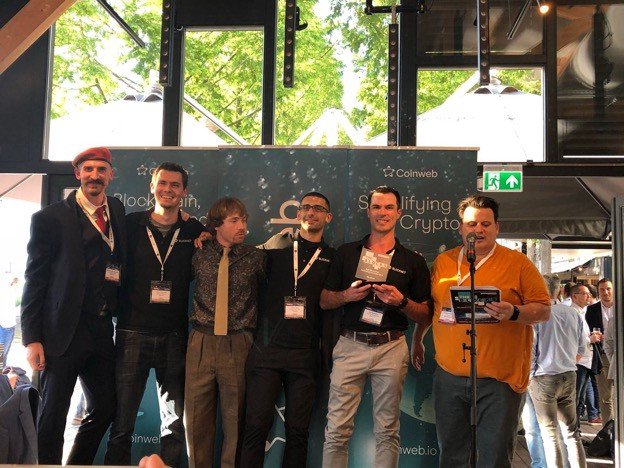 Hello everybody and welcome to the latest Blocknet newsletter update of 2018! This newsletter is released twice per month to keep the community up to date on what is happening with Blocknet. You can view the previous newsletters here.


Blocknet recently won the "Best blockchain developer of 2018" at the Block Awards in Amsterdam. From over 250 applicants, the judges felt that Blocknet is the most revolutionary advancement in blockchain technology in 2018. The team are extremely proud of this achievement. A big thank you to the judges and our fantastic community!
The brand new Blocknet wallet was released yesterday. Check out the details here.
The Alpha version of XRouter will be released on mainet in the next 48 hours! Stay tuned to social media for details.
Now the public poll for interest in various roadmap items is complete, the updated roadmap will be released next week.
Automated set up of Block DX continues to be worked on.

An article on how the Blocknet will help facilitate a digital revolution in the Blockchain space was published on CCN. Check it out here.
A Marketing Organization Framework document has been created by the brand leads and the marketing cell. This was inspired by recent community discussions. The purpose of the document is to set out the path for the expansion and scaling of Blocknet marketing efforts by utilizing the talent and passion within the community. Check out the framework document here.You can either leave your feedback in the discord projects-general channel or anonymously via a google form that is linked in the document itself.
Official coin announcements are continuing. Each of these coins are supported on the Blocknet Protocol, making them ready for cross-blockchain dApps, and tradable on the Block DX Decentralized Exchange. We are announcing roughly one coin per day with the hashtag: #coinaday across our social media. The most recent recap of coin announcements that are ready for the internet of blockchains can be found here. We are continuing to build relationships with these coins, and are excited about working together more in the future.
The updated Roadmap will be released next week.
Members of the Blocknet team will be attending the following events:
San Jose, California Blockchain Expo on 28th — 29th November.
Community member and Blocknet strategic advisor Dungor, will attend the Malta Blockchain Summit on the 1st — 2nd November.
Other events are being explored and planned.

Member piepie is continuing to work on a multiwallet that incorporates SPV via XRouter. We are excited to see third parties building tools on the Blocknet protocol!

For Superblock 451500, there were a total of 2 proposals to lower the Superblock submission fee submitted to the network for voting. The results of this Superblock are as follows:
10 BLOCK SB Fee — PASSED — 138 Yeas, 36 Nays, 0 Abstains
15 BLOCK SB Fee — FAILED — 73 Yeas, 101 Nays, 0 Abstains
The change to lower the Superblock submission fee from 50 BLOCK to 10 BLOCK has been implemented.
There are [12 proposals]http://blocknetdx.forumotion.com/t19-superblock-475200)( submitted for Superblock 475200. Voting will close at block 472320. An introduction to Superblocks and a guide to voting guide can be found here.
There is a great responsibility for Service Node owners to vote either "yes," or "no," on the proposals. It cannot be emphasised enough how much the community, as well as the Blocknet team, relies on Service Nodes to vote on project proposals to ensure continued funding for development of the Blocknet. Not voting could greatly threaten the project.
There is an emailing list for Superblock notifications separate to the Word on the BLOCK newsletter email and is directed toward Service Node operators to provide reminders leading up to the voting deadline. To subscribe to these notifications, you can sign up here.

So far 321 coins have been addressed (12 additions since last newsletter.) 95 are currently finalized of which 32 are unannounced, The 63 announced are:
ALQOcoin (ALQO) | Bitcoin (BTC) | BitcoinGreen (BITG) | Blocknet (BLOCK) | Bulwark (BWK) | ColossusXT (COLX) | Crave (CRAVE) | Crowdcoin (CRC) | Crown (CRW) | Dash (DASH) | DigiByte (DGB) | Diamond (DMD) | Dogecoin (DOGE) | Dynamic (DYN) | Einsteinium (EMC2) | Eternity (ENT) | Faircoin (FAIR) | Florincoin (FLO) | Galactrum (ORE) | GoByte (BGX) | HTMLcoin (HTML) | Hexx (HXX) | Innova (INN) | InternetOfPeople (IoP) | Kalkulus (KLKS) | Kreds (KREDS) | LBRY Credits (LBC) | Litecoin (LTC) | Lynx (LYNX) | Magnacoin (MGM) | Minexcoin (MINEX) | Monacoin (MONA) | MonetaryUnit (MUE) | Monoeci (XMCC) | Myriad (XMY)| Namecoin (NMC) | Nyx (NYX) | Ohmcoin (OHM) | Phore (PHR) | PIVX (PIVX) | Pura (PURA) | Qbic (QBIC) | Qtum (QTUM) | Ravencoin (RVN) | SocialSend (SEND) | Sparks (SPK) | StakeNet (XSN) | Sucre (SUCR) | SysCoin (SYS) | TerraCoin (TRC) | Tribe (TRB) | UCOM (UCOM) | Unbreakable Coin (UNB) | Unobtanium (UNO) | Vertcoin (VTC) | Viacoin (VIA) | Vitae (VIT) | (Vivo (VIVO) | Vsync (VSX) | Wagerr (WGR) | XCurrency (XC) | ZCoin (XZC) | Zoin (ZOI)
A constantly updated list of compatible coins can be found here
135 coins are in progress for error resolution + finalization.
238 different coins have had orders placed on the DEX.


The price of BLOCK is currently at $14.07 (0.00219672 BTC) at time of writing.
Circulation: 5,211,616
Market Cap + Ranking: $73.1M USD | 11,447 BTC | Rank 117
Exchanges — BLOCK is listed on the following exchanges:
The Block DX (obviously!)
Bittrex
CryptoBridge
UPbit
CoinSwitch

Current wallet: v3.9.22
Block height: 464943
378 Service Nodes are currently active.
919,800 staked coins are currently active.
The APR 7-day average for Service Nodes is currently at 16.34% and for staking it is currently 13.11%.
Lockup percentage from Service Nodes: 36.26%

Many thanks for reading. We hope that you are as excited as us with what the future holds for Blocknet. A decentralization project fundamentally requires an engaged community, and so if you would like to help with anything, have something to add, use your professional skills or have a problem, we want to know about it.
Please also be aware that a community project is run by a diverse group of people with varying time-constraints (in a number of time-zones) and personal lives, so remember to be kind and patient!
If you want to be the first see these updates, you can receive the newsletters directly to your email by subscribing here. Our next update is due on July 15th. Until then we look forward to hearing from you!
Sincerely,
The Blocknet Team.