Word on the BLOCK: 15th July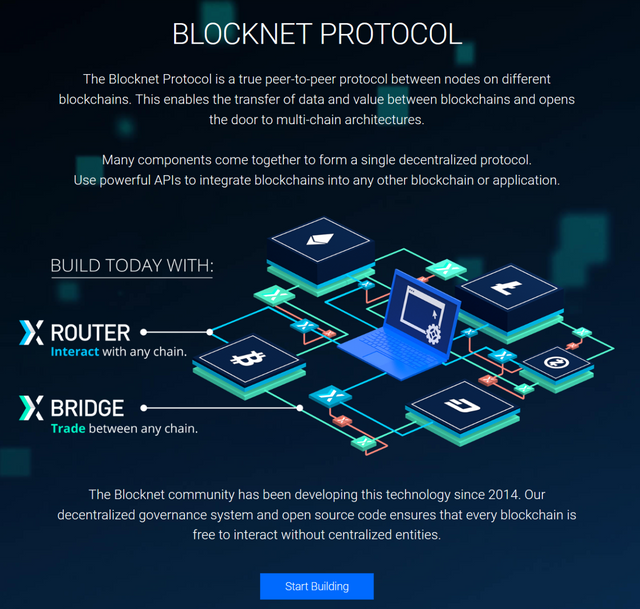 Hello everybody and welcome to the latest Blocknet newsletter update of 2018! This newsletter is released twice per month to keep the community up to date on what is happening with Blocknet. You can view the previous newsletters here.


A proposal category for focused and specific discussion of proposals and ideas.
A channel for Service Node owners to provide anonymous feedback on proposals: #anon-snode-feedback
A channel for more general anonymous feedback: #anon-feedback

The new roadmap is being finalized.
XRouter can now be configured for Service Nodes. Check out the documentation here. Enabling XRouter on a Service Node enables applications to be built with the supported coins using the Blocknet Protocol.
Block DX automated set-up is nearing completion. The first implementation has been created and is being refined. This will allow "the average joe' to use Block DX with easy, minimal set up.
Continued progress is being made on functionality and design of the new wallet to provide a polished look and feel.
The backend for the website contribution/bounty tool is progressing and design mockups for the frontend are being developed.
XBridge and XRouter documentation are being worked on, including descriptions, diagrams, and API.
A new C++ Qt developer, Mirko, will be contributing to the project. Mirko is starting off working on the wallet and then will move to other aspects of development.

Blocknet recently attended the European Blockchain Expo in Amsterdam. Blocknet co-founder Arlyn Culwick gave a lecture called "Blockchain Interoperability & How to Build Inter-Chain dApps" to a packed out crowd. Blocknet also won an award for "Best Blockchain Technology Developer 2018" at the Block Awards in Amsterdam.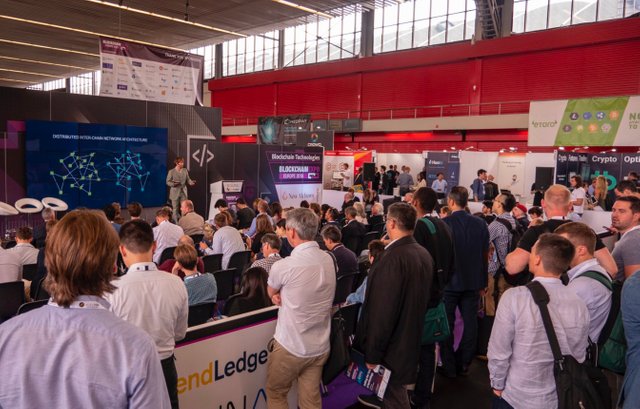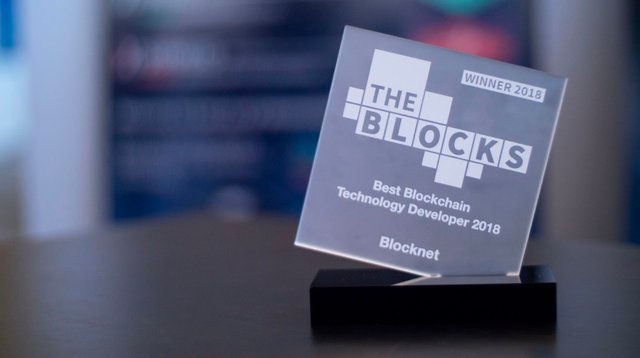 Banner advertisements for XRouter are now active on Coingecko.com. Check them out here.
Banner advertisements on Masternode.pro will begin July 20th.
The Q3 Marketing Plan will be released after the new roadmap has been finalized. The creation of this marketing plan will be a collective effort of the Brand Leads as established in the recently released Marketing Organization Framework.
Official coin announcements are continuing. Each of these coins are supported on the Blocknet Protocol, making them ready for cross-blockchain dApps, and tradable on the Block DX Decentralized Exchange. We are announcing roughly one coin per day with the hashtag: #coinaday across our social media. The most recent recap of coin announcements that are ready for the internet of blockchains can be found here. We are continuing to build relationships with these coins and are excited about working together more in the future.
Members of the Blocknet team will be attending the following events:
Community member and Blocknet strategic advisor Dungor, will attend the Malta Blockchain Summit on the 1st - 2nd November.

Blocknet co-founder Aryln Culwick was interviewed on the Bitcoin Magazine NL YouTube channel at the Block Awards in Amsterdam after Blocknet won an award for "Best Blockchain Technology Developer 2018". Check out the interview here.
Blocknet was recently featured on a number of crypto focused YouTube channels. Check out the coverage on the Crypto Tips channel here, on the Crypto Investing channel here on the Crypto Candor channel here and on the Crypto Zombie channel here.
Social media teams participants have been growing. Unfortunately, the social media management service meant to enable teams to participate in social media teams has encountered technological issues. This is an unfortunate delay, but a new strategy is being implemented that will help the teams start off on the right technological foot. You can read more about the social media teams here.
The Blocknet website front page has been updated. Leading off from this, a full page dedicated to explaining the protocol in a comprehensive way is in the works. This will help communicate what the protocol is and how it works to every website visitor.
Coin Portals, a forum, a bounty manager, a social media aggregator and many other features are under development for the website. All features being built on the website will be available for other projects to use with their own communities through their Coin Portal.
Social media and websites: Website / Protocol Website / Discord / Twitter / Medium / Telegram / Reddit / Steemit / Instagram / Newsletter / Facebook / YouTube / DTube / Minds / BitcoinTalk / Proposal Forum


For Superblock 475200, there were a total of 12 proposals submitted to the network for voting. The results of this Superblock are as follow:
462 service nodes voted: A Net of 47 votes were required for a vote to pass.
Proposal 1: ATC - Passed: 686 BLOCK 181-0, Net 181.
Proposal 2: Michael - Passed: 1230 BLOCK 184-0, Net 184.
Proposal 3: Infinity - Passed: 375 BLOCK 183-0, Net 183.
Proposal 4: Shane - Passed: 640 BLOCK 180-3, Net 177.
Proposal 5: Hanni - Passed: 350 BLOCK 183-0, Net 183.
Proposal 6: 86b - Passed: 350 BLOCK 183-0, Net 183.
Proposal 7: StormingJ - Failed: 50 BLOCK 123-93, Net 30.
Proposal 8: Bob - Failed: 650 BLOCK 126-80, Net 46.
Proposal 9: Philip - Passed: 115 BLOCK 179-3, Net 176.
Proposal 10: Aderks - Passed: 200 BLOCK 182-0, Net 182.
Proposal 11: Fattox - Passed: 200 BLOCK 182-0, Net 182.
Proposal 12: Baron - Failed: 300 BLOCK 125-91, Net 34.
A proposal category was created in the Blocknet Discord for focused and specific discussion of proposals and ideas. Within this category, there is a channel called #anon-snode-feedback for Service Node owners to provide anonymous feedback on proposals.
A feedback form was created to allow Service Nodes to anonymously leave feedback on these past proposals. The feedback form can be found here.
The amount requested must be 4320 BLOCK or less - Votes in favor must be greater than votes against by at least 10% of the total number of Service Nodes.
The proposals that pass are sorted in a descending order list by the sum of yes votes minus no votes. If multiple proposals have an equal sum of yes votes minus no votes, those are sorted randomly. If there are not enough funds remaining in the Superblock for a proposal to be paid out, it is skipped (not paid out), and the next proposal in the list is checked.
Multi-month proposals are voted on each month and are treated in the same manner as normal proposals in the ordered list.
There is also something called a 'final budget,' which needs to be submitted between 2880 blocks and 28 blocks before the Superblock. By default, Service Nodes automatically vote yes on final budgets. Moving forward, proposal voting will end 2880 blocks before the Superblock since the final budget locks in the proposal vote counts.
There is a great responsibility for Service Node owners to vote either "yes" or "no" on the proposals. It cannot be emphasised enough how much the community, as well as the Blocknet team, relies on Service Nodes to vote on project proposals to ensure continued funding for development of the Blocknet. Not voting could greatly threaten the project.
There is an emailing list for Superblock notifications separate to the Word on the BLOCK newsletter email and is directed toward Service Node operators to provide reminders leading up to the voting deadline. To subscribe to these notifications, you can sign up here.
Voting will become a great deal easier and much more user-friendly in the new wallet, taking just a few clicks. You can view the designs for the voting functionality here.
An introduction to Superblocks and a guide to voting can be found here.

So far 327 coins have been addressed (6 additions since last newsletter.) 108 are currently finalized (13 additions since last newsletter) of which 39 are unannounced, The 69 announced are:
Aerium (AEX) | ALQOcoin (ALQO) | BANQ (BANQ) |Bitcoin (BTC) | BitcoinGreen (BITG) | BLAST (BLAST) | Blocknet (BLOCK) | Bulwark (BWK) | ColossusXT (COLX) | Crave (CRAVE) | Crowdcoin (CRC) | Crown (CRW) | Dash (DASH) | DigiByte (DGB) | Diamond (DMD) | Dogecoin (DOGE) | Dynamic (DYN) | Einsteinium (EMC2) | Eternity (ENT) | Faircoin (FAIR) | Florincoin (FLO) | Galactrum (ORE) | GoByte (BGX) | HTMLcoin (HTML) | Hexx (HXX) | Innova (INN) | InternetOfPeople (IoP) | Kalkulus (KLKS) | Kreds (KREDS) | LBRY Credits (LBC) | Litecoin (LTC) | Lynx (LYNX) | Magnacoin (MGM) | Minexcoin (MINEX) | Monacoin (MONA) | MonetaryUnit (MUE) | Monoeci (XMCC) | Myriad (XMY)| Namecoin (NMC) | Nodium (XN) | Northern (NORT) | Nyx (NYX) | Ohmcoin (OHM) | Phore (PHR) | PIVX (PIVX) | Pura (PURA) | Qbic (QBIC) | Qtum (QTUM) | Ravencoin (RVN) | SocialSend (SEND) | Sparks (SPK) | StakeNet (XSN) | Sucre (SUCR) | SysCoin (SYS) | TerraCoin (TRC) | Tribe (TRB) | UCOM (UCOM) | UFO (UFO) | Unbreakable Coin (UNB) | Unobtanium (UNO) | Vertcoin (VTC) | Viacoin (VIA) | Vitae (VIT) | (Vivo (VIVO) | Vsync (VSX) | Wagerr (WGR) | XCurrency (XC) | ZCoin (XZC) | Zoin (ZOI)
A constantly updated list of compatible coins can be found here and the most recently announced coins can be found here.
132 coins are in progress for error resolution + finalization.

The price of BLOCK is currently at $11.19 (0.00179007 BTC) at time of writing.
Circulation: 5,236,237
Market Cap + Ranking: $58.5M USD | 9,373 BTC | Rank 127
Exchanges - BLOCK is listed on the following exchanges:

Current wallet: v3.9.22
Block height: 485311
472 Service Nodes are currently active.
1,092,488 staked coins are currently active.
The APR 7-day average for Service Nodes is currently at 15.52% and for staking it is currently 15.13%.
Lockup percentage from Service Nodes: 45.26%

Many thanks for reading. We hope that you are as excited as us with what the future holds for Blocknet. A decentralization project fundamentally requires an engaged community, and so if you would like to help with anything, have something to add, use your professional skills or have a problem, we want to know about it.
Please also be aware that a community project is run by a diverse group of people with varying time-constraints (in a number of time-zones) and personal lives, so remember to be kind and patient!
If you want to be the first see these updates, you can receive the newsletters directly to your email by subscribing here.Our next update is due on July 30th. Until then we look forward to hearing from you!
Sincerely,
The Blocknet Team.