BLOCKNET RELEASES Q3 ROADMAP
With its Q3 roadmap, the Blocknet is set to take Block DX toward mass-market appeal.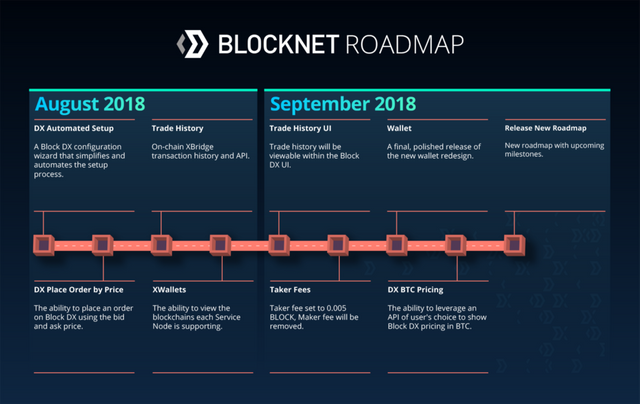 Blocknet is an interoperability protocol that enables interaction and communication between different blockchains. The Blocknet Protocol is a decentralized and trustless second layer protocol that can be used to create multi-chain applications. To lead this effort, Blocknet has developed Block DX, a decentralized exchange, as the first dApp on the protocol. This was created to showcase what kind of applications can be built on the Blocknet Protocol.
At Blocknet, we understand the importance of user experience. The Blocknet's new roadmap highlights nine milestones with a focus on Block DX. This quarter, the Blocknet is set to take Block DX toward mass-market appeal by removing barriers to entry and offering greatly improved ease of use, permitting wider adoption.
DX Automated Setup
A mature dapp "just works," and should not require users to understand its underlying functionality. One of the biggest barriers to entry with the current release is the manual integration of Block DX to wallets' RPC interfaces. This process will now be automated. A configuration wizard is being developed for Block DX, which will reduce setup to just a few clicks.

Trade History
An on-chain transaction history service (and API) will allow users to view completed orders.

DX Place Order by Price
Users will be able to create orders on Block DX by using a coin's price, rather than having to specify amounts of the coin they are offering and the coin they are bidding on. This will deliver the typical experience of placing an order on exchanges, where a user may buy or sell a given number of coins at a price they specify.

XWallets
The Blocknet protocol will be able to determine which blockchains each Service Node supports.

Trade History UI
Trade history (see above) will be easily viewable in Block DX, by utilizing the trade history API.

Wallet
A final, polished release of the new redesigned wallet will be released.

Taker Fees
To incentivise liquidity and adoption, Maker fees will be removed, and Taker fees will be set to 0.005 BLOCK per order.

DX BTC Pricing
Block DX will support the invoking of an API of the user's choice to show the pricing of any coin pair in BTC. For example, you would be able to view a DGB/SYS orderbook as if it were a BTC/SYS orderbook.
Besides the development tracks in focus on this roadmap, several other tracks remain current throughout Q3 including coin integration testing, news releases, partial fill framework, litepaper, and a very wide range of marketing activities including building out the Blocknet website, social media teams, ambassadors, and advertising campaigns.