Nebula An Exchange Platform With A Difference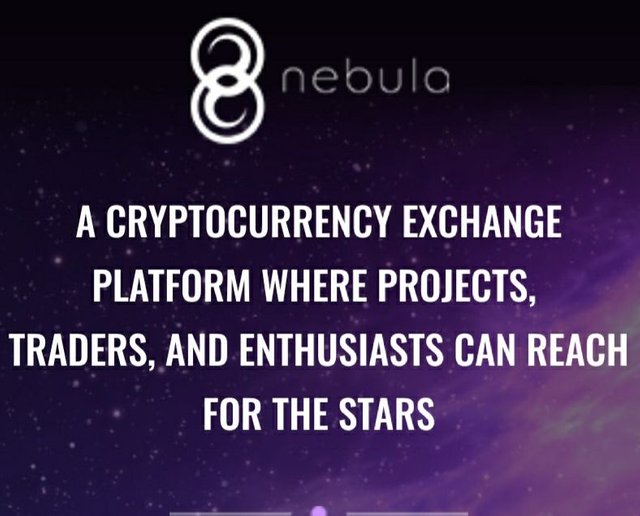 Introduction
In the stocks market as well as in the Cryptocurrency market there is always an ever increasing demand for more platforms through which stocks as well as Cryptos can be exchanged especially as more players enter into the market. In the Cryptocurrency market however, the demand for more exchange platforms increases as the market continues to mature and more traders join in the game of buying and selling of both Cryptocurrency assets and securities either to other Cryptocurrency pairs or to fiat currencies.
Some Exchange Modules And Their Flaws
A major problem facing the exchange industry is the challenge that arises as a result of the difficulty in choice during coin listing. Owing to the fact that their are many project in the market today of which some have dubious developers who have the proclivity of dumping the coins on investors and abandoning the project, many exchanges apply various laws to reduce the possibilities of listing bad Cryptos. Some of the strategies include:
Increase in listing fee
Non listing of low cap coins
Non listing of coins with small community
Non listing of non well established coins
Listing through community votes
Though these strategies help to cub the rate at which dubious or scam coins/projects are listed in the market, they also have their own negative vibes. The increase in listing fee as seen in some exchanges like binance, Okex, Kucoin etcetera usually discourages good projects who have little funding especially projects which had no Initial Coin Offering from being listed. The non listing of low cap coins as seen in some exchanges like bithumb and some others usually discourages coins with amazing potentials but who are yet to gain enough volume from getting listed in these major exchanges. The non listing of coins with small communities as seen in bittrex, bithumb and many other exchanges serves as a barrier for most amazing projects who are yet to get enough publicity from getting listed in most of the major exchanges. Also the non listing of coins which are not yet fully established in terms on popularity, volume, partnerships etcetera as seen in many big exchanges serves as a hindrance to many coins which have outstanding potentialities but are yet to gain the desired traction.
Apart from the issue of listing another issue that usually arise when using exchanges is the issue of security. Within the last six months more than five major exchanges have suffered major hacks summing up to over 500million$, not to mention the various smaller hacks as well as DOS attacks carried out on minor as well as major exchanges including Centralized exchanges and even Dexs. Another major issue is high giver and taker trading limits placed by many exchanges which makes it difficult for many traders to trade smaller units of tokens coupled with high trading fees which also discourage many people to trade as frequently as necessary especially full time traders. Also many good exchanges with remarkable standards and amazing smooth surfing features become slower with very annoying glitches as more customers and users come into the exchange as a result of lack of scalability.
The Nebula Exchange Solution
Nebula is a next generation exchange that aims to resolve the various issues that tends to draw back the Cryptocurrency exchange industry starting from listing issues to security, down to high trading fees and scalability.
The Nebula Unique Listing Module
The Nebula platform intends to solve the issue of listing not with the aforementioned approach used by many other exchanges which are both unfair and as well less effective but with unique methods such as;
Low Listing Fees: The Nebula exchange uses an affordable listing fee which can be paid by revolutionary projects who have the necessary qualities required for listing but lack the kind of huge funds demanded by many exchanges.
Listing Of Low Cap Coins: The Nebula team will give as much oppurtunity to lowcap coins as given to high cap coins. It is an obvious fact that there are many outstanding project who are still at the infant level and thus, have not acquired the amount of volume deserving for such projects. This therefore, deprive these projects of the oppurtunity to get listed on many major exchanges as they usually give priority to volume as a requirement for listing.
Community voting in which the community members of the exchange cast votes on the coins they want to get listed on the exchange while the team of experts from the exchange also embarks on further scrutiny to ensure that the voted coins have the qualities necessary to get listed on the exchange.
Amazing Nebula Security Features
The Nebula exchange have outstanding security features which singles it out from many other exchanges and reduces the risk of hackers infiltrating the exchange. One of the major security features is the cold storage feature which helps to store a major part of the exchange funds safely outside the exchange wallets to a cold wallet which is imperceptible to any form of hacks.
Nebula Scalability Features
The Nebula platform uses amazing scalability features and protocols which ensures that the exchange continues to adapt to the concrete circumstances of time as more customers and users continue to come into the exchange and embrace the exchange services. Thus, the exchange have put in place, blockchain protocols that can be scaled up and expanded as time goes on and the exchange horizon continues to expand.
The Nebula Utility Token
The Nebula token with token ticker Nesc is a utility token that has many amazing techniques put in place to ensure that the token value continues to increase over time. Some of these techniques are as follows; The Nebula token will be used as a method of payment for listing. The Nebula token will also be used as trading fees within the Nebula exchange and tokens accumulated by the exchange through this means will be burnt from time to time thereby reducing the token supply and increasing demand as well as token value. There will also be periodic buy back and burning of the token and this will as well reduce supply and increase demand and value.
Token Metrics
Token Type: ERC20 (Ethereum token)
Token Name: Nebula Exchange Star Credits
Token Symbol/Ticker: NESC
Token ICO Price: USD 0.40
Total Token supply: 100,000,000
Other Important Links
Website: https://nebula.exchange/
Whitepaper: https://nebula.exchange/wp-content/uploads/2018/04/Nebula-Exchange-Whitepaper.pdf
Ann Thread: https://bitcointalk.org/index.php?topic=3642473.0
Telegram: http://t.me/nebulaexchange
Facebook: https://www.facebook.com/Nebula.exchange/
Twitter: https://twitter.com/Nebula_Exchange
My Bitcointalk Username: Macmelody
My Bitcointalk Profile Link: https://bitcointalk.org/index.php?action=profile;u=1102373;sa=forumProfile