Open Packaging Network is a blockchain-based project whose goal is to provide transparency in the packaging industry by creating a platform that uses technology to provide value to industry stakeholders. This creates a platform for seamless, transparent interaction between buyers and sellers, effectively combining all the verticals involved in the filling business in a market where demand meets supply and vice versa. The project aims to become a public digital book for the filling industry, in which the parties demonstrate transparency and trust due to the integrity of the system. This guarantees the sellers of seriously interested buyers, better payment terms, reliable demand forecasts and good prices for their products, while buyers are guaranteed high quality materials delivered in good conditions and on time.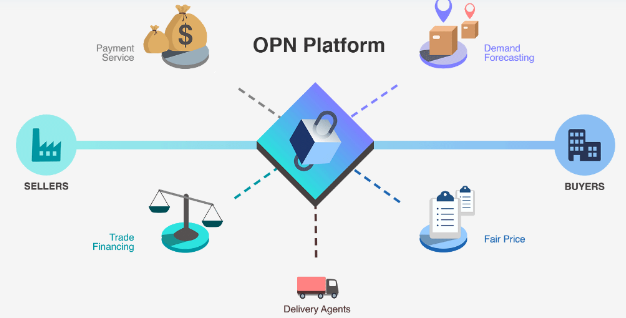 There are many market segments in the filling industry, which today are fundamentally unstable. Thus, a prospectus is created in which all the components of the market and supply chains are combined on one platform, which allows manufacturers to find a buyer. Supply chain participants also have the tools to interact with each other to effectively deliver services.
The platform is an open architecture that allows third-party developers to create decentralized applications that allow their business to achieve certain goals. Its open, interactive network allows all actors to have access to information that meets their needs for supply or demand. Its smart contract component ensures that agreements and promises are fulfilled.
Buyers and the seller publish their needs, which are timely satisfied by the counterparty.
On the platform, in addition to buyers and sellers, there are also auditors and delivery agents who all work together in an ecosystem controlled by a smart contract, ensuring the effective discharge of duties and the provision of services.
The Open Packaging Network uses the Open token. Transactions at the same time are carried out quickly, efficiently and transparently. The token is the official currency for buying and selling and has a share stake.
Follow our Telegram for more news: https://t.me/OpenPackagingNetworkOFFICIAL