"SteemArena" the first game on the blockchain to Guarantee 100% Buy Back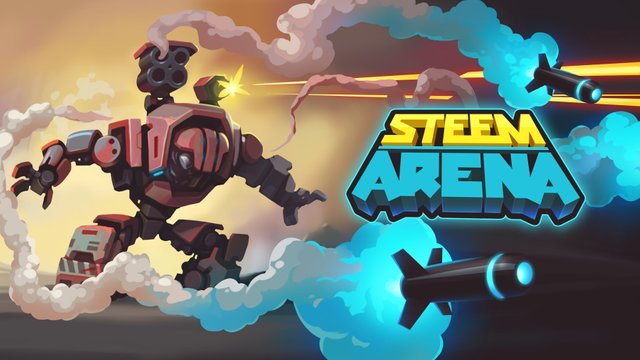 SteemArena is a collectible card game with provably fair gameplay. Robots will fight, break, repair and gain experience on "The Arena". Level up your Robots to give them more power, strength, and abilities. Generate new unique looking Robots, trade them with other players and have fun playing on the Arena.
"SteemArena" is being developed on our favorite bulletproof Steem blockchain because Steem community, is what really drives game and application development forward. Blockchain gives you the right to really own your Robots, nobody can take them away from, not even Chuck Norris. With such combination, playing on "The Arena" will be interesting, and highly profitable for wise investors.
What are you waiting for? Subscribe to our newsletter and be one of the first to participate in the presale, to receive Limited Presale Edition Robot packs and to gain early access.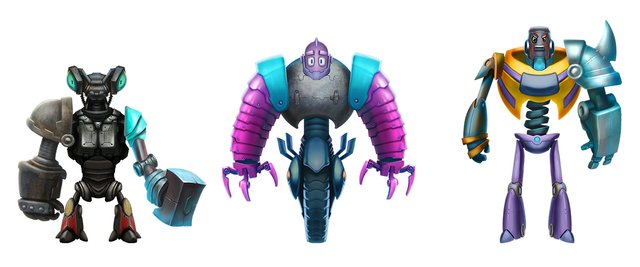 How are you different from other games out there?
"SteemArena" is the first blockchain game which Guarantees 100% Buy Back. Does not matter how many Robots you purchase, we have an account which will purchase them back at any time.

"SteemArena" is also the first game, which allows you to easily sign up with Email, Facebook, or Google account and start playing without even having an account on Steemit or knowing anything about blockchain technology. This way we want to break the barrier to entrance, which most of the Blockchain games have.
Launch Steem to the Moon!
We love and support our favorite Steem Blockchain and every purchase in Bitcoin, Etherium, Dash, Dollar (credit card), etc will be automatically converted to Steem. The more people play the game the more Steem gets purchased on the market the higher the value of your cards.
We will drive social media traffic to SteemArena, which will allow users to easily sing up and in the event of playing the game to learn more about Steem blockchain.
From sketch to robot
A sneak peek of Robots in the making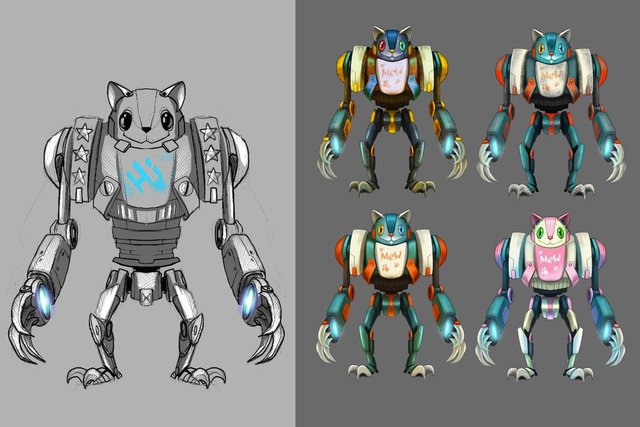 Ready, set, GO!
What have we done so far:
Robots Starter packs - Our designers have worked hard days and nights to draw 20 robots each containing 5 parts (head, body, left hand, right hand, legs or wheels) and available in 4 design variations (rusty, metal, painted, superior). These robots will be randomly generated with 1+ billion variations just to get you started. You can get a robot with a head of a cat, legs made of wheels, a body of a big guy robot and arms from a warrior for example.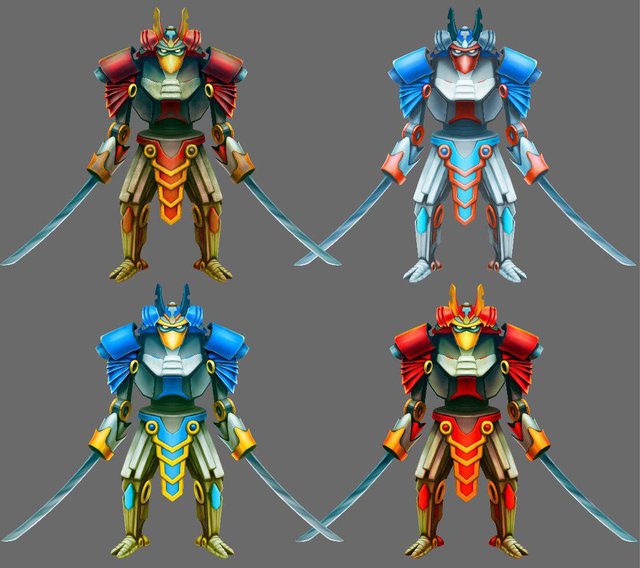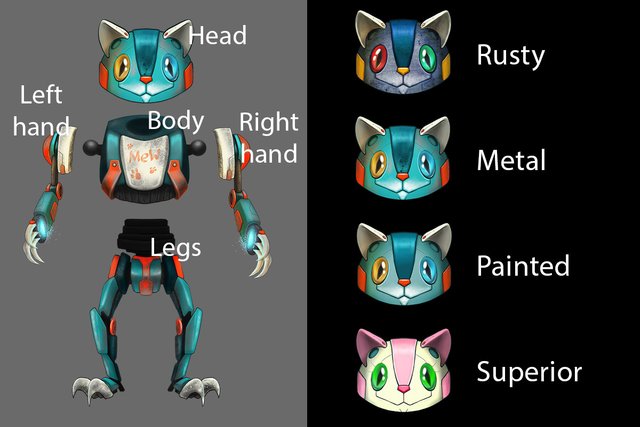 There will be 4 robots made exclusively as a Presale Edition, which we will show you closer to presale date.
Card Design - Robots have a card, which shows their abilities and these abilities can grow when you combine robots with the same level and when you play against other people on the arena. Robots have abilities which give them a higher chance to win. Robots shoot like a Spit Fire, punch like Chuck Norris, uppercut like Rocky, kick like Bruce Lee and launch rockets like NASA just to survive on the Arena.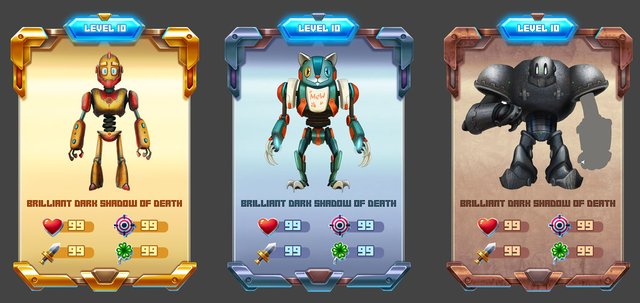 Robot generation - We have a mechanism which will randomly generate robots. Each robot part head, hands, legs, and body will be randomly taken from available robots with a different material variation. It will be difficult to generate the same robot twice. All robots will be looking very unique and awesome. Right now we have robots looking like warriors, animals, big guys, some will be on wheels. Their parts will be metal, rusty, painted or made of superior material.
Here are a few examples: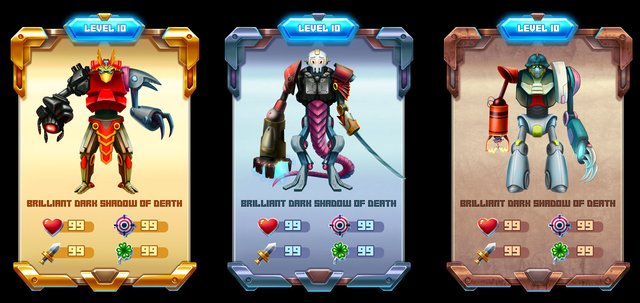 Fight algorithm - fight algorithm is provably fair and can always be rechecked on the Steem Blockchain. There will be a randomizer, which will help to decide which robot hits first, which one misses a hit during this round etc. Robots abilities, strength will also help to decide who wins.
Game mechanics/gameplay - Robots can be leveled up to randomly receive additional health, aim, power or luck. These abilities will help robots win fights on the Arena. Our provably fair mechanism and randomiser will generate a fight scenario where even a low-level robot can win, but with a lower chance.
Exclusive robot cards
Only the people who sign up NOW before presale date will have a chance to buy Presale Early Access Limited Edition Cards. These cards will be unique and will only be generated during the presale, one time per each user who signs up. All scarce assets tend to have a higher market value.
All of that is coming soon to the Arena, so sign up for a newsletter and don't miss out on all the fun. We promise not to send any spam, only the latest updates.
Bonus for early adopters
Get a chance to be part of the SteemArena history, have fun and make money in the process. If you find any bugs around we will reward you for reporting them and will smash those bugs.
Inner game card exchange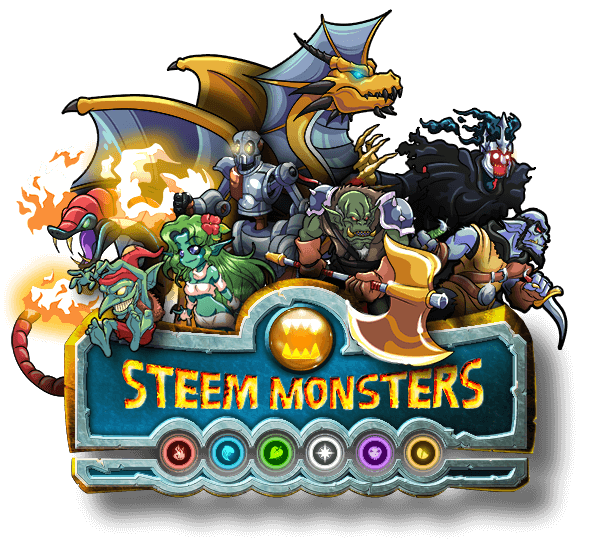 Together with our partners from Steemmonster we will build a market where cards from SteemArena and Steemmonster can be exchanged between players. In the future, we will be adding more games to the market.
How can cards gain value?
Fight against other robots on the Arena you have a chance to double your robot's level and value when you win.
Cards are collectible and with each card generation, you have a chance to obtain unique looking robot with rare traits. It will actually be very rare to collect a robot made of only own parts and in one material. Funny looking robots will be valued just for their looks.
Presale limited cards or themed robots (Halloween, Christmas, Easter, etc.) will also be scarce and will only be printed once, this way you can get both rare and scarce cards. If you hold on to such cards they may get very valuable.
With a 100% Guaranteed buyback robots will not lose value, because you can always sell your robots to our account for the purchase price minus commission. Commission is there so that players cannot abuse the system and just re-generate robots endlessly until they find the rarest robots.
We have also implemented a process of deflation so that every time there is a fight a small percent of robot's parts will get burned. The fewer robots there are in circulation, the higher the price.
Point 5 further explained:
Let's take a Limited Edition pack as an example. Player A and player B both buy two exclusive Limited Edition packs. For simplicity sake let's say that there are only 2 Limited Edition robots available. They bought them for $10 each. When player A wins, he gets to keep his own robot and also receives 97 spare parts from Player B's robot (97% of a robot) and 3% gets burned.
When we buy 3 spare parts ($0.30) for the damaged robot and repair him he will not be Limited Edition robot anymore, he will be regular edition robot. So now we are left with one last standing Limited Edition robots and a regular pack robot. All of the robots were sold for $10, but since there is only one Limited Edition robot on the market, its price should double. You can buy limited edition robots for regular price, but as they get burned and killed there will be less in supply and more in demand. Thus the price will rise.
Roadmap
Get emails for Limited Presale Edition Cards
Start the Presale
Develop Marketplace
Develop Gameplay visual design
Make a shared Marketplace with SteemMonsters
Team
Founders
Yuriy - A witness on Steemit, started an open source mobile application for Steemit called Steem App, currently in the process of making SteemArena. Already two years here on Steem and I love it and the community around it. Play games on Steem Blockchain such as Steem Monsters, Drugwars, and Magic Dice. Happy to see and help Steem grow, flourish and fly to the moon where it belongs.
https://steemit.com/@yuriks2000
David - Idea generator and experienced project manager in Mobile Apps, games, and crypto projects. Loves to surf and travel. Co-founder of "Steem App" and "SteemArena".
@davidhust
Stig - our third founder would like to stay anonymous. Has a dev team and a lot of experience in crypto development space.
Design team
Stas Syuzev -



In charge of the logo, art, and card design
https://www.facebook.com/stas.syuzev
https://www.behance.net/siuzev
Anton -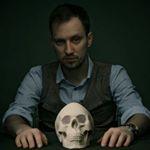 In charge of robot design
https://instagram.com/anton_aleksandrovi4
Dev Team
The team is chosen by our "Stig" founder
Partners
People were getting confused that @aggroed and @yabapmatt are building a new game so we had to remove them from the Partners section in the post and from the website. @aggroed and @yabapmatt are our advisors and will be spending all of their time on Steem Monsters, they will be just passively helping us with advise here and there.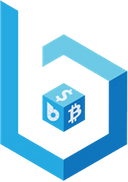 @blocktrades - The biggest decentralised exchange for Steem. Early adopters of Steem blockchain and a respected witness on Steem. Blocktrades is our financial partner and we will be using their platform and API to exchange all crypto to Steem.
Quote: This sounds like a great project - we would be happy to be associated with it.
---

@adsactly - A community of people who are always willing to help others and to get them informed about crypto space, legal liberty, and financial liberty. ADSToshi is the person who hosts very informative Hangouts. Join their discord here. By the way, ADSACTLY stands for "Autonomous Decentralized Society Acting Cooperatively to Leverage You!"
Adsactly is our partner as well and a long supporter of all of our projects.
---

@utopian - Best supporters of Open Source projects, especially for Steem projects. Well done Diego, thank you for supporting us. Now starting their great new website, go and check it out here https://colony.utopian.io/. If you can please support their fundraising on Indiegogo
Contact us
Discord: https://discord.gg/utSHjmR
Telegram: https://t.me/steemarena
Email: [email protected]
Brought to you by @yuriks2000, your loyal Steemit Witness team and a CEO of BoomApps developing SteemApp, a completely free app for Steemians
Please consider voting for witnesses involved
@yuriks2000, @aggroed, @yabapmatt, @adsactly-witness, @blocktrades, @utopian

Or vote for us through steemconnect

To visit our website and subscribe to our newsletter just click on the image below