TWELVE DAYS OF CHRISTMAS – XFUEL GIVEAWAY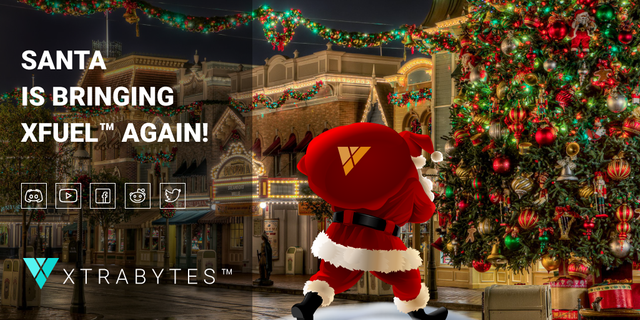 12 Days of Christmas – XFUEL Giveaway
As Christmas approaches and we all start getting into the festive mood, the team at XTRABYTES LTD are happy to announce an XFUEL Giveaway of 334k XFUEL™ for the 2019 "Twelve Days of Christmas" promotion. Each day, starting December 12th, a new fact and task will be posted, leading up to Christmas Eve, followed by an XFUEL superdraw on Christmas Day!
About XTRABYTES™ LTD
XTRABYTES™ is an emerging blockchain platform seeking to offer decentralization as a service to individuals, organizations, and enterprises. It currently utilizes PoSign Lite, and the team is working towards protecting its unique consensus algorithm, PoSign, and underlying technology that enables XTRABYTES to solve the blockchain trilemma.
The XTRABYTES platform currently offers two tokens – XBY, and our development token, XFUEL. Please explore the following links to learn more about XTRABYTES:
XFUEL Giveaway Guide
Since the giveaway prizes are XFUEL, it is important that all the participants install the XFUEL wallet on their device(s) and have their XFUEL public address (receiving address) handy. The steps to install the XFUEL wallet and create a receiving address are outlined as follows:
Scroll all the way to the bottom of this page to find XFUEL Wallet download links corresponding to each of the operating systems – Mac, Linux, & Windows. Download the wallet version that corresponds to your device's OS.
NOTE: Only the XFUEL wallet is used for this promotion (don't submit XBY addresses).
Once you download the XFUEL wallet, open it so you can find your receiving address from within the wallet.
If you encounter issues like your antivirus program quarantining the XFUEL wallet, please add XFUEL wallet as an exception in your antivirus software. If you do not know how to do this, please google: 'your_antivirus_software_name' how to add exception to learn how to do this.
Currently, the wallet takes about 6-8 hours to sync and be up-to-date. To speed up this process, download the XFUEL bootstrap file and follow the instructions on this page.
NOTE: Opening your wallet and clicking the RECEIVE tab is sufficient to obtain your receiving address. The wallet need not be fully synced to retrieve your receiving address.
Please make sure to backup your wallet using this guide. Although the guide discusses XBY wallet, the same process applies to the XFUEL wallet.
12 Days – 12 Facts – 12 Tasks
Twelve days leading up to Christmas Day 2019 are divided into twelve equal time periods. Each of these time periods will correspond to (approximately) 22 hours [as shown in Table 1] during which a specific task needs to be performed to enter into the daily lucky draw. Details of the period-specific task will be announced at the start of that period in a separate blog-post (this link will be updated on Day 1). Winners of each period will be announced as shown in Table 1.
All announcements and updates related to the Twelve Days of Christmas promotion will be posted on our official discord.
Superdraw on Christmas Day
All entries from the promotion will be entered into a superdraw on Christmas Day at about 14:00 GMT. To increase your chances of winning a prize in this giveaway, you should participate and submit a valid entry each day.
Table 1: Schedule of 12 Days of Christmas and Rewards
| Giveaway Period | Start Time 14:00 GMT | End Time 12:00 GMT | XFUEL Reward | Winner Announcement Time 14:00 GMT |
| --- | --- | --- | --- | --- |
| Day 1 | 12th Dec, 2019 | 13th Dec, 2019 | 3x 1,000 | 13th Dec, 2019 |
| Day 2 | 13th Dec, 2019 | 14th Dec, 2019 | 3x 2,000 | 14th Dec, 2019 |
| Day 3 | 14th Dec, 2019 | 15th Dec, 2019 | 3x 3,000 | 15th Dec, 2019 |
| Day 4 | 15th Dec, 2019 | 16th Dec, 2019 | 3x 4,000 | 16th Dec, 2019 |
| Day 5 | 16th Dec, 2019 | 17th Dec, 2019 | 3x 5,000 | 17th Dec, 2019 |
| Day 6 | 17th Dec, 2019 | 18th Dec, 2019 | 3x 6,000 | 18th Dec, 2019 |
| Day 7 | 18th Dec, 2019 | 19th Dec, 2019 | 3x 7,000 | 19th Dec, 2019 |
| Day 8 | 19th Dec, 2019 | 20th Dec, 2019 | 3x 8,000 | 20th Dec, 2019 |
| Day 9 | 20th Dec, 2019 | 21th Dec, 2019 | 3x 9,000 | 21th Dec, 2019 |
| Day 10 | 21th Dec, 2019 | 22th Dec, 2019 | 3x 10,000 | 22th Dec, 2019 |
| Day 11 | 22th Dec, 2019 | 23th Dec, 2019 | 3x 11,000 | 23th Dec, 2019 |
| Day 12 | 23th Dec, 2019 | 24th Dec, 2019 | 3x 12,000 | 24th Dec, 2019 |
| Super Giveaway | 24th Dec, 2019 | 25th Dec, 2019 | 2x 50,000 | 25th Dec, 2019 |
NOTE: All times are approximate.
The daily winners will be live streamed on our XTRABYTES Founder's Youtube Channel. Please subscribe to the channel!
Rules for Giveaways
Each person must have no more than one qualified entry per giveaway period. If a person is found to have more than one submission per giveaway period, only the latest submission will be considered for that period and for the Superdraw.

A person can win a maximum of one prize during each period, and once during the Superdraw period.

For an entry to be considered qualified, the entry must satisfy the requirements of the giveaway period and it must be submitted through this form [will be accessible starting on Day 1 of the giveaway period].

Team members are not eligible to participate in this 12 days of Christmas Promotion.

XTRABYTES LTD reserves the right to cancel or modify the event or the event specific rules at its sole discretion. Its decision is final.

All content submitted or posted (including any photos, comments or graphics) during this giveaway period may be used by XTRABYTES LTD for promotional purposes.
Social Media
Please feel free to contact us on either of the following social media platforms:
Originally published in our blogon December 9, 2019.