New User Giveaway Campaign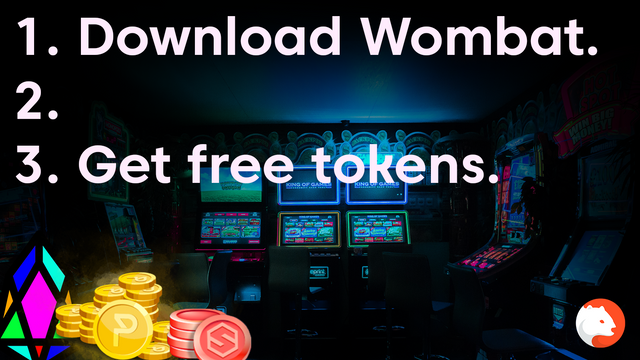 We hope that you had a great start of the new decade, but here we are to make it even sweeter:
We're thrilled to announce our January New Wombat User Giveaway Campaign!
This means that we have a special gift for the next 100 users who sign up with Wombat in January - a Gaming Kickstart Bundle. All you need to do is to follow @adoptwombat on Twitter (if you haven't yet), put out a tweet with the following text and DM us your newly-created EOS account name (all Wombat EOS accounts no older than 7 days at the time of the tweet will be eligible).
"I just created my free #EOS account with @adoptwombat and qualified for an awesome Gaming Kickstart Bundle! Check out https://getwombat.io or https://steemit.com/blockchain/@wombatapp/new-user-giveaway-campaign to claim yours! #wombatkickstartJan"
The Gaming Kickstart Bundle contains:
300 SLT (gets you ready to play Solitaire Duel, Candypop Duel and Hexa Puzzle Duel)
10 PGL (which you can convert into gold within Prospectors)
2000 PIXEOS (the native token of the pixEOS Game Center)
The tokens will be transferred to you within 48 hours after your tweet. Remember that only users participating until January 31st, 2020, are eligible in this campaign.
The Gaming Kickstart Bundle will allow you to start playing some of the most addictive games that are available on the EOS blockchain, and give you a headstart when you start out new!
Remember that each Wombat user already gets some sweet bonuses in Crypto Sword & Magic so you can be ahead of your competition right from the start!
If you don't have a Wombat account, yet, visit https://getwombat.io to create your account within seconds! If you already are a Wombat user (we appreciate that!), tell your friends about us! The more, the merrier!