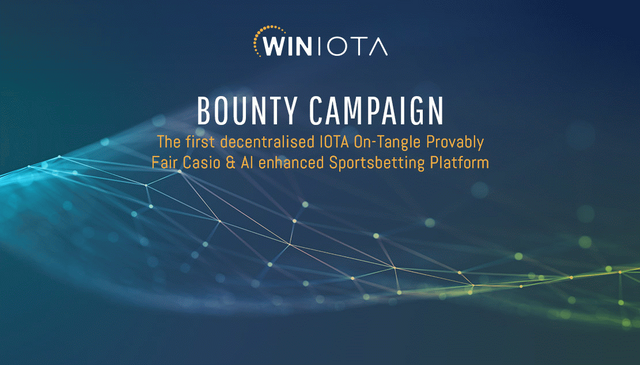 WINiota is holding a Token Generation Event between June 1st 2018 to August 1st 2018.
This is our official bitcointalk bounty thread, you will find all the relevant information on the various stakes from this link.
https://bitcointalk.org/index.php?topic=4216831.msg38386356
The Bounty program will commence immediately and ends on the 1st August 2018.
We would like to provide our supporters an opportunity to be rewarded for generating awareness with the introduction of a bounty program.
2% of all WIT coins are allocated for the bounty (around USD 500,000). Participants in the bounty program will be rewarded with Stakes, with the exception of the Airdrop and Referral Bounty which will be paid out with a fixed number of WIT, see below. 4,600,000 stakes + 1,400,000 WIT are allocated to the bounty program and will not exceed the cap.
If the total number of stakes earned during the campaign exceeds the cap, we will adjust your stakes based on the below formula. If not, 1 stake= 4 WIT.
Formula: (Bounty campaign pool / total number of stakes everyone earned
during the campaign)* number of stakes you earned= Your final number of WITs
The WIT tokens will be distributed in 7 campaigns as follows:
Bitcointalk.org signature campaign and referral program: 21% = 1,050,000 Stakes
Content (blogs and media publications): 16% = 800,000 Stakes
Twitter Bounty: 14% = 700,000 Stakes
Reddit Bounty: 16% = 800,000 Stakes
Translation Bounty: 5% = 250,000 Stakes
Facebook Bounty: 14% = 700,000 Stakes
Instagram Bounty: 4%: = 200,000 Stakes
Moderation Bounty: 2%: = 100,000 Stakes
Airdrop & Referral: 7% = 1,400,000 WIT
---
Terms and Conditions
General rules
All bounty program announcements will be released on our Telegram bounty group.
The Bounty program will commence immediately and end at the same time the WINiota token contribution event finishes, which is on the 1st August 2018.
To participate in the bounty program, you must be at least 18 years old.
To be added to the bounty program you must join our Telegram group WINIotaOfficial Telgram
Rewards for each campaign have a cap and once that cap is reached, rewards will no longer be processed or awarded.
Each user can only participate with one account per campaign. Users with double-registrations or duplicate accounts (except the initial one) will be permanently banned from the program.
All campaigns will be counted weekly.
All rewards for bounty activities will be counted in STAKES and paid out in WIT.
If you are disqualified for any reason, you will not receive any bounty rewards.
The WINiota team will reserve the right to change any rules, or make any changes, if necessary.
For technical support during the bounty campaign, please contact us via our Telegram BOUNTY group: https://t.me/BountyWINiota.
All tokens will be allocated to your Ethereum ERC20 wallet within 2 weeks of the WINiota token contribution event end date.
All participants in the bounty campaign have to register in our Telegram community chat and stay registered until 1 month after the ICO has finished.
Feel free to proceed with expressing your interest to participate by posting a message in this thread and also register by following the corresponding links in each section.