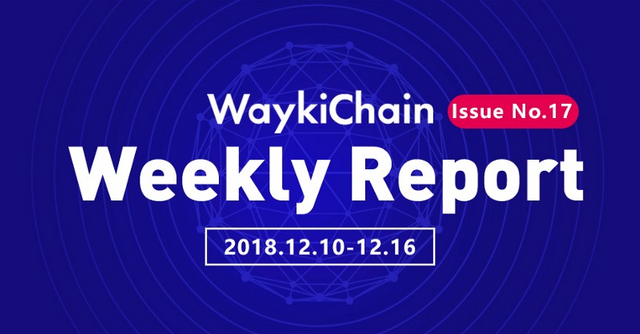 Marketing Weekly Report
Weekly News
The Venezuelan president gave the order to double the price of Pedro.
The Central Bank of Kuwait announced plans to establish a national cryptocurrency and payment system.
Shenzhen Tax Service, State Administration of Taxation officially launched "Blockchain electronic invoice for WeChat payment" function.
Forbes published "The Top 50 Women In Tech 2018", and outstanding women in the blockchain industry were on the list.
China Maritime Arbitration Commission will cooperate with Huawei Cloud on data security, using blockchain electronic certificate and other technology.
Markeing Development (China)
Regular release of articles at we-media channels including Tencent Cloud, WaykiTimes Ency, Baijiahao, and Xueqiu, etc,.
Regular release of articles at medias and forums including Toutiao, BiShiJie, and Jinse.com.
Updated 6 issues of WaykiChain Daily News to the issue 88th.
Daily operation of WaykiChain official Weibo account.
Followed up on T2D2 program, built WPS cloud disk and developer community Q&A.
Entered Feixiaohao platform.
Markeing Development (Global)
The mascot naming contest on WaykiChain official Twitter was successfully completed. A total of 264 users participated with 55 effective submissions. Since the event was launched, our community members have come up with creative names of WaykiChain mascot with their own understandings.

Released project introduction on Steemit: "Wayki: Chain for Game Developers and Prediction Gamers". The article gives high recognition to WaykiChain project technology and prospects, and attracts attention from overseas users.
Launched "2018–2019 WaykiChain One-Year Anniversary Campaign", which will last for one month and include 3 bounty activities based on different platforms. One of the activities — "WaykiBet FOMO Contest" already has 200+ users signing up in the first day.
Added WaykiChain's Reddit, Steemit, and Medium link on CoinMarketCap, which means that the updates of WaykiChain project can be delivered to users from all over the world in a more professional and effective way.
The project operation team held a live broadcast themed "1 Day in WaykiChain" in community, sharing WaykiChain team, office, souvenirs, daily work, etc,. The live broadcast had attracted more than 1,000 discussion volume.
Technology Weekly Report
Work summary of last week
Continuously develop and test blockchain games;
Continuously optimize smart contract by automation deployment to ensure its security and robustness;
Continued to strengthen the development of developer-friendly tools, including the faucet services of test coin, and the design of contract generator tools;
Provided the API of WICC total supply and circulating supply to CMC.
Work plan for next week
Continue to conduct the testing of blockchain games, and the development of management background.
WaykiTimes' regular maintenance and optimization.
WaykiChain public chain's daily supervision and maintenance.
To promote college geek contest and T2D2 program.
Product Weekly Report
WaykiTimes
Completed the interactive optimization of community post: users can click on the picture to view the big picture;
Launched two prediction activities: "Champions League Prediction" and "Cristiano Ronaldo Prediction". The "Champions League Prediction" game was for the 6th round of UEFA Champions League group stage Valencia vs TManchester United, and a total of 22 people won the prize; The "Cristiano Ronaldo Prediction" was for the 16th round of Serie A Juventus vs Turin , and a total of 54 people won the prize.
WaykiChain Official Website
Completed the design and development of "Milestones" and "Team Culture" pages, which are mainly for users to view all the major events since the establishment of WaykiChain project and our team spirit.
Blockchain Game
Assisted the development of @ version game, checked related functions, modified and optimized interactive requirement documents;
Integrated market and business needs and started to write growing system;
Wrote test cases and data simulation verification;
Optimized and followed up on game UI performance, and enriched game scenarios.
Welcome feedback from the community, so please do get in touch. Want to dive in further? Follow WaykiChain on Telegram, Twitter, and LinkedIn.