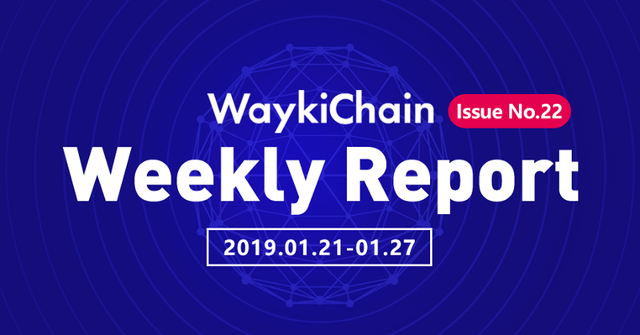 Technology Weekly Report
Application Development
Completed the code writing and testing of functional interfaces of the player information inquiry, wallet binding history inquiry and arbitrage inquiry in WaykiBet V2.6 management background.
Deployed WaykiChain Baas service, including mainnet and testnet service, as well as the deployment of token distribution. (100% completed).
The testing framework based on jenkins+ant+jmeter+docker was 50% completed.
Completed TKD modification of official website homepage.
T2D2 Development
Assisted marketing team to prepare developer incentive program and updated developer documentations.
Continuously updated developer documentations. In the second chapter added: regtest construction method, unstable contract API hiding, adding github, one-click top plugin, etc.
Developer Program: The design of English homepage of developer center, and the homepage of developer documentation was 40% completed.
One-click digital assets offering: Prototype design is completed, and the overall progress is 20% completed.
Public Chain Development
Assisted marketing team to prepare developer incentive program and updated developer documentations.
Completed API testing of contract mylib library.
Work Plan for This Week
To design and develop user, role, rights management of WaykiBet management background.
To launch the batch token distribution function, the second phase of "Red Envelope", and the back end of "Red Envelope" in WaykiTimes.
To complete the wallet switch in WaykiTimes background.
To complete test cases and plans for smart contracts and js wallets.
To complete all JSON-RPC interface testing work.
To debug Web js signature library.
To launch "Perspective" section in WaykiTimes.
Product Weekly Report
WaykiTimes
Launched red envelope function version 1.0, and the 2.0 version will be optimized and launched this week.
Add "Perspective" section to deliver KOL view in the industry (50% completed).
The management background of token batch distribution function was 90% completed, and will be launched this week.
The red envelope management background was 90% completed, and will be launched this week.
Blockchain Game
@ version was 82% completed.
Analyzed testing data and adjusted growth system.
Adjusted the interactive UI to improve the users' experience.
Optimized game performance and experience.
Marketing Weekly Report
China
Completed the distribution of the anniversary gift box to top investors and volunteers.
Published 30 articles on BiShiJie, Toutiao, and Beenews, and 32 articles in the forums.
WaykiChain(WICC) was invited to attend Chain Plus Summit in Korea and was reported by 81 medias.
Published 5 issues of WaykiChain daily news to №119 issue.
WaykiTimes entered Huawei application market.
WaykiTimes entered Google Play app store.
WaykiTimes launched red envelope function.
Held "Asian Cup Quarter-final" prediction event on Weibo.
WaykiChain entered huoxing24.com.
WaykiChain entered Douliao Platform.
Global Development
Marketing Development
WaykiChain CEO Gordon Gao was invited to attend Chain Plus, Korea's top blockchain summit and delivered keynote speech "The Current State of Public Chains and WaykiChain's Innovative Solutions", talking about WaykiChain's "Expand Beyond Blockchain Industry" strategy and appealing to focus on blockchain technology itself and making it truly a technology that can be utilized by human.
WaykiChain team attended Chain Plus exhibition in South Korea, and received 11 business cooperation inquiries and 23 media & PR invitations.
WaykiChain(WICC) got listed on Bit-Z exchange.
Community
WaykiChain Developer Incentive Program preparation was 80% completed, including event introduction, task setting, award setting, business cooperation, media cooperation, etc.
Content Release
Initially completed the constuction of WaykiChain's sections on platforms such as CoinMarketCap/Steemit/Reddit, and continued to disclose project updates to overseas users.
Published English project overview, WaykiChain attends Korean blockchain summit, WaykiChain launch on Bit-Z exchange, WaykiTimes launch on Google Play app store, and WaykiChain's project updates, and these news are reprinted by 200+ medias.
WaykiChain CEO was interviewed Token Post in Seoul, South Korea, and CTO was interviewed by well-known Youtuber.
Welcome feedback from the community, so please do get in touch. Want to dive in further? Follow WaykiChain on Telegram, Twitter, Reddit and LinkedIn.