GOLDILOCK OFFERING SECURITY THAT'LL LEAD TO MASS ADOPTION OF CRYPTOCURRENCIES
INTRODUCTION
Since the inception of cryptocurrencies, the issue of keeping the wallet safe is the priority of the individual or institution investors. Till today, the means of keeping the private keys and password is kind of mundane and inefficient security measures.
This is the reason why many institutions are having cold feet about the adoption of cryptocurrencies. Blockchain is seen to be of good technology and therefore expected to be better than the traditional ledger technology.
WHAT IS GOLDILOCK ?
Goldilock is a blockchain technology which basically is built to revolutionise the way data is being stored on the internet by building the state of safeguarding cryptocurrencies and digital assets for individuals and institutions.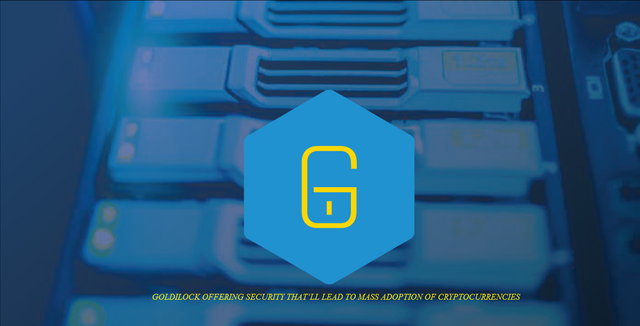 Like the conventional commercial bank who their watch ward has always been safeguarding of fiat money which is not easily made available to the customers at any time they are needed but with Goldilock one is ensured of having its finances in crypto form and being able to secure offline data and convenience of online accessibility.
Goldilock is online when needed and offline when not in need. The sweet part is that it's accessible anytime needed and from any part of the world.
Cryptocurrency investors and managers of digital assets are currently forced to choose between personally-held hardware cold storage solutions, which can be stolen, hacked, misplaced, destroyed or confiscated and online hot wallets, which are vulnerable to hacking, denial of service, and custodial company collapse.
Without a viable, scalable, and secure crypto key custody solution like the one Goldilock promises to offer, both institutions and individuals continue to be plagued by frequent financial losses due to the mishandling of their keys.
HOT STORAGE AND CENTRALIZED STORAGE
Hot storage solutions is also no good when it pertains to key custody. The truth remains that anything that is connected to the Internet stands a chance of being hacked anytime and anywhere.
Working with the available records, breached impacting email providers, banks and credit card accounts over the last two years, and given that over $1.2 billion in Cryptocurrency has been stolen in that period. It's so clear that the traditional digital asset storage industry is not safe as we think but rather compromised.
GOLDILOCKS IS CONSTRUCTED ON THESE 3 ESSENTIAL PREMISES
Which are:
I. Users need access to their data quickly, but only occasionally for short period of time. otherwise, online data is more useful to hackers than the rightful owners. Those who are out there to do away with peoples cryptocurrencies are always laying in wait and looking for the unlucky careless persons to prey on at any slightest opportunity.
Goldilock came with the solution of having the wallet stored offline through some physical airgap mechanism which is built not to be accessible from the internet. And with this, hacker will never have any way of getting hold of an individual or institution's wallet.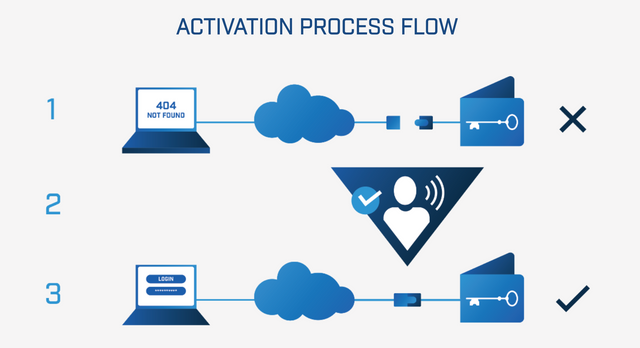 source:page 5 of the whitepaper
II. Personal important data must be properly safeguarded, isolated and secured from physical contact and human related errors and also well backed-up. Backing-up one's data is the safest way to secure one's important data.
Goldilock also promises the use of a non-IP mechanisn which aids the user to access to their wallet over the internet. This is personalised and gives the user/institution total control over their wallet
III. Personal key and Private key must be easily accessible when needed. It shouldn't be a herculean task getting hold of these keys. That's what Goldilock technology promises to offer. Proffering better, safer and faster means of accessibility of keys.
With Goldilock User or Institution can have access to their wallet and important documents over an encrypted connection using a dedicated URL. This, gives the User/Institution total control over their wallet, thereby making wallet to maintain a unique personal assigned URL
With these, any user/institution that has interest of it's continuity and safety of wallet or confidential data is expected to think Goldilock because it promises all that is needed for wise investors.
GOLDILOCK INTEGRATION WITH NEO
NEO is a non-profit, community-based blockchain project that makes use of blockchain technology and digital identity to:
Digitize all the individual's assets
Automation of the management of digital assets using smart contracts
Realization of "smart economy" with a well distributed network
This feature will aid in making NEO the most secured cryptocurrency in the world of which the Main team initial idea for creating Goldilocks was to majorly store and transact NEO, GAS, and NEP-5 tokens.
USES OF GOLDILOCK
PERSONAL PURPOSES
Individuals seeking significant security upgrades for their users' sensitive digital assets by taking them totally offline when not needed, but who need to provide access to those assets at a required time. Things can be programmed in such a way that private keys, banking, credit information of individual is stored as well as his personal Identity, signatures, health information and digital media.
One can decide to keep their sensitive documents ahome instead of travelling with the hard copy but with Goldilock it helps one store up their soft copy data and used when needed.
In comparing the money lost to the money being ploughed to ensure security seem like inexpensive insurance. I guess that's what brought about the "not hot storage, not cold storage, just right storage." slogan.
Therefore, Institutions who fall back on digital storage of personal information are required by law to implement the most advanced security solutions or face massive consequences which are majorly fines.
Goldilock solution is so indispensable at almost any price. The Governments all over the world are adapting seriously to the sensitivity of data, and many parts of the world now have apt regulations which requires well advanced data protection security.
CONCLUSION
Like the European Union's General Data Protection Regulation (GDPR) who threatens fines of over €20 million for failure to secure consumer data. GDPR represents a massive opportunity for Goldilock because many technology providers do not have a solution to sufficiently protect consumer data.
From a simple commercial perspective, security at the highest level makes sense. Recent and persistent hacks of cryptocurrency exchanges, key theft, and misuse have cost billions of money.
goldilock2018
FOR MORE VALUABLE INFO
Just click on the links below
HERE IS THE LINK TO THE ORIGINAL POST BY @ORIGINALWORKS:
HERE IS THE LINK TO MY TWITTER POST: https://twitter.com/vintageverve1/status/1026389438631436288
STILL @VINTAGEVERVE