Vietnam eToll Corporation Partners with VeriME for Secure Customer Onboarding & Payment Processing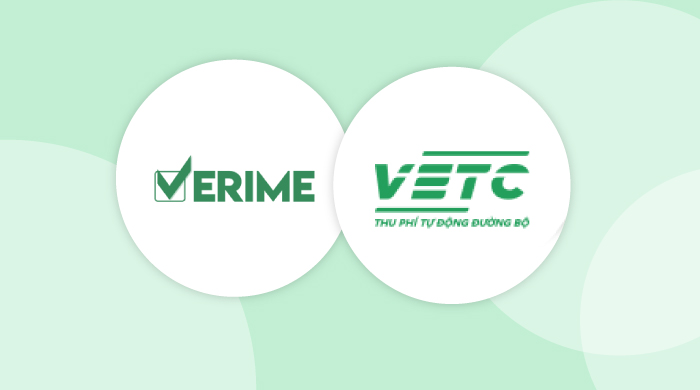 Vietnam eToll Corporation, in an endeavour to bring modern technology application fee collection, has chosen VeriME— a blockchain based digital identity verification platform, to provide a seamless and completely secure onboarding and payment authentication to their customers. Their main objective is to catalyze the development of the transport sector in particular and the economy of Vietnam in general.
VETC is one of the Vietnam's largest corporations supporting Ministry of Transport with more than five million customer base. Until now, there are 17 toll stations operated by the VETC Automated Charge: Ha Noi - Bac Giang Expressway (Bac Ninh), Tan De (Thai Binh), Loc Loc (Nam Dinh), Ben Thuy 1, Ben Thuy 2, Hoang Mai (Nghe An), Quan Hau, Quang Binh Tasco (Quang Binh), Phu Bai, Bac Hai Van (Hue), Hoa Phuoc, Tam Ky (Quang Nam), Tu Nghia (Quang Ngai), Whole US 14 (Dak Nong), Duc Long 1, Duc Long 2 (Gia Lai) and Dong Nai (Dong Nai). Their goal is to automate nationwide auto charging by 2020. VETC is the first service provider in the Vietnam market to deploy automatic road tolling technology. Initially applied at 27 toll stations across the country, VETC has brought "convenient" value to vehicle owners and contributing to speeding up the overall development of the society.
VETC's mission of providing intelligent transportation products and services for the development of civilized society has thus been coupled with Verime's digital identity verification platform.
Sharing his views on this new partnership, VETC's General Director, Mr. Nguyen Manh Ha said, "VETC has been pioneering the digitization of Vietnam's transportation sector since the very beginning and to stand by this mission of ours, VETC decided to partner with the best in the blockchain industry, Verime. VETC along with Verime seeks to automate customer onboarding and payment authentication in a completely secure environment using the power of blockchain. We look forward to scaling this partnership nationwide to our ever-increasing user base and are confident of their capabilities to match our vision toe-to-toe."
When asked to comment on the partnership with VETC, the Co-Founder of VeriMe, Mr. Binh said, "VeriME is all about user verification and authentication that facilitates seamless, automated and quick customer onboarding. With a valuable partner like VETC, VeriME gets a chance to extend its capabilities to payment authentication along with customer onboarding which brings immense potential to the table for the both of us. I see a great opportunity and a revolutionary future in this partnership with the industry leader, VETC."
About VeriME
VeriME is a Singapore based Fintech Startup offering blockchain based digital identity verification service (VaaS — Verification as a Service) which ensures that the user authentication and verification process isn't reliant on any third party acting as a mediator.
It performs KYC processes remotely and completely online without requiring customers to meet, fill out forms and submit documents. Providing customers with best in class customer onboarding functionality, VeriME offers identity verification services which are completed within seconds.
VeriME's flagship products, D-KYC and D-SECURE, can be utilized by customers and merchants for efficient digital authentication. The customers can be at peace knowing that their information is not being recorded or transmitted during the verification process and shall never fall into the wrong hands.
To learn more about VeriME and its ongoing tokensale, visit: https://www.verime.mobi/ico
You can also find VeriME on the following social media channels:
Telegram: https://t.me/verimeico
Facebook: VeriMEDigital
Twitter: VeriME_mobi
Medium: Verime