VeriME Crowdsale Update
Hello VeriME community,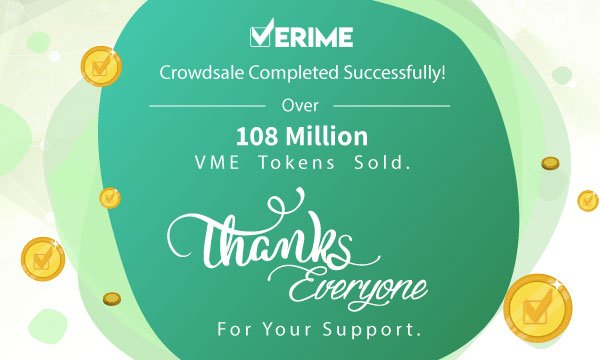 Firstly, we would like to thank all our participants for making VeriME ICO a success. It's been a long and eventful journey for us and your support has been immense.
We started our journey four months ago with a community of fewer than 500 people, however today we stand strong with more than 44,000 telegram followers, 124,000 Facebook Followers, 9,000 Twitter followers, 1600+ Bounty participants, 5000+ ICO contributors and a million more wishes for success.
We are equally pleased with the fact that, as part of this journey we are also able to grow our partner community from 8 to 30+ partners across Asia Pacific & Europe, such as VETC, Military Bank, Cloud Moolah, eBay, Safehaven, Pundi X and many more! As promised, we are eager to roll out VeriME solution to our partners August 2018!
Now since our ICO is finished, what next?
VME Token Statistics
We were able to successfully complete our token sale campaign, statistics of
which are mentioned below.
Total Supply: 398,297,345.34*
Total VME Tokens SOLD: 108,626,548.73
Total Bonus Tokens Issued: 37,882,623.82
Total Bounty: 3,258,796.46
*rounding off to 400M VME token supply. Additional tokens (1.7M) will be used for Exchange listing purposes.
Unlocking of Tokens
Although our tokens are currently locked for sale, we will be unlocking them soon before we hit the exchanges.
Exchange Listing
Whilst we have been approved by some key Crypto exchanges, we are still discussing internally on the listing date. As you all are aware market has been unpredictable and dull lately. We are closely monitoring the situation & will be listing VME at appropriate time.
As you might have seen the outcome of other ICOs that have gone for listing during this volatile period, we would like to take the best possible approach to safeguard interests of our contributors and VeriME.
We will keep you posted on the progress through our Telegram ANN channel.
Bonus to all Participants & Tokens Burning
As we have mentioned in the Whitepaper, we will be giving additional bonus of 10% to all participants in two tranches.
The first tranche will be 5% and tokens will be airdropped to contributors' wallet addresses post exchange listing.
Total VeriME Token supply will be 400 million Tokens. All remaining tokens will be burned.
Bounty Distribution
Bounty distribution for BitcoinTalk Bounty participants and Airdrop participants will happen post exchange listing. We will keep you posted on the progress through our Telegram ANN channel.
If you have any questions, please contact Admins on our Official Telegram Group.
Thank you once again for the support you have shown to our project. We will keep you posted as we make progress.
Team VeriME