Introduction
With this blog post, I want to let the world know about my most recent creation: DAFA
Decentralised Autonomous Funding Agent.
The idea for this project was conceived as a result of becoming engaged with some interesting STEEM communities whose relational heart-quarters are on Discord/Slack. (i.e. Utopian, Sndbox, Slothicorn, etc...)
They all share a common mission: to empower individuals who contribute to the socio-cultural evolution with their talents and skills.
DAFA's focus is on these socio-cultural collectives themselves. It's an "autonomous incubator" for communities that promote socio-cultural evolution.
What's DAFA?
DAFA has been inspired by Primavera De Filippi's Plantoid Project.
You can visualise DAFA as a digital creature, an amoeba for instance! A digital amoeba with primordial needs such as food and reproduction. In our digital amoeba, food is represented by crypto-currency, and reproduction is the incubation of a new socio-cultural entity.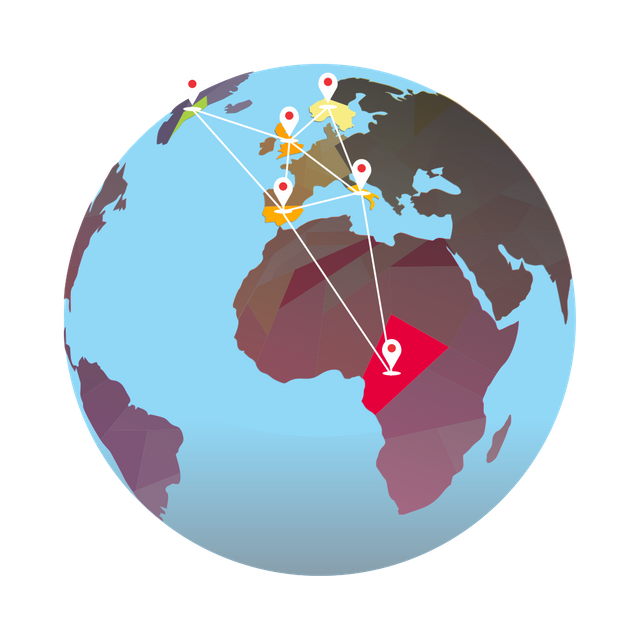 DAFA system self-regulates the amount of crypto-currency (food) to be able to sustain its current network and to incubate new entities to expand and grow its infrastructure (reproduction).
How does it work?
DAFA is composed of three primary entities: PATRONS, NODES and FOOD.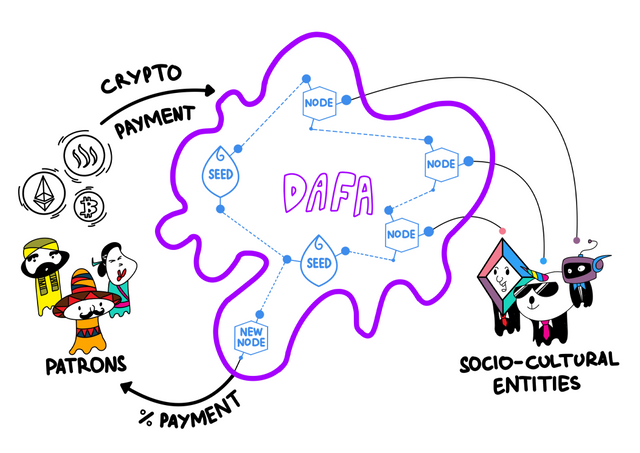 Let's break them down:
PATRONS
PATRONS are those people who feed DAFA's network with food (cryptocurrency). Anyone who wants to contribute to DAFA becomes a PATRON and becomes eligible for Voting, Earning Rewards.
VOTING: A PATRON can vote for the introduction of a new SEED into DAFA's Network.
EARNING REWARDS: Every time a SEED becomes an active NODE, PATRONS will receive a reward for their contributions to DAFA.
SEEDS & NODES
A socio-cultural entity to be included in DAFA's network has to apply to a very traditional online form. Once the application has been submitted, pre-assessed and accepted by PATRONS, the entity becomes a SEED and appears in our front-end as part of DAFA's organism/network.
As a SEED, the entity is not receiving any income. For a SEED to become an active NODE, it has to overcome a threshold of "FOOD" (cryptocurrency). In this stage, PATRONS can review the SEED's information, its mission, achievements, and send a certain amount of cryptocurrencies to DAFA.
DAFA is an organism, as said before, so it will autonomously decide how to allocate those funds/food. If a SEED obtains enough FOOD to overcome its threshold, it becomes an active NODE.
When an active NODE is generated, a reward will be paid to all the PATRONS, and the NODE will get its payout deferred in time (weekly or monthly).
NODES can become inactive if the entity is not aligned anymore to its mission or it's acting maliciously, DAFA's will cut the NODE from its network and re-distributing the wealth towards its active NODES and SEEDS.
DAFA's FOOD
Every time a PATRON contributes to DAFA, DAFA will autonomously manage the FOOD (cryptocurrency). This means that the organism itself will decide to nurture SEEDS or feed its current active NODES or to do both.
DAFA's State-of-the-Art
Here a list of DAFA's early progress:
DAFA's ecosystem and rules have been designed.
Currently defining a suitable tech architecture to use.
Currently drafting the first submission form for socio-cultural entities.
Defining the entities rules of conduct.
Looking for trustworthy backend developers interested in becoming part of the initial DAFA's team.
How to get involved
Be critical, let me see its flaws and why it won't work! Of course, do it with class and elegance, if not I'll ignore you.
If you are a developer or simply interested in knowing more about DAFA, you can reach out to me over Discord: albe [venalbe]#9432.
Thanks,
Alberto
---
Massive THANK YOU to everyone I've annoyed and helped me refining the idea and the copy: @inquiringtimes, @karmachela, @namiks, @blankrained, @ultravioletmag, @elear, @therealwolf, @jestemkioskiem, @stellabelle, @justatouchfey, @vincentnijman, @wallpaperflower, @anarcotech, @aggroed.