TOP Network Weekly Report: September 2 - 8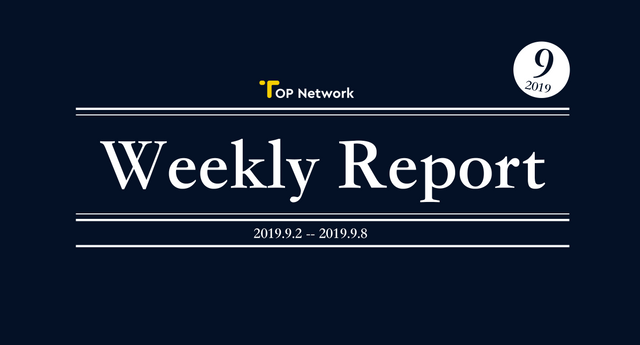 Breaking News
TOP Network successfully hosted the first offline meetup in Korea on Sept. 4. Collaborating with Tripio and HUPAYX, TOP has invited a number of industry leaders including Hee-Dong Yang, dean of business school of Ewha Womans University , Anndy Lian, author of bestseller Blockchain 2030, Lee Dong-hun, CMO of CKT, Aiden Lee, CEO of TVCC, and Joseph Hung from the investment institution of Kakao, Korea's biggest social media platform.
Backed by prestigious organizations including Ewha Womans University, Coinin, Huobi Korea, and more, the event was set to discuss how to empower millions of users in the post-IEO era and has attracted nearly a hundred of attendees including media, KOLs, investors and more. TOP CMO Noah introduced the long-term mission of TOP to build a public chain for real-world business. TOP PR Manager York Ye joined the panel with the guests from Korean media outlets to talk about how to educate and incentivize users in the decentralized ecosystem.
Our successful debut in Korea marks a big breakthrough for TOP to open up in the localmarket. Since TOP launched on Bithumb Global in July, we quickly expanded the Korean community. The number of our Kakao group members increased to nearly 500 in less than a month, and we have published a series of in-depth articles in Korean on Naver Blog. We will make more endeavors to excel the Korean market. Please stay tuned with us to learn more!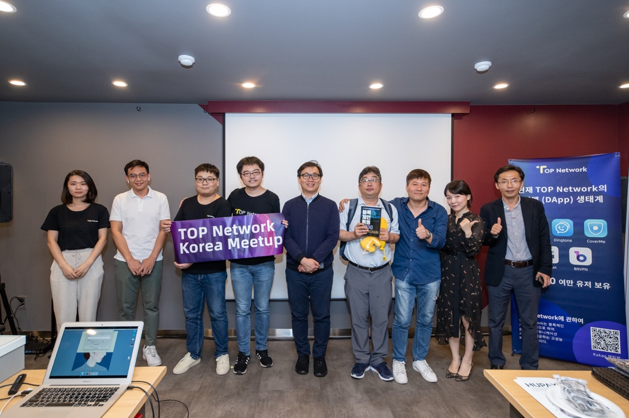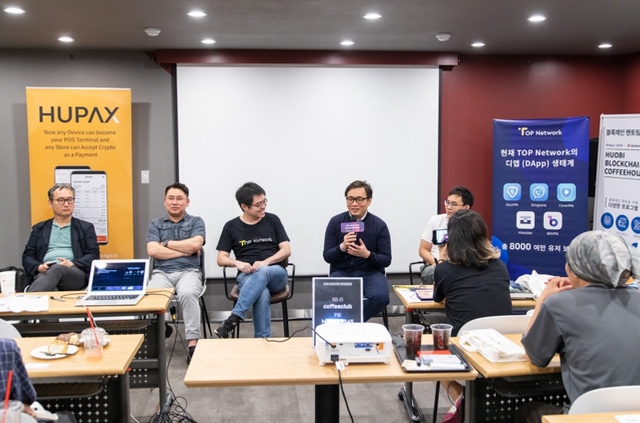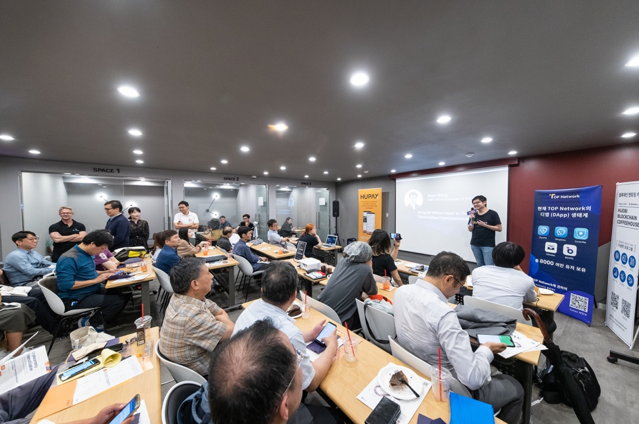 Upcoming Event
· TOP is co-hosting a hackathon in Prague, Czech Republic, starting from Sept. 28. Organized by our strategic investor Rockaway Blockchain, this two-day gathering for cypherpunks also involved top-tier blockchain projects including Binance DEX, Oasis Lab, and Matic. TOP has deliberately prepared four challenges that will give the developers hands-on experience of TOP's technical stacks including the smart contracts and TOP SDK/API. Check out the official website of Hack To The Moon for more details!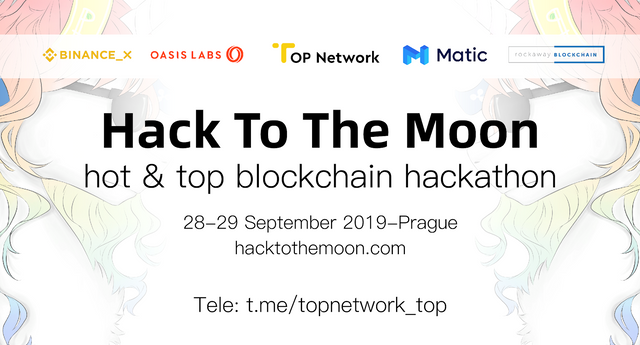 Technical Development
· TOP Election Optimization: Optimized the election of Zec of each Zone to improve security. Adjusted Beacon chain to represent the entire network in Staking to elect the next layer of Zec.
· Optimization of TOP Work consensus: Optimized the consensus of workload and contribution of nodes. Included the contribution and participation of each node in each consensus, and add proper incentives for non-pBFT Leaders.
· Optimization of TOP P2P network Keep-alive: Stripped Keep-alive from the multi-layer virtual network and implemented it on the underlying physical network. Optimized the cost of network resources of Keep-alive.
· Simulation and Testing of TOP Mainnet: Completed the deployment of TOP main test network so that it can run without interruption now.
Community
· TOP kicked off the node recruitment for our staking campaign earlier this week. TOP team has spent several months designing TOP Staking, the key to ensure the ecosystem security and on-chain governance. TOP Staking is low-cost, low-risk and high-profit. Token holders who may not have a technical background can easily join to vote, while miners don't have to invest in mining machines and can earn a whopping of 60% annual return. We will unveil the official Staking Handbook soon. Stay tuned!
· As the first round of HiWallet closed beta came to an end, we received hundreds of helpful feedbacks from our community ranging from user experience, UI/UX design, marketing strategies and even how to integrate the applications into the entire ecosystem. We appreciate all your support and suggestions. Those testers whose feedbacks were adopted will get their token rewards soon. Our beta test is valid for a long term. Feel free to download HiWallet from AppStore or Google Play, and submit your feedbacks to earn rewards!
Media
TOP's offline meetup on Sept. 4 in Korea has attracted over 160 local media outlets to cover, including m.ksilbo.co.kr/, the most influential newspaper in Korea, and other leading crypto media like Blockcast and KGNewss.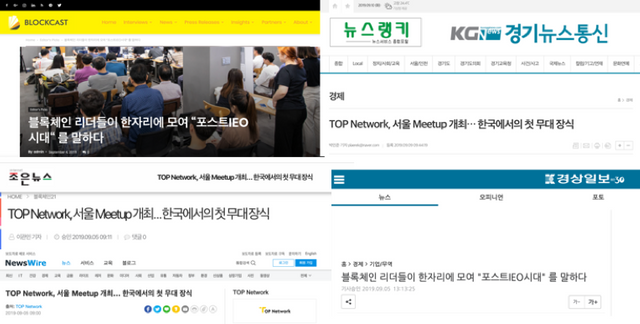 You can find TOP Network on:
Email Contact: [email protected]
Official Website: http://www.topnetwork.org
Telegram: https://t.me/topnetwork_top
Twitter: https://twitter.com/topnetwork_top
Medium: https://medium.com/@topnetwork
Steemit: https://steemit.com/@topnetwork-top
Reddit: https://www.reddit.com/user/topnetwork_top
About TOP Network
TOP Network is a decentralized open communication network that provides cloud communication services on the blockchain. TOP offers secure, low-cost services such as messaging, calling, video, VPN, CDN, IoT data sharing and more.
TOP Network is also a high-performance public blockchain platform designed to handle real-world business of any size or volume. Powered by innovations including three-layer network, two-layer sharding, two-layer lattice DAG and PBFT-PoS*, TOP can process several hundred thousand transactions per second on the blockchain.
The long-term mission of TOP Network is to build a public blockchain infrastructure for all Dapps. Our world-class team of over 100 developers is striving for this goal.
TOP Network originated from the common underlying network layer of Dingtone, CoverMe and SkyVPN, three communication apps built by the TOP team before the blockchain project. These apps, having attracted over 80 million users in total, will be ported to TOP Network upon the launch of TOP and generate huge volumes of transactions in the TOP ecosystem.
TOP Network was founded by serial entrepreneur Steve Wei and his colleagues in late 2017. Steve was one of the earliest employees of WebEx in the 1990s. After WebEx, he founded a successful video conferencing software company which was acquired by Huawei in 2010. In 2012, Steve co-founded Dingtone, a public listed company operating popular communication apps such as Dingtone, CoverMe and SkyVPN.
On March 26th, TOP Network made its debut as the first project launched through Huobi Prime — Huobi's selective Direct Premium Offering platform. A total of 1.5 billion TOP Tokens were sold out in seconds, after which the price of TOP surged 2770% once it was freely tradable. Upon the listing, TOP's trading volume hit $100 million in just eight seconds, and surpassed the trading volume of Bitcoin at $250 million in less than a week, ranking first in terms of volume on Huobi Global. Before that, TOP Network has closed $15 million early investments from prestigious institutional investors and individual billionaire investors, including DHVC, Fenbushi Capital, NEO Global Capital (NGC), Ontology Global Capital (OGC), LD Capital and more.