TOP Network Weekly Report: October 7- October 13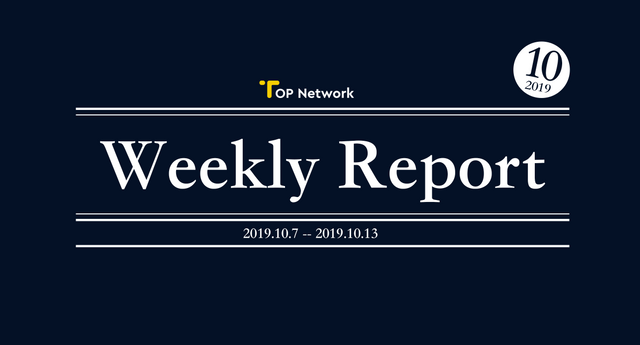 Breaking News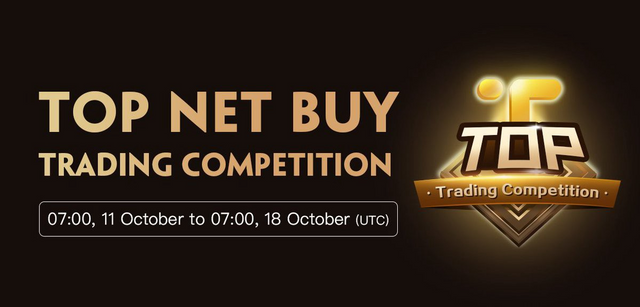 TOP Network got listed on PIEXGO, one of the world's leading innovative financial ecosystem for digital assets. TOP token was tradable against USDT starting on Oct. 11. PIEXGO is the fifth cryptocurrency exchange TOP officially gets on, after the successful listing on Huobi, Coinsuper, Binance DEX, and Bithumb Global. PIEXGO also kicked off a 7-day trading competition on the same day. Users having passed PIEXGO KYC will have the chance to share 1,000,000 TOP according to their net buy volume. Learn more on PIEXGO official website.
Upcoming Events
· On Oct. 16, TOP CEO Steve will keynote at IIT Real-time Communication in Chicago, an academic conference hosted by Illinois Institute of Technology. Invited by the host, Steve will talk about the blockchain-powered solution in the communication industry with industry experts and professors.
· Thanks to the successful debut at MWC Shanghai in June, TOP is re-invited by the organizer to come back to the biggest telecom conference this month! TOP will show up at MWC LA on Oct. 23 to meet telecom giants and innovators around the globe.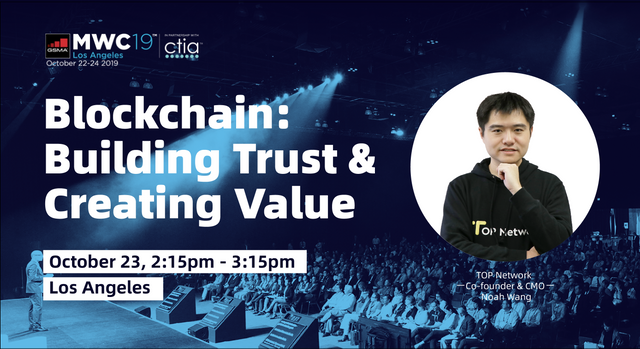 · TOP will keynote at Blockchain World Forum Shenzhen on Oct. 24, a global blockchain summit that has been held in Dubai, Silicon Valley, and Singapore. TOP stood out as a keynote speaker through the rigorous application. We will talk about the latest trends and progress with thousands of media, KOLs, and blockchain industry professionals.
Technical Development
· While each node on TOP Chain can quickly generate 1 billion private and public keys, we found a security problem in testing that the random numbers sometimes tend to repeat. We improved the open-source secure random number generator, combined with TOP's own hash-expanded random number generator, so that the generated random numbers on the same node are not repeating on the same node for 24 hours and 7 days.
·Completed the storage and synchronization optimization of the large data sets on the system smart contracts (not for user-oriented deployment).
· After the main test network with 10,000 TPS has been running for a week, we found the storage of a small number of nodes were crashed and the nodes broke down as a result. We are still locating this issue and it may take a few days to fix it.
· Fixed the flaws in the PBFT pending mechanism.
Community


The recap video of the successful global hackathon Hack To The Moon TOP co-hosted in Prague, Czech Republic on Sept. 28 is on! The hackers worked tirelessly for 36 hours to develop their projects and we finally chose two teams as the winners. Team "Defy" built a decentralized ID and authentication system, along with a distributed p2p file storage using TOP Chain and smart contracts. Team "Backstreet Hodlers" developed a delivery system DApp based on TOP smart contracts.
It is our first time to host such a global hackathon, and these projects demonstrate that we have made the conceptual ideas in our whitepaper into applicable, tangible technical stacks. As we began to open-source the code and the Mainnet launch is approaching, we will roll out more events to expand our global developer community. Please stay tuned!
Event Recap
On Oct. 11, members of Chinese Entrepreneur Organization (CEO), a group formed by Stanford University students and alumni, visited TOP's headquarter in Silicon Valley. TOP CEO Steve shared his entrepreneurial experience and introduced TOP's mission to build a decentralized ecosystem for real-world business. This is part of CEO's signature serial event — "CEO Happy Hour" — that connects Stanford students and alumni interested in entrepreneurship to world-leading startups. They have visited over a hundred unicorns and top-tier startups in Silicon Valley and China including the well-known video conference provider Zoom Communications and the emerging artificial intelligence company Landing.AI.
You can find TOP Network on:
Email Contact: [email protected]
Official Website: http://www.topnetwork.org
Telegram: https://t.me/topnetwork_top
Twitter: https://twitter.com/topnetwork_top
Medium: https://medium.com/@topnetwork
Kakao: https://open.kakao.com/o/g7g9YBwb
Steemit: https://steemit.com/@topnetwork-top
Reddit: https://www.reddit.com/user/topnetwork_top
Instagram: https://www.instagram.com/topnetworktop/
About TOP Network
TOP Network is a decentralized open communication network that provides cloud communication services on the blockchain. TOP offers secure, low-cost services such as messaging, calling, video, VPN, CDN, IoT data sharing and more.
TOP Network is also a high-performance public blockchain platform designed to handle real-world business of any size or volume. Powered by innovations including three-layer network, two-layer sharding, two-layer lattice DAG and PBFT-PoS*, TOP can process several hundred thousand transactions per second on the blockchain.
The long-term mission of TOP Network is to build a public blockchain infrastructure for all Dapps. Our world-class team of over 100 developers is striving for this goal.
TOP Network originated from the common underlying network layer of Dingtone, CoverMe and SkyVPN, three communication apps built by the TOP team before the blockchain project. These apps, having attracted over 80 million users in total, will be ported to TOP Network upon the launch of TOP and generate huge volumes of transactions in the TOP ecosystem.
TOP Network was founded by serial entrepreneur Steve Wei and his colleagues in late 2017. Steve was one of the earliest employees of WebEx in the 1990s. After WebEx, he founded a successful video conferencing software company which was acquired by Huawei in 2010. In 2012, Steve co-founded Dingtone, a public listed company operating popular communication apps such as Dingtone, CoverMe and SkyVPN.
On March 26th, TOP Network made its debut as the first project launched through Huobi Prime — Huobi's selective Direct Premium Offering platform. A total of 1.5 billion TOP Tokens were sold out in seconds, after which the price of TOP surged 2770% once it was freely tradable. Upon the listing, TOP's trading volume hit $100 million in just eight seconds, and surpassed the trading volume of Bitcoin at $250 million in less than a week, ranking first in terms of volume on Huobi Global. Before that, TOP Network has closed $15 million early investments from prestigious institutional investors and individual billionaire investors, including DHVC, Fenbushi Capital, NEO Global Capital (NGC), Ontology Global Capital (OGC), LD Capital and more.