TOP Network Weekly Report: August 26 — September 1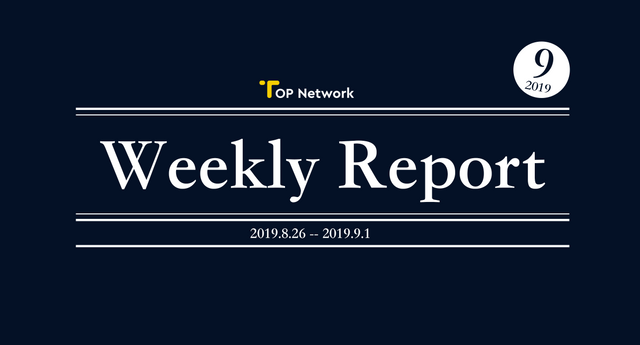 Breaking News
TOP Network has bought back 231918293 TOP tokens from the secondary market as of August 22. We believe TOP is currently undervalued, and we remain confident as ever in achieving our goal of providing real-world value through decentralization. Thus, TOP will continue to buy more tokens back from the secondary market. Furthermore, as the development team is finalizing the last parts of our mainnet, TOP will increase the number of buy-back tokens in preparation for the staking campaign, so as to ensure sufficient node count and computing power upon mainnet launch. We will announce more details of the buy-back plans. Please stay tuned with our official channels!
Upcoming Events
· TOP Network is hosting our first offline meetup in Seoul, Korea with Tripio and HUPAYX on Sept 4. The event has attracted hundreds of blockchain enthusiasts and over 30 prestigious industry leaders including Anndy Lian, author of bestseller Blockchain Revolution 2030, and head of business of Coinin, one of the largest blockchain media in Korea.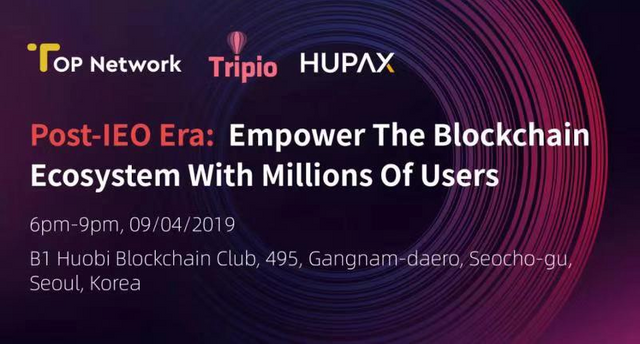 · TOP is co-hosting a hackathon in Prague, Czech Republic, starting from Sept. 28. Organized by our strategic investor Rockaway Blockchain, this two-day gathering for cypherpunks also involved top-tier blockchain projects including Binance DEX, Oasis Lab, and Matic. TOP has deliberately prepared four challenges that will give the developers hands-on experience of TOP's technical stacks including the smart contracts and TOP SDK/API. Check out the official website of Hack To The Moon for more details!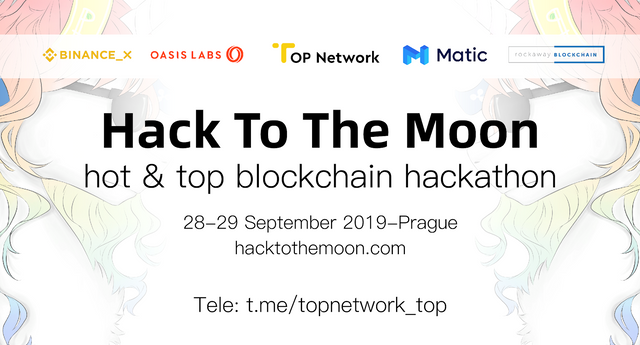 Technical Development
· Optimization and improvement on TOP Chain: Completed the reconstruction of the framework of Runtime, the system-level smart contract, and passed the integration acceptance testing.
· TOP Cross-Chain Staking: Completed coding of staking bridge based on smart contracts on Ethereum and started testing.
· TOP on-chain governance V2: Completed coding of on-chain governance V2 to support the upgrade or soft fork of the node software and started testing.
· Implementation and simulation of TOP mainnet: Completed the implementation of global TOP test network based on AWS, Google and Digital-Ocean at data centers around the world. The data centers around the world are located in the U.S. (East, West, and South), Europe (UK, Germany, France), Singapore, Japan, and Hong Kong.
Community
· TOP Network held an AMA on Sept. 3 with more than 10,000 community members in the Telegram group of Binance DEX. The community members actively raised hundreds of questions around TOP's mass adoption, user base, strategic partnership and more. We will publish the AMA recap soon.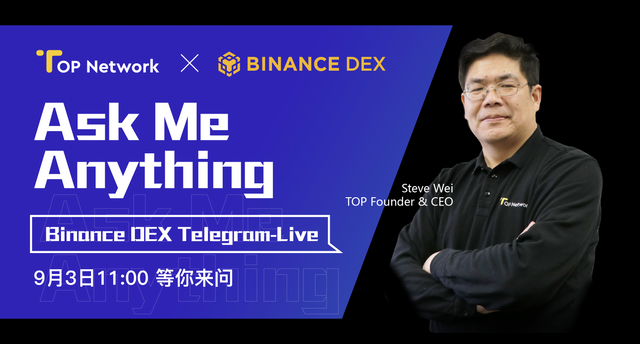 · We created our official Telegram group in Korea and expanded our Kakao group to have over 415 members. We added 8 more high-quality articles on Naver blog.
Media
TOP published an op-ed on Asia Blockchain Review, the most influential English-speaking crypto media in southeastern Asia that has hundreds of thousands of readers. The article goes over how Facebook's Libra would impact the blockchain startups and the whole industry.
You can find TOP Network on:
Email Contact: [email protected]
Official Website: http://www.topnetwork.org
Telegram: https://t.me/topnetwork_top
Twitter: https://twitter.com/topnetwork_top
Medium: https://medium.com/@topnetwork
Steemit: https://steemit.com/@topnetwork-top
Reddit: https://www.reddit.com/user/topnetwork_top
About TOP Network
TOP Network is a decentralized open communication network that provides cloud communication services on the blockchain. TOP offers secure, low-cost services such as messaging, calling, video, VPN, CDN, IoT data sharing and more.
TOP Network is also a high-performance public blockchain platform designed to handle real-world business of any size or volume. Powered by innovations including three-layer network, two-layer sharding, two-layer lattice DAG and PBFT-PoS*, TOP can process several hundred thousand transactions per second on the blockchain.
The long-term mission of TOP Network is to build a public blockchain infrastructure for all Dapps. Our world-class team of over 100 developers is striving for this goal.
TOP Network originated from the common underlying network layer of Dingtone, CoverMe and SkyVPN, three communication apps built by the TOP team before the blockchain project. These apps, having attracted over 60 million users in total, will be ported to TOP Network upon the launch of TOP and generate huge volumes of transactions in the TOP ecosystem.
TOP Network was founded by serial entrepreneur Steve Wei and his colleagues in late 2017. Steve was one of the earliest employees of WebEx in the 1990s. After WebEx, he founded a successful video conferencing software company which was acquired by Huawei in 2010. In 2012, Steve co-founded Dingtone, a public listed company operating popular communication apps such as Dingtone, CoverMe and SkyVPN.
On March 26th, TOP Network made its debut as the first project launched through Huobi Prime — Huobi's selective Direct Premium Offering platform. A total of 1.5 billion TOP Tokens were sold out in seconds, after which the price of TOP surged 2770% once it was freely tradable. Upon the listing, TOP's trading volume hit $100 million in just eight seconds, and surpassed the trading volume of Bitcoin at $250 million in less than a week, ranking first in terms of volume on Huobi Global. Before that, TOP Network has closed $15 million early investments from prestigious institutional investors and individual billionaire investors, including DHVC, Fenbushi Capital, NEO Global Capital (NGC), Ontology Global Capital (OGC), LD Capital and more.