TOP Network Weekly Report: August 19 — August 25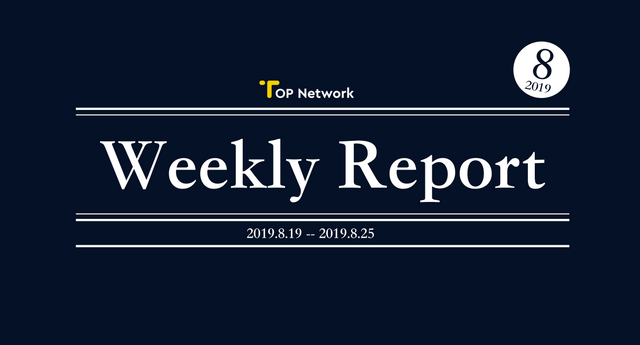 Breaking News
On August 22, TOP Network has formed a strategic partnership with EMOGI Network (LOL), a "social digital currency" incubated by IOST. Backed by a team having developed two widely- used products — Berminal, a short video sharing platform for Latin Americans, EMOGI, the PoS-based cryptocurrency, acts as the pivot to incentivize the 6 million unique network participants. The collaboration between TOP and EMOGI will lead to an outbreak of user traffic and bolster the mass adoption of blockchain.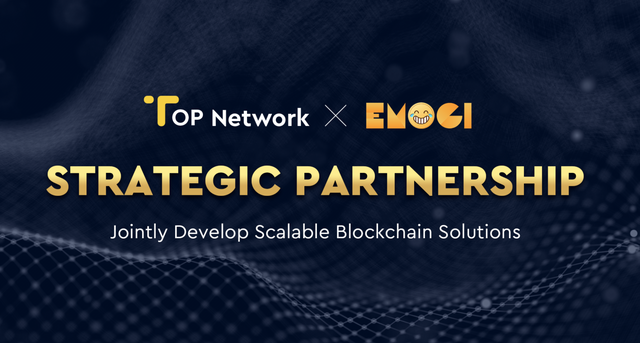 Upcoming Events
On Sept. 4, TOP Network is hosting an offline meetup in Seoul, Korea with Tripio and HUPAYX. The event with the theme "Post-IEO: Empower The Blockchain Ecosystem With Millions of Users", has already been spread in a large number of local communities in Korea and has attracted over 30 prestigious industry leaders from exchanges, media, and investment institutions.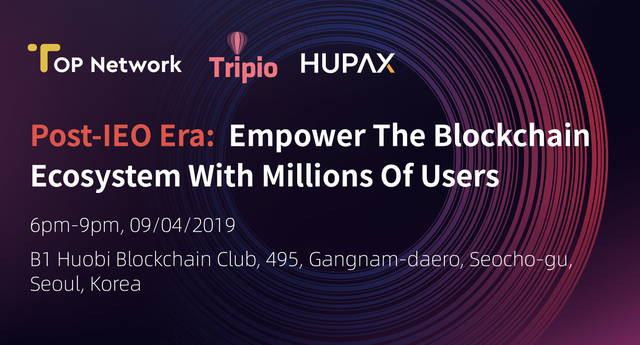 Technical Development
· Optimization and improvement on the TOP Chain: Optimized P2P Ping in large-scale networks.
· TOP Cross-Chain Staking: Completed the design of staking bridge based on smart contracts on Ethereum. Coding is scheduled to be completed in 2 weeks.
· TOP on-chain governance V2: Completed the design of on-chain governance V2 to support upgrade or soft fork of the node software. Coding is scheduled to be completed in 2 weeks.
· TOP internal code auditing: Completed reviews of the smart contracts for workload determination, node election and node incentives.
Community
· After one week since we officially launched the closed beta for HiWallet, the first cryptocurrency wallet developed by the TOP team, we have formed a community of nearly 100 testers to share their feedbacks directly with the development team. If you haven't tried HiWallet, feel free to download it from AppStore or Google Play and submit your advice through the link below.
http://z53zdv6kh1zdf5xh.mikecrm.com/iZ4Kv6j
· We kept making breakthroughs in the Korean market by expanding our Kakao group to have over 400 members, publishing 3 high-quality articles on Naver blog, and established potential collaboration opportunity with local projects, exchanges, KOLs and more. Click the link below to join our Kakao group.
https://open.kakao.com/o/g7g9YBwb
Events
· On August 21, TOP CEO Steve Wei was invited to attend a lunch with Andrew Yang, an American 2020 Democratic presidential candidate and entrepreneur. As a Chinese-born entrepreneur in the U.S., Steve devoted to Yang's campaign committee in support of his policies. Andrew Yang, famous for his crypto- friendly statements, called for "guidelines in the digital asset world" and said that blockchain would be one of the key technologies in the future at the Consensus Conference in New York this May. TOP will collaborate more closely with Yang's campaign in the future, with the hope to accelerate the regulation and mainstream adoption of blockchain technology.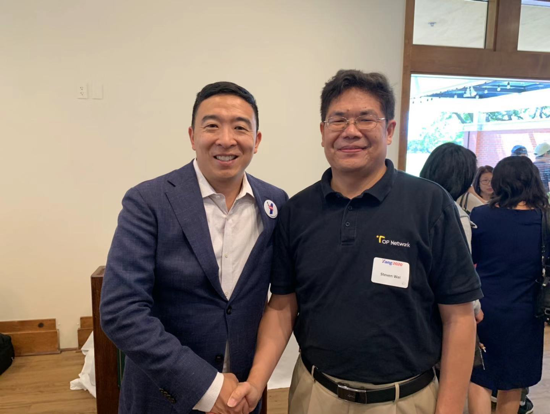 · On August 24, TOP showed up at Bytom Global Devcon2, an event attracting more than 200 developer, projects, investors and blockchain enthusiasts.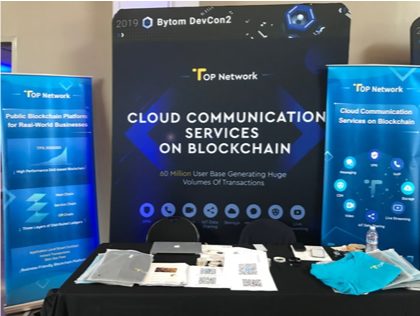 You can find TOP Network on:
Email Contact: [email protected]
Official Website: http://www.topnetwork.org
Telegram: https://t.me/topnetwork_top
Twitter: https://twitter.com/topnetwork_top
Medium: https://medium.com/@topnetwork
Steemit: https://steemit.com/@topnetwork-top
Reddit: https://www.reddit.com/user/topnetwork_top
About TOP Network
TOP Network is a decentralized open communication network that provides cloud communication services on the blockchain. TOP offers secure, low-cost services such as messaging, calling, video, VPN, CDN, IoT data sharing and more.
TOP Network is also a high-performance public blockchain platform designed to handle real-world business of any size or volume. Powered by innovations including three-layer network, two-layer sharding, two-layer lattice DAG and PBFT-PoS*, TOP can process several hundred thousand transactions per second on the blockchain.
The long-term mission of TOP Network is to build a public blockchain infrastructure for all Dapps. Our world-class team of over 100 developers is striving for this goal.
TOP Network originated from the common underlying network layer of Dingtone, CoverMe and SkyVPN, three communication apps built by the TOP team before the blockchain project. These apps, having attracted over 60 million users in total, will be ported to TOP Network upon the launch of TOP and generate huge volumes of transactions in the TOP ecosystem.
TOP Network was founded by serial entrepreneur Steve Wei and his colleagues in late 2017. Steve was one of the earliest employees of WebEx in the 1990s. After WebEx, he founded a successful video conferencing software company which was acquired by Huawei in 2010. In 2012, Steve co-founded Dingtone, a public listed company operating popular communication apps such as Dingtone, CoverMe and SkyVPN.
On March 26th, TOP Network made its debut as the first project launched through Huobi Prime — Huobi's selective Direct Premium Offering platform. A total of 1.5 billion TOP Tokens were sold out in seconds, after which the price of TOP surged 2770% once it was freely tradable. Upon the listing, TOP's trading volume hit $100 million in just eight seconds, and surpassed the trading volume of Bitcoin at $250 million in less than a week, ranking first in terms of volume on Huobi Global. Before that, TOP Network has closed $15 million early investments from prestigious institutional investors and individual billionaire investors, including DHVC, Fenbushi Capital, NEO Global Capital (NGC), Ontology Global Capital (OGC), LD Capital and more.