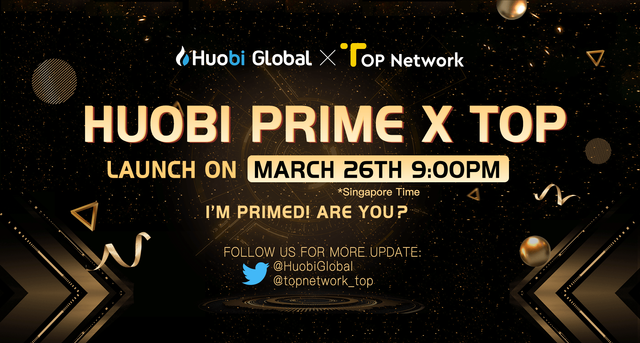 Over the past few weeks, our team have been heads-down striving to debut our token on crypto exchanges, one of the most important milestones in our blueprint for success.
Our hard work has paid off. We have this great news to share with our community:
Huobi Global, the world's most reliable cryptocurrency exchange, today announces TOP will be the first token listed through Prime, Huobi's selective new coin launch platform.
TOP is the native token of TOP Network, a high-performance public blockchain platform designed to handle real-world business of any size or volume. TOP Network also provides cloud communication services on the blockchain.
"While we had a number of really strong candidates for Huobi Prime's inaugural launch, we were really impressed by TOP Network's ambitious business model, as well as the fact that it will be the first true high performance public chain with a pre-existing userbase in the millions," said Ross Zhang, Head of Marketing for Huobi Group. TOP Network will be leveraging its 60-million-strong userbase to the project.
Currently, most public blockchains have a hard time facilitating large-scale, real-world businesses and fail to gain users. TOP Network will be the first high-performance public blockchain with a massive user base. Before TOP Network, our team developed three communication apps, Dingtone, CoverMe and SkyVPN, which have over 60 million users in total. Those 60 million users will soon be ported to TOP Network upon the launch of Mainnet, generating massive-volume transactions and continuously attracting new developers to deploy their apps in the TOP ecosystem.
TOP will be offered on Huobi Prime at below-market rates in three rounds and will be immediately tradable on Huobi Global against Huobi Token, Huobi's native token. Huobi has conducted meticulous research to select top-notch blockchain projects based on technological innovation, development progress and team background.
"We've worked closely with Huobi and they won our trust with their professionalism, open-mindedness, and overall friendliness to projects," said Steve Wei, CEO of TOP Network. "We were impressed by Huobi's positive reputation and strong branding power and we are happy to launch TOP Network on Huobi Prime."
TOP Network, the first project on Huobi Prime, backed by its cutting-edge technologies, real-world use cases and solid user base, will bring tremendous value to the blockchain industry and boost confidence in the crypto market.
More About TOP:
The communication services on TOP generate such high volumes of transactions that no existing public blockchain platforms in the market can handle it. TOP Network is designed to tackle the challenge with an innovative three-layered ledger architecture: the main chain, multiple service chains and trusted off-chain processors. The main chain manages the financial settlement but does not rely on service chains or participate in the transaction processing on any service chain. A service chain is designed to process a specific type of business and can choose any consensus mechanism and data structure according to the type of business. The off-chain processors handle and store business data on the off-chain network to reduce the amount and frequency of data processed and stored on the chain.
By taking advantage of both directed acyclic graph (DAG) data structure and block data structure, TOP Network uses unit lattice data structure to organize transactions and block lattice data structure to synchronize account states, significantly improving the transaction processing capacity. This dual lattice architecture is one of the key technologies to achieve fast confirmation of transactions and efficient cross-shard and cross-zone state synchronization. TOP offers two types of smart contracts — Platform Contracts and Service Contracts, to deploy more flexible and secure smart contracts on TOP. TOP is far more decentralized compared with other DAG-based public blockchain platforms like IOTA.
In the traditional DPoS consensus mechanism, consensus nodes are selected based solely on their stake, or the size of their assets. The stake defined on TOP Network, called Comprehensive Stake, combines multiple factors including asset stake, accumulated reputation, computing power and so on. TOP uses a VRF algorithm to elect the final consensus nodes with the highest comprehensive stake, and the consensus nodes execute PBFT algorithm to validate transactions and produce blocks. Constructed on a completely permissionless network, TOP is more decentralized and secure in contrast to permissioned networks like EOS, a semi-decentralized blockchain platform where only a few supernodes participate in the consensus process.
TOP Network officially launched Testnet at Stanford University in October 2018. TOP Mainnet is scheduled to come out by the end of Q2 this year according to its white paper.
TOP founding team has over 20 years of hands-on development experience in the communications industry. Steve Wei, co-founder and CEO of TOP Network, graduated from Tsinghua University and has successfully founded four startups. A founding employee at WebEx, Steve held multiple key positions at WebEx from 1996 to 2003. In 2014, Steve founded Cenwave Communications, a video conferencing software company successfully sold to Huawei in 2010. In 2012, Steve founded Dingtone, which operates communications apps that altogether have attracted more than 60 million users overseas. TOP core technical team, early employees of WebEx, Fortinet and Cloud.com with extensive successful startup experience, are experts in communications, encryption, cloud computing and cybersecurity.
More details about Huobi Prime X TOP Network at: https://huobiglobal.zendesk.com/hc/en-us/articles/360000222462-Huobi-Global-will-list-Top-Network-through-Huobi-Prime-on-March-26-2019
Visit TOP Network Official Website https://www.topnetwork.org/ to learn more about this project.
To find out more, visit Huobi Global at https://www.hbg.com