TOP Network Biweekly Report: November 18 — December 1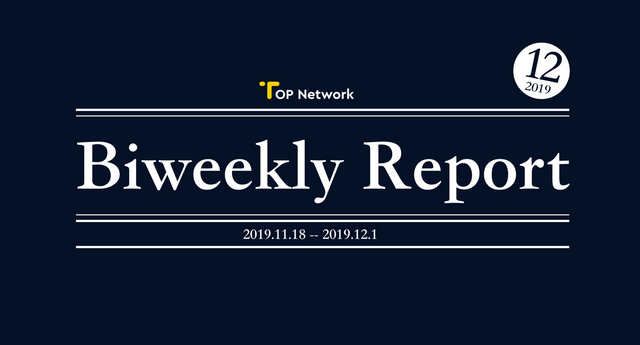 Technical Development
• Completed derivation and formal verification of TOP-pBFT algorithm. Determined the potential bugs regarding implementing the code based on the formal verification and fixed them.
• Modified TOP's side-chain and cross-chain architecture that enables TOP to interact with other blockchains such as Ethereum, Bitcoin, and EOS as a sidechain. Started the first stage of implementing the interaction between TOP and Ethereum.
• Analyzed the performance data of TOP Mainnet. Designed new solutions to fix the network architecture problems caused by high complexity and fluctuation of the inter-continental network. Completed coding to optimize the multi-layer and multi-subnet hierarchy broadcast.
Community
• We released our updated roadmap about the next steps after TOP's Mainnet launch. Launching the Mainnet is merely a beginning of TOP's mission to develop a general-purpose public chain platform for all DApps. We will host a technical AMA with our Engineering Director Justin, and Senior Product Manager Rockey on at 7:30 pm Dec. 5 (GMT+8) in our Chinese communities. We will also publish an article going through the details about our technical roadmap soon. Please stay tuned!
• You might have questions about our Parallel pBFT consensus and how the two-layer lattice data structure increases scalability. We published the second part of our Mainnet technical article on Medium, detailing the two different lattice data structures and the four layers of parallelization. Feel free to leave comments below the article to let us know what you want to learn more about our technology.
Partnerships
On Dec. 3, TOP was invited to attend 2019CAN in Hangzhou, the conference hosted by Canaan Creative, the bitcoin hardware company recently launched IPO on Nasdaq. One of the featured events at the conference was a private lunch with Turing award winner and world-renowned cryptography expert Whitfield Diffie. Diffie visited TOP office on Nov. 10 and talked about the application of cryptography in the field of blockchain with TOP co-founding team. Diffie showed great interest in TOP's technical architecture and the recently-launched TOP Mainnet.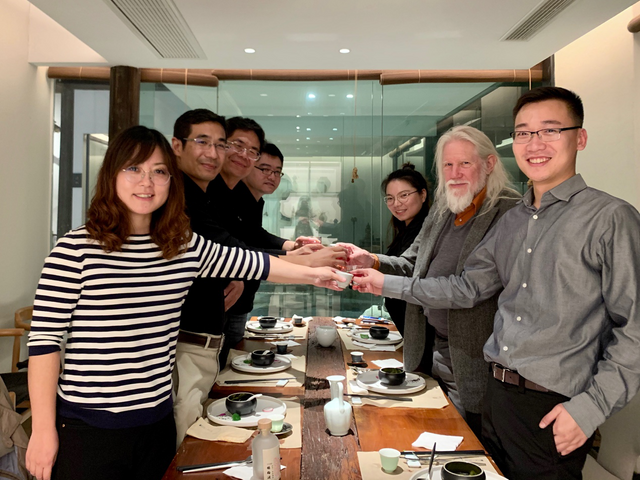 You can find TOP Network on:
Email Contact: [email protected]
Official Website: http://www.topnetwork.org
Telegram: https://t.me/topnetwork_top
Twitter: https://twitter.com/topnetwork_top
Medium: https://medium.com/@topnetwork
Kakao: https://open.kakao.com/o/g7g9YBwb
Steemit: https://steemit.com/@topnetwork-top
Reddit: https://www.reddit.com/user/topnetwork_top
Instagram: https://www.instagram.com/topnetworktop/
About TOP Network
TOP Network is a decentralized blockchain ecosystem composed of 4th-generation public blockchain, decentralized Apps (DApps) and decentralized communications services.
TOP Chain, the public blockchain infrastructure underpinning the entire decentralized ecosystem , is the world's first full-state sharding public chain and a high-performance platform for large-scale DApps. Powered by an innovative three-layered ledger architecture consisting of a main chain, service chains, and off-chain ledgers, TOP Chain is capable of handling real-world business of any size and volume. TOP Chain applies technological innovations such as a two-layer lattice DAG, two-layer sharding, and a parallel pBFT-PoS consensus mechanism, making a single chain capable of processing over 300,000 transactions per second. Equipped with high TPS, airtight security, and extremely fast confirmation times, TOP Chain is a reliable platform for services demanding high-frequency transactions such as communication, gaming, social media, big data, artificial intelligence, IoT, and more.
The long-term mission of TOP Network is to build a public blockchain infrastructure for all DApps. Our world-class team of over 100 developers is striving for this goal. We have already developed HiWallet, a cryptocurrency wallet, and are currently developing a series of blockchain games and more large-scale DApps on top of the ecosystem.
Moreover, over 80 million global users will be progressively migrated from the pre-existing communications Apps — Dingtone, CoverMe, and SkyVPN — to TOP Chain, generating a huge volume of transactions and traffic to make TOP a prosperous blockchain ecosystem.
TOP Network was founded by Steve Wei in Silicon Valley in 2017, with the R&D team based in China. Steve was one of the earliest employees of WebEx in the 1990s. After WebEx, he founded Cenwave Communications, a successful video conferencing software company which was acquired by Huawei in 2010. In 2012, Steve co-founded Dingtone, a publicly listed company operating a set of communications Apps with over 80 million global users.