TOP Network Biweekly Report: December 2-15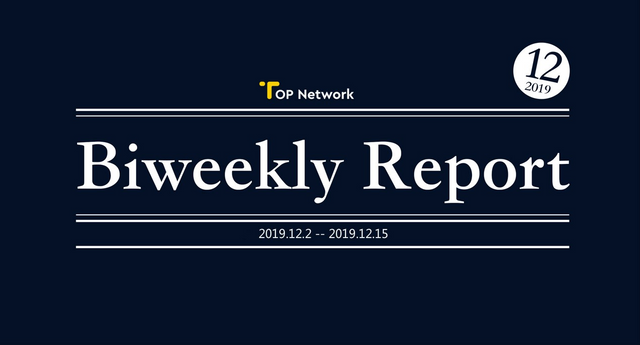 Technical Development
· Completed dynamic consensus, group consistency, and usability certification within shards. Found the loopholes in the code level implementation and fixed them.
· Completed the optimization of Multi-Layer, Multiple subnet, hierarchy broadcasting and released (RELEASE).
· Completed decentralized authentication of p2p communication between nodes, authorization of V2 and coding. V2 can resist stronger external DDOS attacks.
· Focused on how to enhance resistance against DDOS attacks from malicious nodes inside a shard, especially when malicious nodes attack other nodes within the shard through a large number of broadcast packets by modifying code. The preliminary design has been formed. Event Highlights
Event Highlights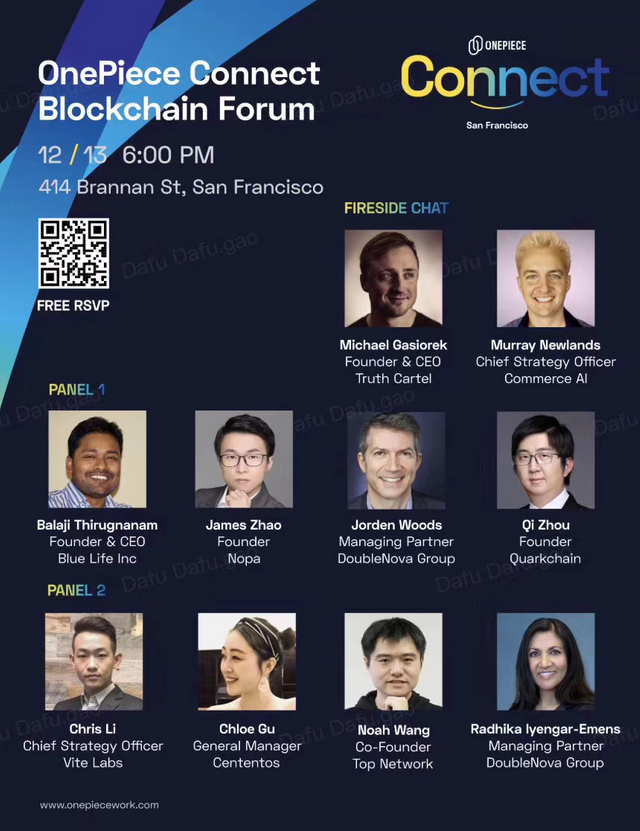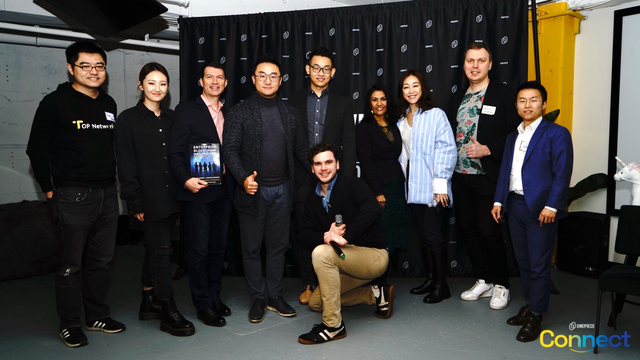 · On December 13, TOP's CMO Noah Wang was invited to participate in "The OnePiece Connect: 2020 Blockchain Forum" to discuss the global trends of the blockchain industry and the outlook for the 2020 blockchain industry. Noah Wang shared with the participants the unique three-layer architecture of TOP Chain, and the technical advantages of full-state sharding. The "OnePiece Connect Blockchain Forum" gathered the world's top industry experts and attracted more than one hundred industry elites to partake. During the event, TOP chain was recognized and lauded by the guests as the world's first full-state sharded public chain. In particular, the participants were impressed by the tens of millions of users to be ported onto TOP Chain in the near future, and excited about what that would mean for the blockchain space.
· On December 17, TOP CMO Noah attended the Yale CEO Summit co-sponsored by Yale University, Deloitte, IBM, Samsung, and other industry giants. The CEO Summit was held in New York, with the theme "2020 Perspectives from the Pioneers of CEO Leadership." CEOs and executives of well-known companies presented and explored the economies, politics, and culture of 2019 vs 1989.
Community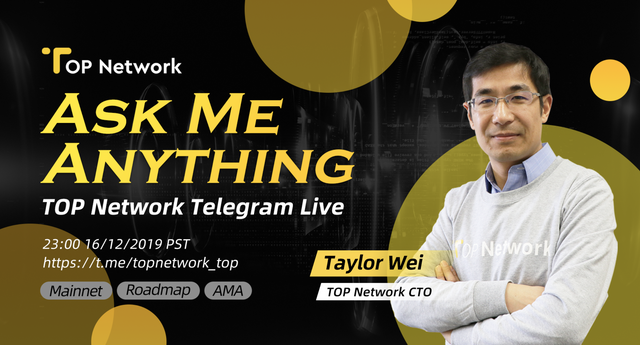 TOP CTO Taylor held an AMA and introduced the TOP Mainnet along with an updated roadmap in the TOP Network Telegram group at 11pm on December 16th (PST). We will release an article detailing the AMA soon.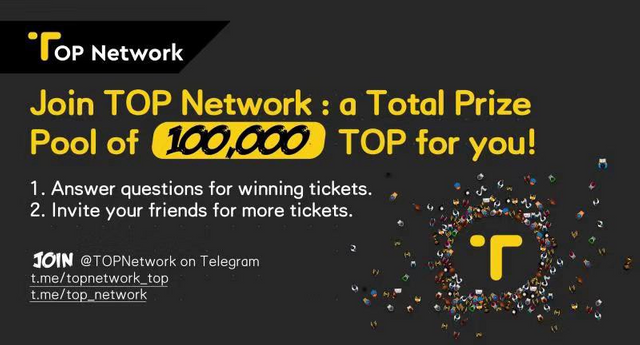 Last week, TOP prepared a gamer campaign for new members of the TOP Network Group and TOP Network News with the Total Prize Pool of 100,000 TOP to welcome new members to join us! On December 16, we organized a lottery draw to choose the winners and rewards were distributed by points in bounty bot. Don't hesitate to be a part of us(Telegram: https://t.me/topnetwork_top). Stay tuned for our next bounty event!
You can find TOP Network on:
Email Contact: [email protected]
Official Website: http://www.topnetwork.org
Telegram: https://t.me/topnetwork_top
Twitter: https://twitter.com/topnetwork_top
Medium: https://medium.com/@topnetwork
Kakao: https://open.kakao.com/o/g7g9YBwb
Steemit: https://steemit.com/@topnetwork-top
Reddit: https://www.reddit.com/user/topnetwork_top
Instagram: https://www.instagram.com/topnetworktop/
About TOP Network
TOP Network is a decentralized blockchain ecosystem composed of 4th-generation public blockchain, decentralized Apps (DApps) and decentralized communications services.
TOP Chain,the public blockchain infrastructure underpinning the entire decentralized ecosystem , is the world's first full-state sharding public chain and a high-performance platform for large-scaleDApps. Powered by an innovative three-layered ledger architecture consisting of a main chain, service chains, and off-chain ledgers, TOP Chain is capable of handling real-world business of any size and volume. TOP Chain applies technological innovations such as a two-layer lattice DAG, two-layer sharding, and a parallel pBFT-PoS consensus mechanism, making a single chain capable of processing over 300,000 transactions per second. Equipped with high TPS, airtight security, and extremely fast confirmation times, TOP Chain is a reliable platform for services demanding high-frequency transactions such as communication, gaming, social media, big data, artificial intelligence, IoT, and more.
The long-term mission of TOP Network is to build a public blockchain infrastructure for all DApps. Our world-class team of over 100 developers is striving for this goal. We have already developed HiWallet, a cryptocurrency wallet, and are currently developing a series of blockchain games and more large-scale DApps on top of the ecosystem.
Moreover, over 80 million global users will be progressively migrated from the pre-existing communications Apps — Dingtone, CoverMe, and SkyVPN — to TOP Chain, generating a huge volume of transactions and traffic to make TOP a prosperous blockchain ecosystem.
TOP Network was founded by Steve Wei in Silicon Valley in 2017, with the R&D team based in China. Steve was one of the earliest employees of WebEx in the 1990s. After WebEx, he founded Cenwave Communications, a successful video conferencing software company which was acquired by Huawei in 2010. In 2012, Steve co-founded Dingtone, a publicly listed company operating a set of communications Apps with over 80 million global users.