My first hand experience of getting free UUU Coins
Hello Steemians, I'm this new found interest in cryptos and its functioning. While I'm no whale or someone with this background I find great interest reading about the things that go behind the scene in making a coin success.
With the same agenda I started reading about U Network's UUU Coin. If you ask why specifically U network then I would say I find it closest competitor to steemit. How? Well I have my reasons but since I'm still midway with my finding I wouldn't want to post half cooked thing here.
So what's this post about?
I'm quite lazy and to have me glued to this coin I made a small transaction and picked few of the coins from Bibox. For I would follow it more religiously since I have my money on it.
Here's a summary of my buying:
6th May. 18 ---- 1st Buying at .38 - Currently showing 102.63% gain
2nd Buying at .644 Eth - Currently showing 43.17% gain
3rd Buying at .51 - Currently showing 50.98% gain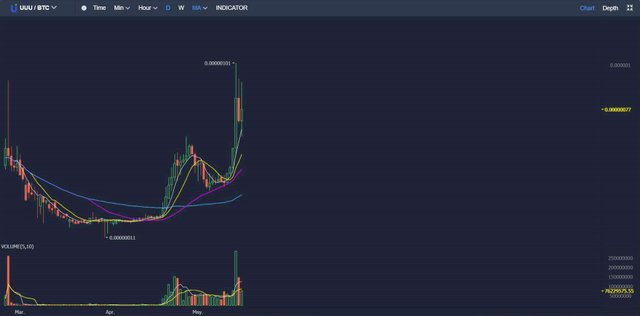 The coin is currently at .77 at the time of posting this log and the gain % is calculated accordingly. The highest it touched was .101 which showed me a wooping 165% gain on my first investment.
I'm no financial adviser and I don't advice anyone to put the hard earned here but then do your homework and see for yourself what works in favor.
Another add on is that @uuuwhale is giving 100 free UUU coins to whoever posts using #UUU and tagw @uuuwhale in it. I wouldn't have advised and wrote all this until I got myself one. The whole thing is fairly simple and i only posted my best wishes to the UUU Team and they came back with free coins. Yes that easy.
Click to reach out to my Twitter Profile
You can also use my referral link to open Account with Bibox - https://www.bibox.com/signPage?id=11350615&lang=en
Will soon be posting more about U network and making money via UUU. Stay Glued and don't forget to Upvote and follow for regular updates.