ConfluxChain co-hosted Vietnam Staking Economy to Discuss the Future Staking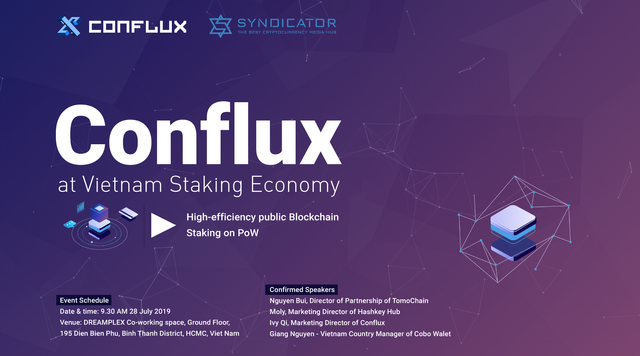 ConfluxChain co-hosted Vietnam Staking Economy to Discuss the Future Staking
Vienam Staking Economy is a half-day discussion event about the latest trend in the cryptocurrency, which is Staking. The event is co-hosted by Tomo Chain and Conflux Chain on July 28. As two of the major projects in Asia, this event is an opportunity for projects to discuss how to make passive income by Staking method, in addition to discussing some of the latest content about the next generation PoW (Proof-of-Work) blockchain protocol with scalability, security, and extensibility from Conflux Chain, or the one-stop digital asset management platform of Haskey Hub, the most efficient staking economy in Vietnam of TomoChain as well as discussing market demands, solutions and Staking expectations.
At this event, ConfluxChain gave a presentation on the progress of the project as well as explaining the staking mechanism through PoW. According to Ivy Qi - Marketing Director, Conflux is the State-of-the-Art public blockchain system that can achieve high TPS without sacrificing decentralization or safety. By delicately combining its unique and advanced algorithm with a novel structure - Tree Graph (TG), Conflux makes consensus no longer a performance bottleneck, thereupon solves a series of problems in the industrialization of public chains. Currently, in its first stage, Conflux adopts PoW (Proof of Work) mechanism as the basis of its consensus.
The Conflux uses the DAG data structure into the Proof of Work consensus algorithm, this approach makes it possible to solve scalability problems by providing Transactions per second (TPS).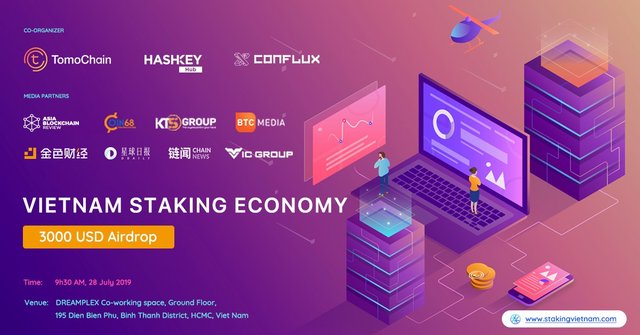 Vietnam Staking Economy
Discussing the main topic at the event, Ivy Qi also mentioned Stake's method through PoW consensus mechanism, she said that this method is currently very rarely discussed because of its unresolved limitations. Most of the current projects use Staking by PoS. So why does the Conflux project choose PoW instead of PoS like most other projects, what is the biggest difference and how to attract users choose the Stake method of Conflux to participate? According to Ivy Qi, with the PoW mechanism, computing power is far more important than the power of holding shares. The more hash function results one can compute per second, the more likely it is to gain the right to generate the next block in the blockchain ledger. The biggest drawback is that a blockchain using the PoW mechanism requires a lot of energy to compute hash function results to secure the blockchain system. However, as her said, the Conflux starts with PoW that will create decentralized consensus from the very beginning and in fact that, Conflux can enable significantly higher block generation rate and therefore process thousands of transactions per second using PoW + DAG method.
This event also marked a new milestone for Conflux and TomoChain opened the opportunity to become a strategic partner in acknowledgement of public-chain technology and community.

YuanJie Zhang - COO of Conflux Chain said:
"In the blockchain industry, any cooperation based solely on economic benefits is fragile. Only when it is based on technology and self-volunteering communities can the collaboration be healthy and sound. Undoubtedly, our cooperation with Tomochain result from our common pursuit and acknowledgement of public-chain technology and community."
TomoChain is the leading blockchain platform for the token economy, has had great success in the past year. ConfluxChain, the project has completed raised of $35 million from large companies and investment funds in China. This strategic partnership helps promote technology research along with supporting project development in each community, a great opportunity to build, develop ecosystems as well as concerns about market demand, solutions and investors' expectations about Staking.
Vietnam is one of the leading dynamic markets for blockchain technology. Many leading exchanges, large projects as well as many major events have been held to prove this. Being a partner with the best project in Vietnam is a great opportunity for Conflux to take advantage of these advantages, this step is very important for the later milestones of Conflux, when the project is explored by the potential team, it will succeed in the near future.
Written by Sang Tran Hong - Founder of Syndicator
---
Information of Vietnam Staking Economy
Date & time: 9.30 AM 28 July 2019
Venue: DREAMPLEX Co-working space, Ground Floor, 195 Dien Bien Phu, Binh Thanh District, HCMC, Viet Nam
Register here:
Follow ConfluxChain for the latest news and project updates:
Website: https://www.conflux-chain.org
Telegram: https://t.me/Conflux_English
Medium: https://medium.com/@Confluxchain
Twitter: https://twitter.com/ConfluxChain