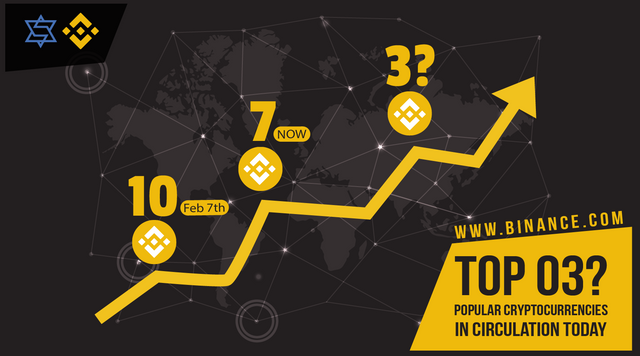 Overview
In 2018, we all witnessed a big shock for investors about the long-term reduction in the value of cryptocurrencies. BTC and ETH, which are the most valuable coins, bear the same plight. A volatile year has made investors discouraged and left the market. The more buyers bought or held, the more prices dropped. Profits of trading exchange decreased markedly, new investors did not dare to enter the risky market like this. However, earlier this year, many investors also believed cryptocurrencies have felt slightly, though this has not been clear yet. Positive signals began to appear, signalled that the bull market appeared, although it was still in a long-term downtrend. The world's No.1 trading exchange - Binance in turn announced the projects, new steps that sparked strong excitement for crypto community. These basic steps make investors believe in a bright market about blockchain technology - the future of the world.
Binance - ambition to become the top 3 popular cryptocurrencies in circulation today
1.The foundation of Binance Chain and decentralized exchange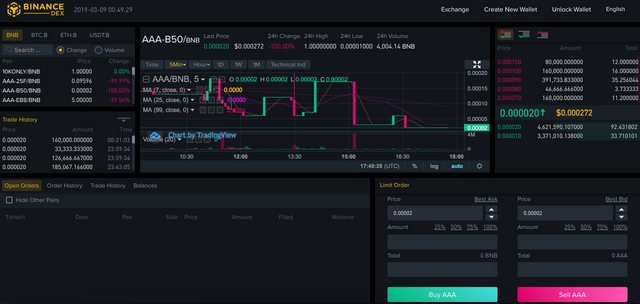 On February 20th, Binance released the testnet version of the decentralized exchange - Binance DEX. This makes many traders, investors excited to create wallets and test transactions on this all-new platform.
Binance Chain is a new blockchain developed and released by Binance. Binance DEX is a powerful and friendly trading platform built on Binance Chain, where users can create, issue and trade crypto assets. Currently, Binance has revealed that 8 projects will build and operate on the Binance Chain platform.
The release of testnet has been waited for a long time. A few months ago, Binance revealed a video sharing with the community about the intention of launching a decentralized exchange project, accompanied by a move to acquire Trust wallet - Binance's official wallet when it officially ran. After this event, the BNB has a 10% growth while the market is still in a strong downtrend.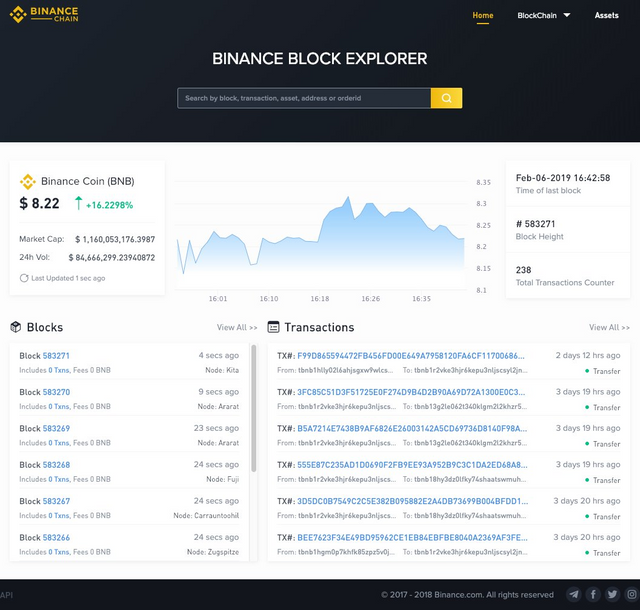 According to the CEO of Binance Changpeng Zhao, Binance DEX will be the place where you keep your private keys and manage your own wallet. Binance DEX will provide a different balance of security, freedom and ease of use, where you are more responsible and more in control of personal assets.
2.Launch new trends with potential projects on LaunchPad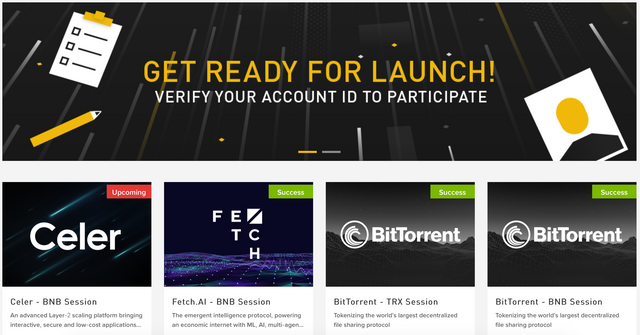 July 24, 2018, Justin Sun – CEO of Tron offbeat project suddenly announced the acquisition of Bittorent INC (BitTorrent protocol is a file sharing communications protocol based on peer-to-peer network). This event received great attention from the community when they officially announced the plan to open token sale to issue their own platform through Binance LaunchPad.
Investors began to rediscover the history of Binance LaunchPad through 2 projects here (Gifto and Bread). It seems that investors see a strong growth on Binance's Launchpad plan.
And new trends start from here!
According to CEO Binance - the BTT project has raised of 7 million dollars in only 15 minutes (although there was a problem when the clock counted down to 0). The result of this growth is 10 times the value of the public sale when traded on the Binance.
After that event, the community had many different judgments, doubts about manipulation there, anticipating new trends, and still quite vague so not many people dare to pour money into market. While skepticism is still full for the whole market, the second launchpad with Fetch.AI project has ended successfully in the first 20 seconds. And then shortly (within 1 week) traded at Binance with 5 times growth.
Through 2 launchpad projects, only purchased in BNB coin, the result is BNB continuous growth from $ 5.5 (before BTT token has been sold) to 11$ (before FET session)
Thus, with the maximum support, as a launch pad for good projects, Binance has helped investors feel secure when participating in these projects, while ensuring that the BNB coin grows steadily later. The strategy is extremely clever at the moment.
3.Practical value of BNB Coin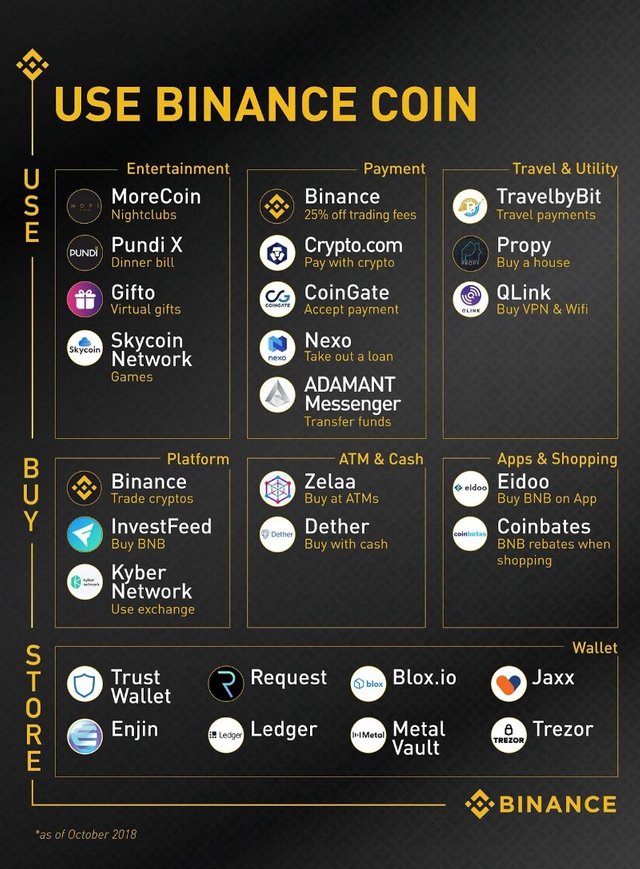 Speaking of BNB coin, people think that is the currency of the trade exchange, which has the best growth in all kinds of coin exchanges. So is it simple to reduce transaction fees for users, what is the real value of BNB to help BNB on such a strong growth path?
The following are the usage values of BNB (according to information from Binance) including:
• Paying for cryptocurrency trading fees on Binance (with discount perks)
• Spending on goods and services across many establishments
• Securing money in times of need
• Having fun with Binance Coins on social media services
• Earning a salary
• Storing on various wallets
• Trading as an altcoin
• HODLing for later use on Binance Decentralized Cryptocurrency Exchange (DEX) and Binance Chain (or on any random date you prefer)
• Using on blockchains integrated with Binance Coins
Among BNB's practical uses, the BNB growth is influenced by projects on Launchpad and the Binance Chain project. When you hold BNB, you join the project. If in 2019, projects are sold gradually, it means that the BNB coin will grow despite the market.
The most eloquent evidence, that is on March 7 (at the time of writing), BNB reached the top 10, standing 7 in market capitalization, surpassing all 3 giants: Tether, Stellar and Tron.
That is the clearest proof for the ambition of top 3 popular cryptocurrencies. And this is entirely possible when everything is just the beginning.
4.Livestream AMA of Changpeng Zhao - Commitment to the community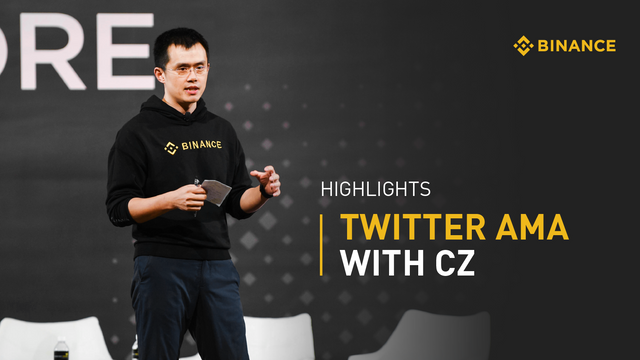 Realizing that there are still many questions from the community about Binance Chain, Launchpad, delist coin. On March 5, CEO Binance Changpeng Zhao (CZ) made a livestream on Twitter to answer all questions on these issues. Along with questions from the community, livestream collected hundreds of thousands of people watching and following.
You can follow the details here
Through the live stream, AMA - CZ brings to the community the plans, the visions for the future of Binance DEX, LaunchPad's value, the value of BNB holders, and the commitment to the community for a strong growth ecosystem powerful, beneficial and practical value leading the blockchain industry.
Conclusion
Every step of Binance creates strong excitement for the whole market, the belief in the future of cryptocurrency is stronger than ever. The practical value of BNB copper is being created, making investors feel secure and confident in what Binance is building. In 2017, the ETH-based ICO market boomed strongly, helping ETH grow from $ 200 to a peak of $ 1500 / 1ETH. In 2019, Binance will creat a launch pad for potential projects around BNB Chain's ecosystem. So where is the peak of the BNB value? Is BNB eligible to achieve the ambition of top 3 popular cryptocurrencies with the largest market capitalization?
It absolutely can happen. What do you think?
About Syndicator Org:
• Website: https://syndicator.in
• Telegram: https://t.me/syndicator_org
• Twitter: http://twitter.com/syndicator_org