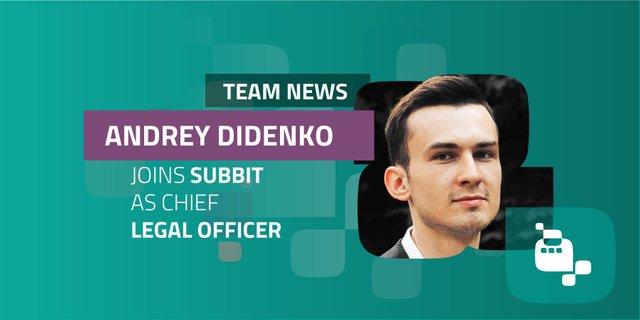 Andrei Didenko is a fintech specialist and a high-flying entrepreneur. He is CEO of both BlockchainAir and Easylaw. Andrei has extensive experience and is widely recognised for his BlockchainAir software prototype, winning third place at the Swiss Legal Tech Hackathon 2017.
Andrei holds a unique skill set that ranges from Risk ownership, continuous control enhancement and objective program assessments, to documented escalation criteria, data quality procedures and maintaining compliance archives. In his previous role, he was Legal Counsel for international affairs at Transaero airlines.
Andrei's involvement as Chief Legal Officer (CLO) of Subbit means he will assume a central role in compliance, whilst possessing the knowledge and practical ability to help guide the organisation toward positive outcomes.
Subbit is the world's first mobile subscriptions platform. Don't miss out on our massive private sale bonus —  now open (for a limited time only).

Connect with us
Website https://subbit.io
BitcoinTalk ANN https://bitcointalk.org/index.php?topic=4631809.0
Facebook https://www.facebook.com/gosubbit
Twitter https://twitter.com/gosubbit
Telegram https://t.me/subbitico
Telegram Bounty https://t.me/SubbitBounty
Instagram https://www.instagram.com/gosubbit
LinkedIn https://www.linkedin.com/company/subbit
Medium https://medium.com/subbit
Reddit: https://www.reddit.com/r/SubbitHQ/