BLOCKCHAIN OIL: Is this the end of the PetroDollar?
BLOCKCHAIN OIL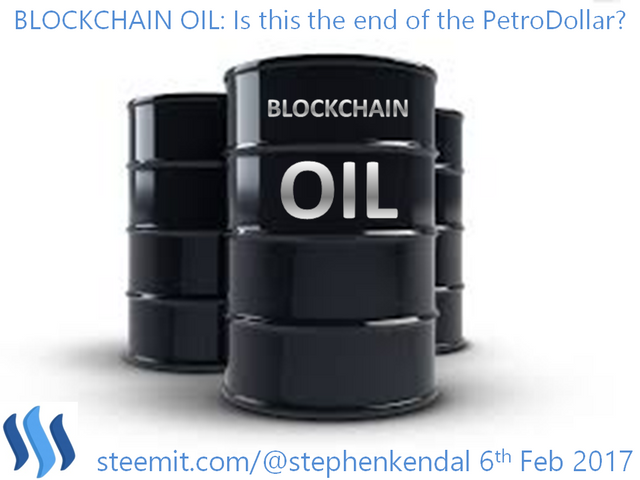 In the future, Trading of ALL Global Commodities will be carried out on the BLOCKCHAIN.
OIL will be no exception..!!
All Global Trading Transactions will in the future be entered onto a Digital Distributed Ledger and as OIL will be included in this Global Trading Revolution it is set to play a role in the end of the PetroDollar as we know it.
In the future all Oil Cargo Shipments will pass through Global Trade on a Decentralised Digital Ledger which will track the oil from the wellhead through to the refineries.
This Digital Transformation is set to play a small piece in the new Global Trade Agreements that are set to be ushered in soon.
Current Global Trade Systems and Agreements that were set up in the 1970's are both archaic and antiquated and have never been updated with the advent of the Internet.
This new form of Digitisation of Global Trade will have huge benefits in unlocking critical liquidity in the Markets.
SMART CONTRACTS
It is all about the birth and implementation of Smart Contracts that will track shipments of cargo as it passes through the System replacing the old fashioned "Paper" method..!!
These Smart Contracts will help with the flow of credit as Producers, Creditors, Banks, Shippers and Buyers will know exactly who owns what, when and where.
It is all about streamlining the passing of the Title through the System.
Will BLOCKCHAIN OIL see the end of the PetroDollar? It will for sure play a major role..!!
Thank you for reading and thanks once again for all your support.
Stephen