Steemians: I'm Organizing a 100x Blockchain Investors Summit Webinar in August! (Steemit Special Promo)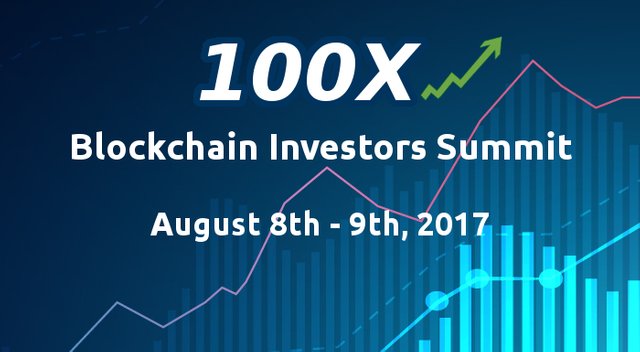 Blockchain investing is hot. Really hot. People have made incredible returns over the past 7 years investing in Bitcoin and in more recent months Ethereum, Steem and others.
$1000 invested in Bitcoin in early 2010 would be roughly $40 million today.
That's a 40,000x return.
$1000 invested in Ethereum in early 2014 would be well over $700,000 right now.
That's a 700x return.
There's a lot of excitement these days. There's a lot of hype. Now Token Sales or "ICOs" are all the rage. Companies and organizations are earning/raising millions in days or minutes. It's reminiscent of the dot com days. So what's going on? Is this all real? If so how do we separate the wheat from the chaff?
Learn more about our 100x webinar conference
The Problem
What I realized is there's a lack of quality resources to learn about how to invest in Bitcoin and blockchains especially if you're new. It's complex and confusing to understand blockchain technology. It's also hard to keep up with the exponential activity that's going in the industry even if you've followed Bitcoin and blockchains for years.
I've been following this space for over 5 years. I'm working on a blockchain startup. I've also been a financial advisor and consultant for roughly a decade. I even have a CFA designation and I love fundamental analysis. I think I can help.
So we at 100x want to be a source of knowledge so you can make the best investment decisions to help your financial future. It's important not get caught up in the hype, but also understand the incredible opportunity that exists today and in the years ahead.
If you've been in the space for years. There's more to learn. Especially about investing.
If you're new. You're still early.
Learn more about our 100x webinar conference
Our Solution
So we're gathering the who's who of professional blockchain investors and technologists in the industry to discuss the latest on Bitcoin, Ethereum, ICOs and blockchain technologies for an online webinar summit so you'll be armed with the knowledge to be comfortable making better investment decisions in the future. (
@andrarchy
is scheduled on one of the panels to talk about Steem!)
Not only that, we want you to really get the most out of your time so if you're new we'll have workshops for you to get your hands dirty so you can buy and trade your first Bitcoin, Ethereum etc. We'll have more advanced workshops so you can learn how to participate in an ICO or learn how you might protect yourself during downturns.
Our conference is August 8th and 9th: https://100xinvestors.com
It's on Sale until July 10th. If you want an extra 20% off you can use: JDSTEEMIT20
Steem Special Promo
We'll use the rewards of this post to pay for tickets of any Steemian who resteems and comments below requesting a ticket! The rewards may be not enough to cover everyone's tickets so first come first serve!
Also we're building out a referral system that lets you earn Steem (25% of ticket prices) for every person that uses your unique coupon code. If you're interested in that referral program just email me at: [email protected] It's especially good if you have big crypto email lists or a popular crypto blog (such as yours on Steemit).
Any feedback? Please comment below. Thanks!
Cheers,
Jun Dam CFA, MBA
Founder of BitCash
PS: If you are working on a startup, Token Sale/ICO or new blockchain project and want to have a qualified investor audience to share your project to or participate in our pitch competition, just sign up here.