Announcing the Skara Bounty Program
We are happy to officially announce the Skara Bounty program. 
The Bounty program will consist of 2% of the total tokens issued and will be divided among Translation and Forum Moderation, Twitter, Facebook, Youtube and Bitcoin Signature users.

This amount is subject to change but shall be divided as follows: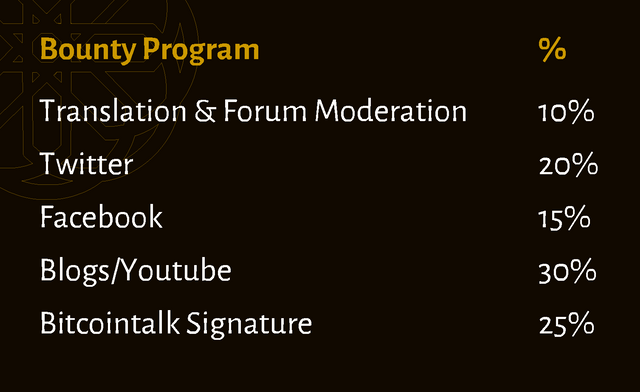 Each participant's activity is awarded a portion of the pool, and stakes are granted for each action within the activity.

At the end of the ICO, all the stakes from a user will be added up. You will be awarded a proportion of the available bounty for that particular activity, based on the amount of stakes you have in a given pool.

Here is an example:

The bounty pool is 2% and represents 10,000 tokens. 
The Facebook pool is awarded 15% of these, so 1,500 tokens. 
Each person that has participated in the Facebook bounty gets awarded 10 stakes. The longer you participate in the Facebook bounty, the more stakes you receive. 
Imagine you participated in the Facebook bounty for 4 weeks. You are awarded 40 stakes. 
There are 1,000 other stakes in the Facebook bounty pool. You receive (40/1000)*1500= 60.
Detailed breakdown of bounty
Translation and Forum moderation (10%)
1. Choose the language you want to translate to.
2. Fill out this form.
3. See if you were accepted to the spreadsheet form.

Rules:
[ANN] Bitcointalk thread hasn't been translated into your translation language yet, you are able to contribute and earn stakes. In order to do so the user must send an email to [email protected] to confirm the translation and make sure no one else is doing it yet.
Translations must be original. 
No use of translation tools will be accepted.
Translators are expected to remain engaged in discussion about SKARA on an additional thread. specific to their language.
Must translate official posts into a new thread.
Reward:
User gets 250 stakes for translation.
Once user translated he receives an extra 10 stakes per moderation comment on his thread.
Telegram moderation will be monitored and warded at the Skara team's discretion. 
If an award is justified a minimum of 10 stakes and a maximum of 100 stakes will be issued in a single week.
1. Fill out this form.
2. See if you were accepted to the spreadsheet form.

Rules:
Account must have real followers, updated regularly, and free of bots.
Users must engage actively on Twitter.
Only one account per person. 
Any finding of multiple accounts will result in a ban.
Every retweet/share gets between 1-3 stakes (@SkaraTBR).
Reward:
30–250 Followers : 1 stake per retweet/share.
250–1000 Followers: 2 stakes per retweet/share.
1500+ followers: 3 stakes per retweet/share.
1. Once you follow Skara on Facebook submit to this form.
2. See if you were accepted to the spreadsheet form.
Rules:
Only people with 300+ followers will be awarded a stake.
Reward:
1 Stake for each like and share. 

Blogs/ Youtube (30%)
1. Once you wrote a blog post please submit it in this form.
2. See if you were accepted to the spreadsheet here.

Rules:
Content must be original, reposting and copying of other content is not allowed.
Author must have at least 100+ views for blog post or 1000+ views for youtube.
Post must be at least 1,000 characters long or video must at least be 5min long.
Only one blog post per author.
Reward:
Stakes awarded based upon impact and quality.
1. Copy paste the correct signature into your profile, signatures can be found here.
2. Submit to the form.
3. See if you were accepted to the spreadsheet form.

Rules:
Signatures must remain on the profile until after the token generation event and a final count of participation has been recorded.
SKARA must be the only signature on your profile. 
No other campaigns allowed.
Posts with your account signature must be articulated well and contribute to the discussion thread
Posts should be at least 100 characters long.
Must post at least 7 times per week throughout the duration of the campaign.
Reward:
Jr Members: 40 stakes /week.
Member: 75 stakes /week.
Full member: 100 stakes / week.
Senior member: 150 stakes/week.
Hero/Legendary member: 200 stakes/week.
Payout Process:
You can provide your ETH wallet address in the submission forms, this is optional. If you do not provide the wallet address we will send an email out to all participants upon completion of the bounty asking which ETH address you want your tokens to be sent to. 
Follow us on: Bitcointalk | Bounty | Steemit |  Medium |  Telegram  |  Discord   |  Youtube | Facebook | Twitter | Pinterest | Instagram