shEOS collaborates w/ WomenOfCrypto on their LA Blockchain Week event at Crypto Invest Summit
shEOS is honored to collaborate with WomenOfCrypto on their Los Angeles Blockchain Week event at Crypto Invest Summit, on Monday, October 22nd.
This special day will spotlight powerful female voices contributing to the crypto/blockchain eco-system. We'll break out of the traditional conference mold, by featuring engaging conversations, podcast interviews, real time interactive workshops, and discussions with CEOs and founders on how they manifested their vision into reality. This is a unique to chance to hear from, and connect with passionate, accomplished women committed to creating a better world by challenging the status-quo with blockchain technology.
WomenOfCrypto (WOC) is an innovative organization founded by Alison Burger and shEOS co-founder Emily Bush, to promote female inclusion and gender diversity in the blockchain space. Through education and in person gatherings, WOC empowers women to explore and seize opportunities across blockchain and fintech. WOC's mission is:
"We are a movement creating a diverse community that celebrates gender neutrality,
because the female voice in this new world matters."
At shEOS, we too believe the female voice matters, in fact we think it's inherently critical to the success of this new world. So we're here to highlight and magnify that voice. Join us on Monday!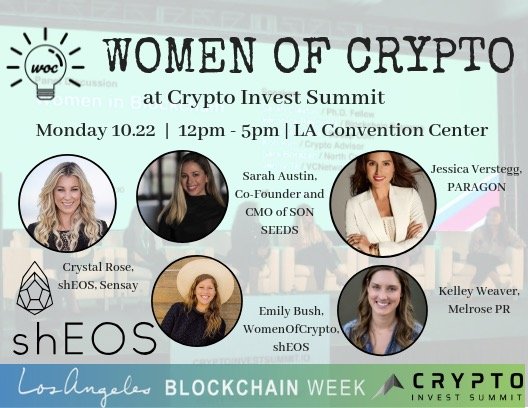 IN CONVERSATION WITH WOMEN OF CRYPTO
Date : Monday 10.22
Time : 12pm - 5pm
Location : Convention Center DTLA
Register HERE using discount code "WoC50" for 50% off for the entire 3 day conference!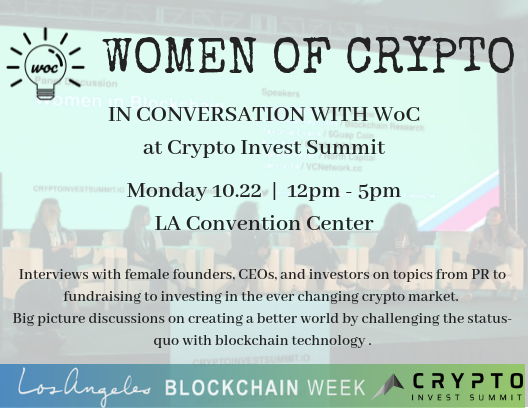 Steemit | Twitter | Medium | reddit | YouTube | Facebook | Instagram | Telegram