EOS Block Producers Call for Compliance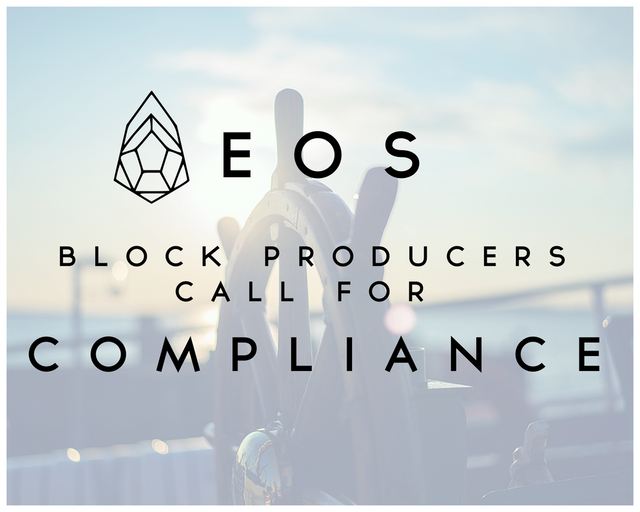 The past few weeks have been a huge net positive for the EOS network, as shEOS tech lead Ben Sigman mobilized the block producer community to bring all BPs "up" to compliance.
"It has been over a month since the EOS Mainnet has been activated and it's overdue that action be taken to get block producers in compliance with the contracts they signed. The BPs are the foundational members of the chain - and, as elected entities, they must be held accountable to the laws of the EOS Mainnet." - Ben Sigman, August 5, 2018
The EOS block producers converged on Telegram, working together to bring each other up to compliance on every level. After 10 days of intense community dialogue, the top 50 are now fully compliant with the contracts they signed. With the support of 24 fellow block producers, shEOS has submitted seven (7) non-compliant standby BPs to ECAF for arbitration. shEOS has been the leader of this effort and will be the main entity to file the claim against the 7 BPs who are not in compliance, communication, or community with the other BPs. The EOS network now stands stronger than ever.
Ben's original call to action is linked below. We are immensely grateful for his leadership within the community. Interested in the compliance conversation? Connect with us on the platforms below.
https://medium.com/@bensig/eos-block-producer-compliance-40888be3116
Learn more about shEOS:
Steemit: https://steemit.com/@sheos
Medium: https://medium.com/@sheos.org
Telegram: https://t.me/@sheos_org
Twitter: https://twitter.com/sheos_org
Facebook: https://www.facebook.com/sheos.org/
Instagram: https://www.instagram.com/sheos_org/
Youtube: https://www.youtube.com/channel/UCRLYpKGNrxac7yTKmpzamvg
shEOS Secure Downloadable Voting Tool:
https://github.com/sheos-org/sheos-voting-app
Video Tutorial on using shEOS Voting Tool: