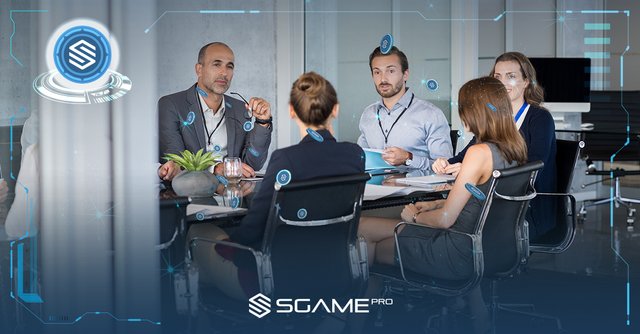 An awesome idea can only come to light with the support of an awesome team — right? Without the relevant knowledge and expertise, an ICO project is likely to crash and burn which is why a strong network of advisors and partners is essential. Advisors help to increase the credibility of an ICO and drive its success so it's crucial to collaborate with experts at the top of their game — not people who think they know what they're doing or have an average track record, but industry leaders that are keen to reach for the stars.
Sgame Pro™, a leading mobile game aggregator platform, has teamed up with talented professionals who have helped guide the development of the platform, the token economy and now the ICO, which is scheduled for the end of July 2018. Let's meet the team.
Igor Pezzilli(Advisor — Business)
The co-founder of Lazada Group, Igor holds a dual MBA and a Master's degree in Engineering. He has a proven track record of strong analytical skills, helping projects reach their business goals. In the past, he has been a Senior Consultant at Bain & Co and is currently a partner at Milano Investment Partners. His skills in business strategy and planning will be one of the strong reasons behind the successful launch of the Sgame Pro™ ICO.
Roman Hammerl(Advisor — Finance)
A good ICO team needs a finance expert to help them navigate the financial landscape of the crypto world — which, let's face it, moves faster than Usain Bolt. For the Sgame Pro™ team, it is Roman Hammerl, the CFO of KICKRS.NET and a previous team leader at Morgan Stanley. He holds degrees in economics and management and has several years of international experience in financial analysis, capital markets and deal execution. His has special expertise in the technology vertical and has worked with some of the biggest names, including Merrill Lynch and Lehmann Brothers, in the global technology equity domain.
Robert Taylor(Advisor — Crypto)
Robert has been actively involved in the cryptocurrency space for the past 5 years (well before the recent crypto boom) and currently heads the fintech company, Origin, as its co-founder and CTO. He is very passionate about new fintech innovations and keenly follows startups that are making significant contributions to the domain. He has worked with a number of crypto projects, helping them to design their token economics, technical architecture and token sales. He is fluent in French and can also speak Portuguese and Brazilian. With advanced working knowledge of languages like Excel VBA, Bloomberg, Python/Django and Javascript, Robert is one of the best minds in the industry right now.
Lars Schlichting (Advisor — Legal)
A very tricky aspect of the cryptocurrency world is uncertain regulatory framework. Sgame Pro™ has found a credible source of financial and legal expertise in Lars, who has been associated with several ICOs in the past. Since 2016, Lars has been advising cryptocurrency projects on legal issues. Currently, he is the CEO of Poseidon Group, helping startups to become active supervised entities in the financial markets. He is the co-founder & board member of Bitmax.ch, one of the first cryptocurrency exchanges in Switzerland, and has also been a partner at KPMG. Lars holds a double major in international finance law.
These advisors have provided Sgame Pro™ crucial expertise in a wide range of matters, helping to build an ecosystem for gamers, publishers, merchants and influencers to thrive in. The platform, which will incentivise players with crypto-tokens for their efforts, will launch its ICO in September 2018.
To know more about this exciting and innovative ICO, visit sgamepro.io and follow on Facebook, Twitter, Instagram and LinkedIn.