HackenAI Personal cybersecurity application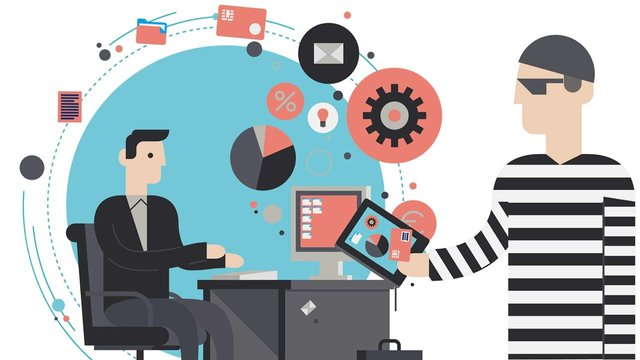 I am sure that at least once in your life, but each of you has encountered some type of fraud on the Internet. You have at least once, but hacked email and maybe even your personal page in a social network. All these moments symbolize only one thing about the low level of protection of their systems.


Problems
But as practice shows, with the development of the Internet and many modern technologies, such as Blockchain technology, problems with hacker attacks have not decreased. On the contrary, there are so many of them that the peak of their heyday can be considered almost the entire 2017 year. When an incredible amount of money was stolen from many cryptocurrency exchanges within a fairly short period of time.
I am sure that each of you has heard the story of these events more than once, and someone may have become a victim of all these cybercrimes. Yes, I myself once became a victim of cybercriminals by clicking on a phishing link from black hackers. But as they say, reasoning on this topic will not solve the problem.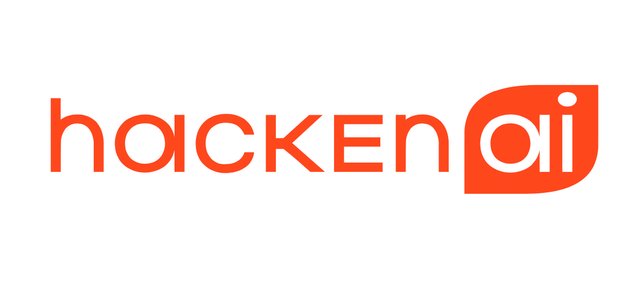 About the project
That is why a team of first class specialists has developed for all of us just a unique application for personal cybersecurity and it is called – HACKEN.AI. But before I start talking about the features and advantages of this project, I will touch on a couple of extremely important points. Each of which is just the Foundation for the Foundation of trust we, as users, have in the platform.
And the first thing to start with is that this project has already successfully established itself in the market of decentralized applications, helping more than 50 crypto exchanges to fight cybercrime, as well as more than 200 businesses. That I believe is not enough. Moreover, HACKEN directly cooperates with The CoinMarketCap resource, protecting it from any hacker attack.
Well, I will not continue to describe the merits of cooperation, you can find out about this yourself by studying the official resources of the platform later. In the meantime, I suggest you continue your acquaintance with the built-in tools HACKEN.AI.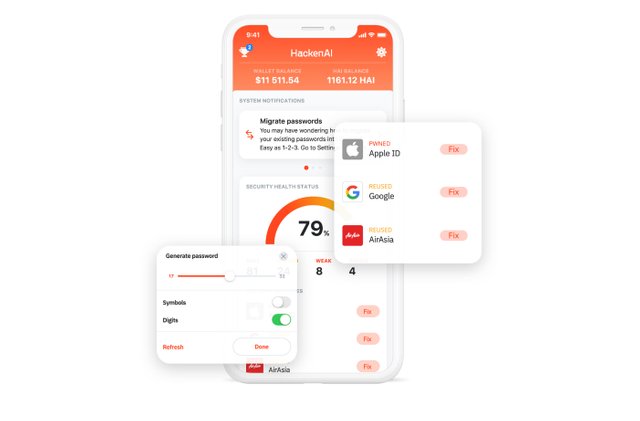 Features and tools
As I have already mentioned HACKEN.AI is a platform for personal cybersecurity, so all the built-in functions are aimed at maximizing the practical interaction of the user with the resource. Therefore, each individual built-in element is ready to reveal an incredible range of possibilities to the user.
For example, the built-in digital wallet feature will not only allow you to easily manage all your cryptographic and digital assets, but also store internal HAI tokens, as well as various exclusive items such as NFT. Moreover, the built-in wallet protection can support several blockchains at once, including VeChainThor. Which I think is really cool.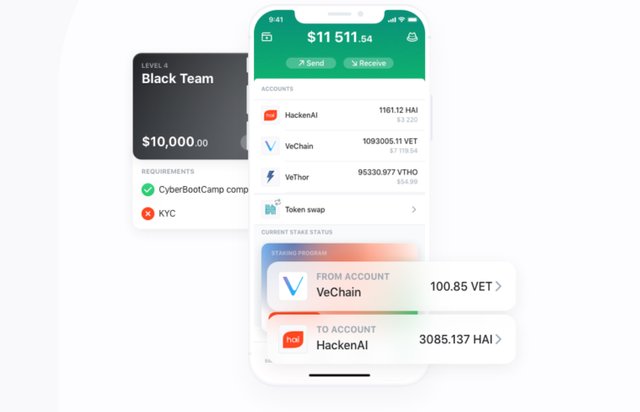 But we will not focus on this for a long time, as there is still a lot of interesting things waiting for you. Specifically, DarkNet Monitoring. This product has been developed specifically to protect your personal data from theft. Therefore, if your data is compromised somewhere, the system will immediately find out and notify you about it.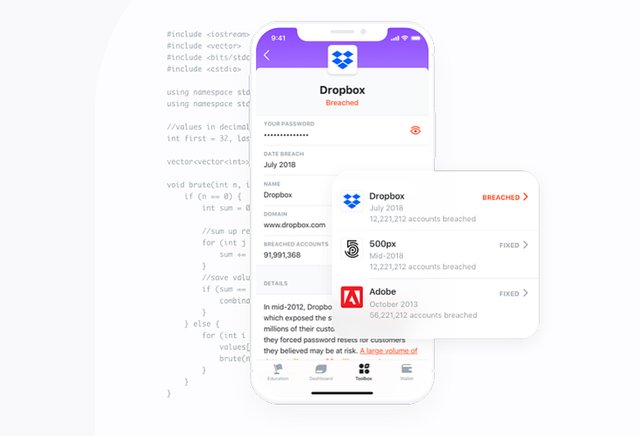 Another equally important function that HACKEN will have is a password Manager. What does it mean? You ask and I will answer. That this extension will allow you to create all the necessary backups of your passwords, as well as store them in the vault HACKEN.AI. This storage is as secure as possible, since the team of white hackers HACKEN.AI has protected it from all forms of cyber attacks. Even from viruses, sim swaps, and many others.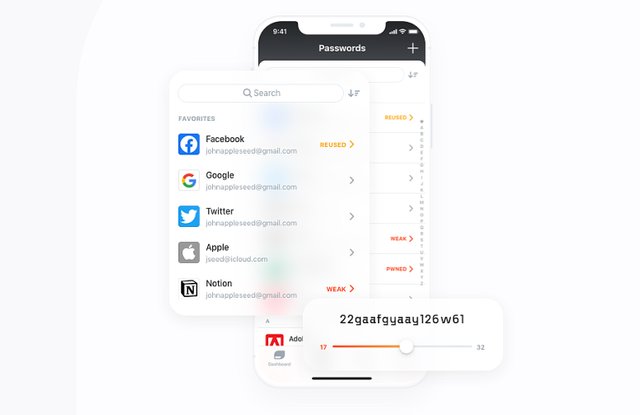 The fourth system, which currently includes educational programs for all users, also deserves special attention. That is, thanks to CyberBootCamp, you will be able to master all the main cybersecurity modules easily and quickly. And the most important thing is in an accessible and understandable form, which I also think is not a little important.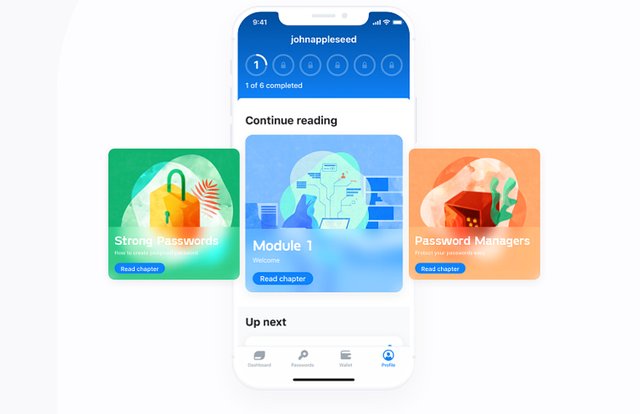 Advantages
In a word, the app HACKEN.AI is exactly what we've all been waiting for. After all, you must agree that each of us would like to manage our data safely, as well as be able to protect ourselves from cybercriminals at all levels. Moreover, the developers of the app do not intend to stop there, so very soon we will see many more additional features, Such as anti-phishing and malicious site blocker, multi-factor authentication, a risk assessment system for installed applications, and much more.
Let me remind you that the app is already available for download for both IOS and Android systems. Which I also think is pretty good.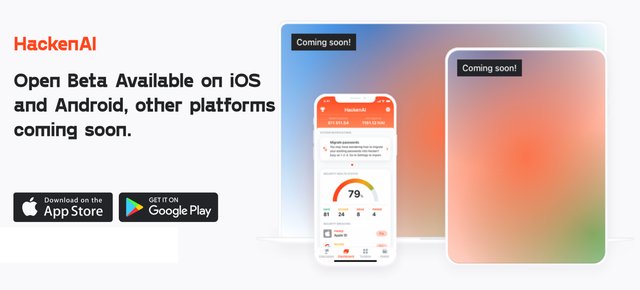 Conclusion
Therefore, in order to fully appreciate all these features and benefits, I strongly recommend that you study all the remaining information about HACKEN.AI in more detail. After all, there are all the necessary official and social resources where you can not only add information about the moments I have not described, but also learn a lot of new things.
So don't waste your time, but rather go to my next section of the article, where all the official links are waiting for you HACKEN.AI. And this is the end of my article, I hope you have read it to the end, If so, let us know in the comments.



Official resources of the project

WEBSITE: https://hacken.ai/


TELEGRAM: https://t.me/hackenai


WHITEPAPER: https://hacken.ai/content/hackenai_whitepaper_v1.0.pdf


BITCOINTALK: https://bitcointalk.org/index.php?topic=5238602


FACEBOOK: https://www.facebook.com/HackenAI


TWITTER: https://twitter.com/hackenai?lang=en


MEDIUM: https://medium.com/@hackenAI


REDDIT: https://www.reddit.com/r/hacken/


YOUTUBE: https://www.youtube.com/channel/UCEQ4srOLODIzXWPrkug5bMg

AUTHORSHIP:


MY BITCOINTALK USERNAME: maximiano


MY BITCOINTALK PROFILE LINK: https://bitcointalk.org/index.php?action=profile;u=2757217


MY ETH ADDRESS: 0x1508458f911b05d78fCdDbB7255710d5dc7aD6d4


UNIQUENESS 100%: https://text.ru/antiplagiat/5e8e305d058f5