Welcome Cryptogene - Africa Blockchain Revolution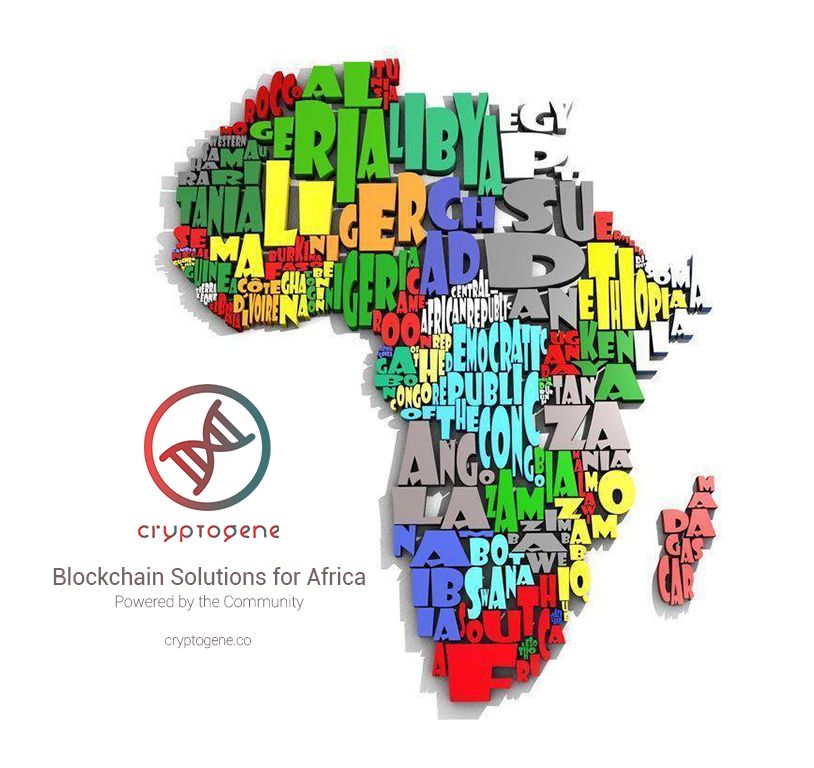 Once again, we're here at a crossroads. Crossroads? Why crossroads, you may wonder.
Well, for the upteenth time, something great is about to emerge from the shores of Africa. But then, I think it's ironical to say this because Africa, historical has been famous for great feats.
We were termed the "Cradle of civilization" not for mere words and indeed the Egyptian civilization is one that still rings a bell in the annals of history.
But then again, relating this same propensity for great feats is this upcoming cryptocurrency blockchain revolution.
Firstly, for what it's worth, I have never, I repeat, never heard or come across any crypto-project so mega (conglomerate of minor projects all in one), and even much less emanating from the shores of Africa.
I get inundated by calls per millisecond; Twitter tweeting, Facebook buzzing; heck, even WhatsApp and Telegram going haywire… And even more, with a fanatical and die-hard community fueling the heat, the stage is about to get set.
But what's happening? What's the deal?
It's Cryptogene! An upcoming massive project! Just about everything about the project has got Crypto tongues wagging.
Want to know what's the deal? See the White paper to see what's got them talking.
But what's it about Cryptogene you may want to ask. Here's the deal in a line - It's a well defined mega platform that practically takes care of the major challenges Africa faces as a whole.
More specifically;
Having so much difficulty as an African with making easy monetary transactions between say Kenya and Nigeria?
Cryptogene aims to take care of monetary/fiat bottlenecks (inadequacies with ease of monetary transactions common in Africa)
Are you a young smart and enterprising African who's never got the chance to nurture your brainchild project?
Cryptogene is here to help! See the White paper to see what SILK has planned for you
So what has set Cryptogene apart from the others your curious mind may again want to know.
Cryptogene differs from the others because;
It is a mega structure that takes care of practically major aspects of African financial/socioeconomic problems.

The Cryptogene project is the first of its kind - a massive mega project - the kind that has been tagged the "five-in-one."

It deeply and wholistically looks into major fiscal problems affecting Africa.

It is specifically tailored to the needs of Africa.
But that's not all...
Perhaps you may want to check the Community behind Cryptogene. The passion, the loyalty, the never-die attitude, the motivation, and the enthusiasm. It's overwhelming; It's infective.
A even a plus, is the caliber of persons behind the team. It's a highly motivated and professional one.
One good thing about the blockchain and cryptocurrency is its decentralization. And if there's anything that has held Africa backwards for long, is the imported and somewhat corrupted version of imperialism, neo-colonialism and ultimately Government-backed and sponsored centralization.
But hope is here, and it can only get better with the birth of this new revolution
Cryptogene ICO starts 24.09.17. Visit the Official Website to subscribe for updates.