Kleros the Blockchain Court
A story was told sometimes ago about a particular person who was arrested, detained and prosecuted unjustly for an offence not committed. This happened because he was poor and helpless and unable to hire a good lawyer who could stand in place for him. Funny enough, on the decentralized blockchain technology, similar events happens in which someone will be cheated and have his or her hand washed off. Leaving the person without a good option and as such no justice can be sought.
Most often at one time or the other, we wish we can get someone who can fight for our right. Justice is needed in so many areas of the blockchain technology especially when it comes to the execution of smart contracts between individuals who don't know each other physically.
It is very common among men to breach contracts or to err and trust has become an issue of concern in today's society even on the blockchain technology as people tends to deviate from agreement or at certain times deliberately will want to cheat others. And most often when this happens, the person at the receiving end will have no option than to be at the mercy of whoever is doing transaction with. Some sites have a way of reporting infringements but this is not effective in most cases.
However, it is possible that the executor of the smart contract may be the one who is trying to cheat the provider of service because the service provider is willing to protect his/her public image may do away with some items that will cost much leading to loss from that end.
About Kleros
Following the mayhem about justice on blockchain technology, Kleros is here to bridge the gap between people at the two ends of smart contracts to resolve conflicts and promote justice.
Kleros is a decentralized application built on top of Ethereum that works as a decentralized third party to arbitrate disputes in every kind of contract, from very simple to highly complex ones. It relies on game theoretic incentives to have jurors rule cases correctly. The result is a dispute resolution system that renders ultimate judgments in a fast, inexpensive, reliable and decentralized way.
Since the number of individuals on the blockchain technology is on the increase on daily basis, there is need for a base for the fast growing super structure in which smart contracts will not render a subjective judgment or including elements outside the blockchain technology in conflict resolution of the blockchain technology. Not that there are no dispute resolution technologies on blockchain at all, but the existing ones are too slow, and unreliable for the fast growing technology. Also, like the statement of Aristotle, whoever controls the courts controls the state, the interference of powerful individuals who have much investment on the blockchain can as well influence decisions to be made on issues.
Kleros as a decision protocol for multipurpose court system will solve every kind of dispute. It is built on Ethereum Autonomous Organization. So it is expected that it will work as a decentralized third party to arbitrate disputes in every kind of contract be it the simple or the complex ones. The use of blockchain is for the purpose of decentralization therefore, it will still employ the conventional method of gathering evidences and selecting/appointing jurors but it will be automated. Therefore, it is expected that a high level of insight to series of confusions would be provided through a procedural process of investigation. Also, the leveraging on crowdsourcing, blockchain and game theory to develop a true systems that will produce true decisions in a secure and inexpensive way.
One major advantage this has over the other existing technologies include cost effective and efficiency model. Sometimes, people may have a good cause to plead but not be able to afford to get a good lawyer.
How they will achieve
The system will automatically draw jurors for any contracts available to be executed. These jurors will be selected from different countries over the blockchain for which they have specified number of days to accept to be. Afterwards, the plaintiff and the defendant will have to bring their different opinions for which the jurors will look into carefully after, gather facts of necessary information about the case and afterward pass judgment.
To resolve issues, there may be need for the parties to disclose privileged information with jurors but it is encrypted in a contract language that prevents outsiders or third parties access to such information.
Since there is no physical contact, neither the plaintiff nor the defendant can influence decisions of the jurors but a just decision based on facts.
The Image below gives a simple demostration of how it will run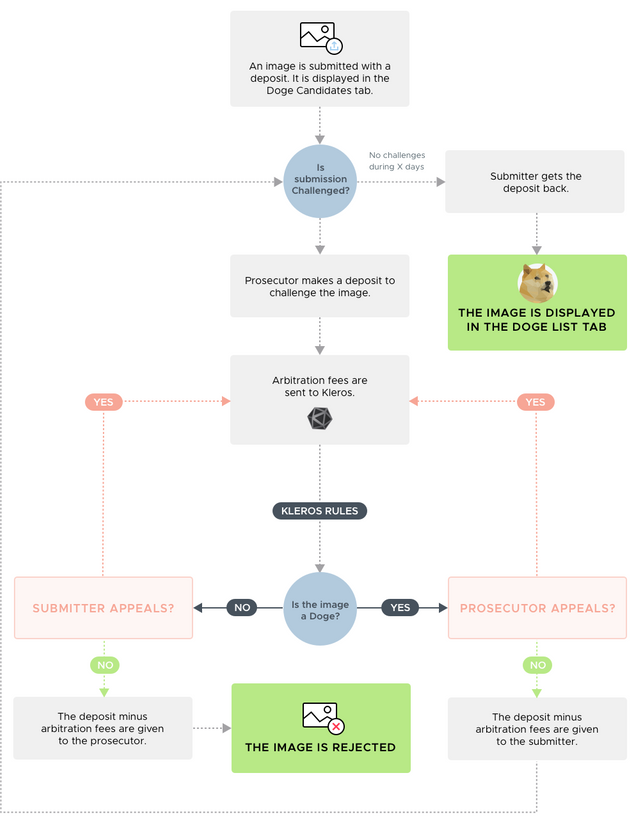 Image source: @Originalworks Contest post
Benefits and tokens
For the appointed jurors, there is a tokens for a job well-done. The fee is to come from the arbitrable smart contract which will determine the party that will pay the fee and this depends on the occasion at hand. Some occasion may necessitates both parties to make a deposit of the arbitration fee for which whosoever the case is ruled in favour will be reimburse. And if a party refused to make the payment of the arbitration fee, the case will be automatically ruled in favour of the other person without even considering the dispute. This fee is to be determined by the subcourt.
There will be room for appeal for cases after the jury must have reached a decision for which a party is not satisfied. If a party feels the result was unfair, the party can appeal to have the dispute ruled again. And each new appeal instance will have twice the number of jurors plus one. This will lead to an increase fee to be made. This is a kind of bride resistance mechanism as the numbers of jurors goes up the appellant will have to be bribing higher. Therefore, this will control not just bribing but also will resist people from making unnecessary appeal.
With Keros blockchain is only getting better and contracts only getting smatter. It is a great development good for all blockchain users and big corporations that markets online e.g. eBay.
This is my submission for @OriginalWorks weekly Contest
To know more about Kleros please visit:
Kleros Website
Kleros White Paper
Kleros YouTube
Kleros Tiwtter
---
Twitter Bonus
Here is the link to my twitter post:
https://twitter.com/timiisaac/status/1031730493342015489
---
kleros2018