Nestree (Social Media Application Using Blockchain)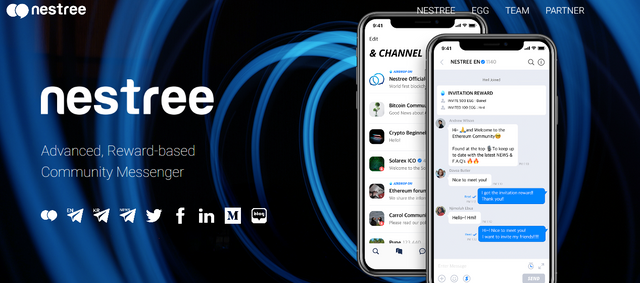 What is Nestree
Nestree is an innovative messenger that offers users not only messaging features, but also many other useful things. In general, Nestree represents the entire ecosystem where various types of users are located and who interact with each other using various digital services. All of this is built based on an economic model using a database that is distributed on a blockchain network. The economic model includes a complete wallet for digital financial assets and a user reward system that gives participants various ways to produce messengers.
Mission offered from the Nestree Project
The company's mission is to become a global public platform based on participant awards and their sharing of the blockchain registry. The developer strives to create a special platform for interactive ecosystems where businesses and communities co-exist and benefit from each other, regardless of the location of the participants and their demographic status.
Features of Nestree New User Benefits
Unlike conventional social messaging platforms, the Nestree platform offers a new type of interactive and useful activity between users, admins, and advertisers by utilizing cryptocurrency and blockchain technology. The default cryptocurrency wallet supports many coins, ERC-20 tokens, and original EGG tokens, providing an effective monetization model to contribute to users around the world.
Problem
Due to the increasing number of communities in instant messaging, such as group chats or super groups in telegrams, they indicate the general possibility of group chats that can be scaled in instant messages. However, this platform faces the following problems when working with mass group chat:
It's hard to track all messages. It often happens that users might miss important announcements because of the large chat flow
It's hard to get an audience in a group. Community development is associated with extraordinary hard work and a large amount of money to attract new users
Lack of a business model. Although it is possible, messenger users limit themselves to monetization
In addition, because the Nestree messenger project is connected to modern technology, developers cannot help but touch the issue of storage and operations with digital financial assets.
The solution
To overcome the above problem, the developers created a sophisticated messenger that was integrated into the innovative economic blockchain model, taking into account all possibilities, so that users can expand their capabilities and get ways to earn money from their activities. For this purpose, messenger offers a new type of interactive action between users, administrators and advertisers, we include it:
Thematic community. Users can easily find communities that are of interest to them, and administrators can easily interact with visitors, provide them with information and encourage them to actively participate in the community.
Active participation is valued. The group gives participants a variety of prizes that they can receive for their active participation. Among these activities: invite friends, watch advertisements, provide content, and more. On the platform you can receive an unlimited number of awards, there are no restrictions. Participants can include content producers, content consumers, community operators and advertisers.
Wallet. Thanks to the default wallet for digital currency, participants immediately receive payment in the EGG token into their wallet in the application. Users can safely store assets, receive them, and make transfers.
Decentralized exchangers. Members can exchange digital assets with each other without the need for exchanges. Thanks to P2P peer-to-peer exchanges, there's no need to look for transfer methods and create unnecessary wallets.
To create an active community, it is first necessary to gather people together. And the best way to gather people is to give them incentives to get money for their activities. This platform uses a system of "invitation gifts", the point is to give awards to invited and invited participants. The chat administrator can also activate "invitation gifts" and everyone who joins the community will receive a gift. In addition, if the number of participants in the chat exceeds a certain amount, then in this chat you can publish advertisements, and the advertising costs are distributed among participants as prizes. Community administrators can also make money by chatting just by inviting members, and users can benefit from seeing ads in the community. In this way Nestree users can sell and buy not only EGG tokens that are accepted as gifts, but also coins and other tokens from the popular BTC and ETH to various ERC-20 tokens. To do this, use the digital wallet that is in the mobile application. The user makes an offer to buy or sell, shows the amount of assets exchanged, and then places the offer in the public domain. After the other party approves the requested transaction, the transaction is carried out on the blockchain.
ECONOMIC TOKEN
EGG is an ERC-20 utility token that can be used in various ways. There are also many ways to get EGG, such as the following:
How to Get EGG Tokens
Users can receive EGG Tokens from activities on the channel including Invitation Rewards, Content Rewards, Random Rewards and Advertising Rewards. They open their compilations, invite other users, post high quality content, open their channels from time to time, watch advertisements, and actively engage with their channels. They can also get EGG through sales in the Marketplace. Channel operators can obtain EGG as an imbalance to run paid channels or post advertisements from advertisers. In order for channel operators to get a higher advertising imbalance, they need to increase their channel and advertising loyalty, which will also pay for higher imbalances for channel participants. Channel participants, admins and advertisers can get EGG tokens by buying on the cryptocurrency exchange
DESCRIPTION OF TOKEN
TickerToken: EGG
TypeToken: ERC-20
Price: 1USD = 100EGG
Total Supply: 3,000,000,000 EGG
HardCap: 6,000,000 USD
SoftCap: 1,000,000 USD
Smart Contract: 0x65ccd72c0813ce6f2703593b633202a0f3ca6a0c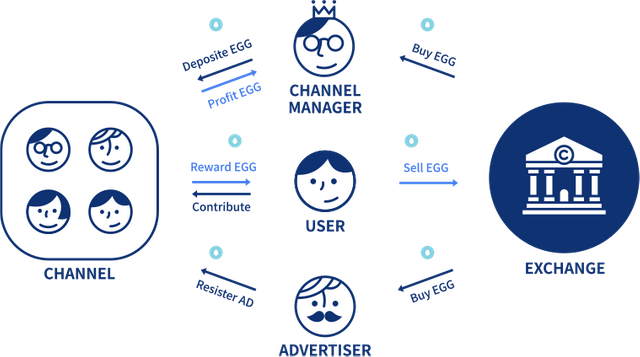 DISTRIBUTION OF TOKEN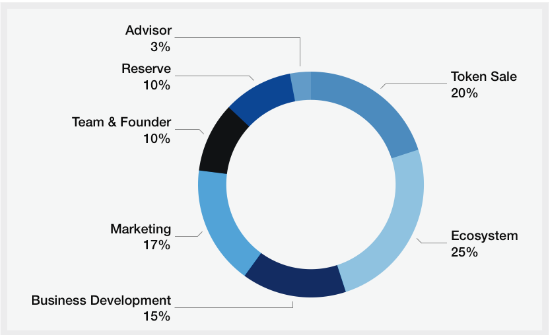 RoadMap

Team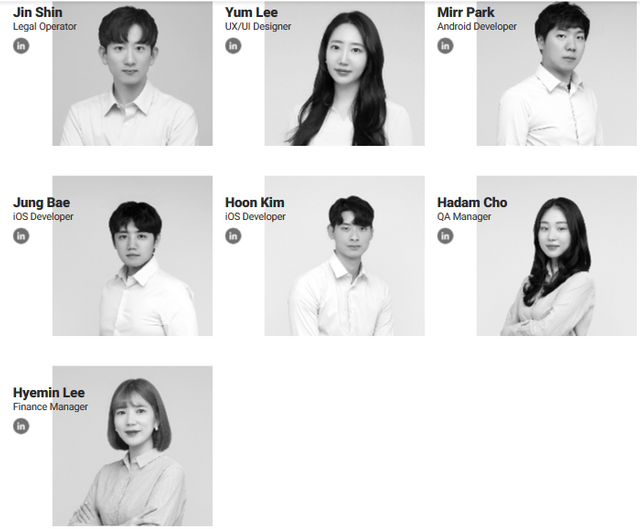 To keep up with the latest project news, you can visit the official website or subscribe to social networks:
Web: https://www.nestree.io/
Whitepaper: https://www.nestree.io/whitepapers/Nestree_Whitepaper_EN.pdf
Bitcointalk ANN: https://bitcointalk.org/index.php?topic=5155135.0
Twitter: https://twitter.com/nestree_io
Facebook: https://www.facebook.com/nestree.io
LinkedIn: https://www.linkedin.com/company/nestree
Reddit: https://www.reddit.com/r/nestree_io
Medium: https://medium.com/nestree
Telegram: https://t.me/nestree_en
iOS application: https://apps.apple.com/kr/app/nestree/id1463013800
Android APP: https://play.google.com/store/apps/details?id=chat.nest.messenger
═════════════ ★ Autor ★ ═════════════════════
bitcointalk User Name: Jooo12
Link to bitcointalk PROFILE: https://bitcointalk.org/index.php?action=profile;u=2348034
EGG Wallet: 0x82b7Ad9cdc6cB95C9AE4D13DC8961322805E98a1
Thank you for reading and visiting, don't forget to: