What value does Blockchain add to your platform?
Thanks to the recent popularity surge of digital cryptocurrencies like Bitcoin, the term "blockchain" has gone from obscure technical jargon to one of the most bandied buzzwords in business and financial news. However, the concepts behind blockchain remain widely misunderstood, and most people still think its uses are limited to storing digital coins.
So, what is Blockchain?
Blockchain allows for the creation of a decentralized public record of digital information. The data is stored in a public database and can consist of any information. The technology offers anyone a chance to access and conduct transactions on a common digital ledger. Since all the modifications to the ledger are constantly recorded in real-time, the changes are completely transparent. The technology can be used for more secure and transparent public transactions as well as private ledgers for inter-company transactions and record keeping.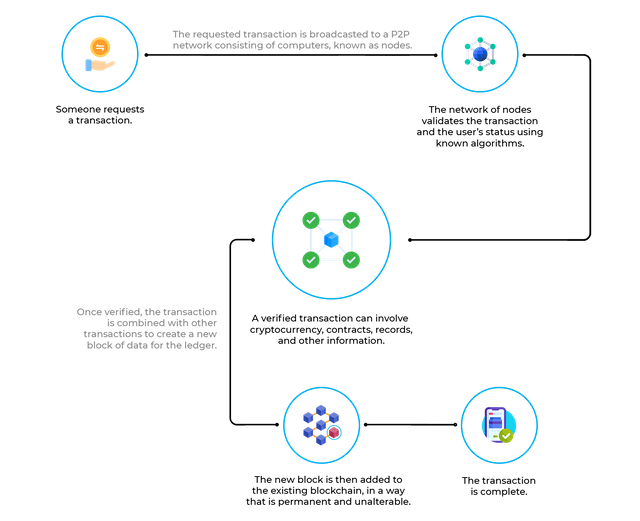 Why should you adopt blockchain technology in your business platform?
There are many advantages to implementing blockchain technology. To a large extent, it can help improve operational efficiency and productivity levels.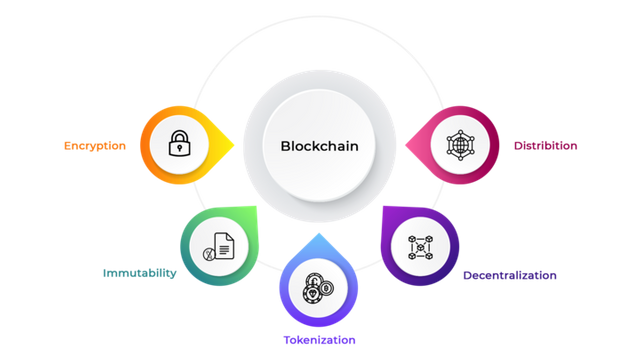 The main benefits associated with this technology are:
Trust
Decentralized structure
Improved security and privacy
Reduced costs
Speed
Visibility and traceability
Individual control of data
Tokenization
Applications of blockchain technology
The Blockchain concept known as the technology underpinning Bitcoin goes far beyond that. The potential of blockchain is immense, but the question is how effectively one can adapt to it to realize its benefits. It helps to improve operational efficiency and productivity levels across different sectors in financial institutions to federal agencies.
Here are some of the practical applications of blockchain technology: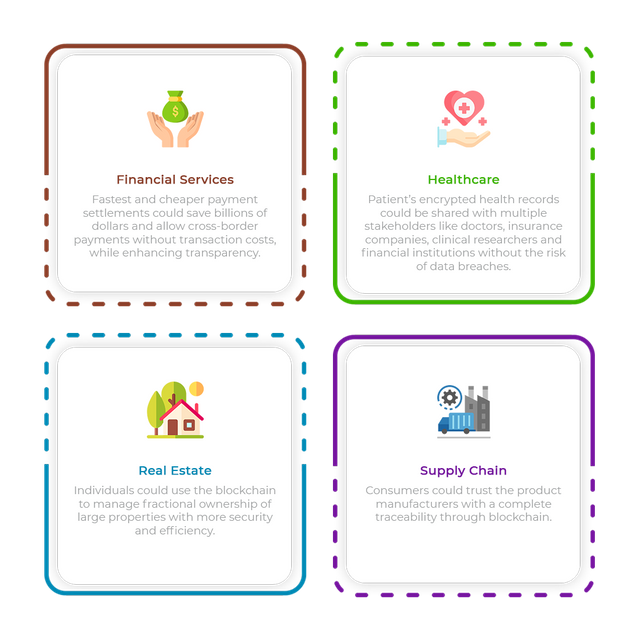 Financial services
Compared to traditional transaction systems, blockchain-based transactions happen at a much lesser time and are fully transparent.
Recent research carried out by CryptoCoinsNews shows that blockchain adoption in banks will save $27 billion on cross-border settlement transactions annually by 2030.
Cryptocurrency
A shared distributed ledger that is cryptographically encrypted stores the ownership records of the individual coins. Since the transactions on the ledger are not governed by a central authority it greatly reduces the risk and transaction costs involved. Examples are Bitcoin, Litecoin, Peercoin, etc.
Healthcare
From secure health record management, medical staff credentialing, drug traceability to fraudulent activity detection in clinical trials, blockchain revolutionizes the way the healthcare data is managed by both patients and healthcare providers. As per the report by BIS Research, the global spending of the healthcare industry will reach $5.61 billion by 2025.
Smart contracts
A smart contract is a form of digital agreement that helps you exchange digital currencies, shares, land properties, or anything value-added between two or more parties in an agreeable and transparent manner without an intermediary service.
Supply chain
Adopting blockchain technology in supply chain operations can help us integrate better transparency into the process. The effects can ripple out from raw materials gathering to end consumption. It can improve traceability of consumer goods or finished products during delivery and can help better trademarking of consumer goods or finished products.
Government
Blockchain technology in government models can help keep both citizens and government data secure, build trust in government systems, streamline operations, minimize fraudulent activities, authenticate voters in elections, prevent corruption and wastage of resources. Since blockchain-powered governance models are not controlled by a centralized authority, it significantly reduces the chances of failure.
Media
It brings traceability into intellectual digital content, prevents piracy of content, reduces restrictions on paid content access across boundaries, introduces royalty payments using smart contracts, and monetization of digital content through P2P micro-payments.
Real estate
Blockchain enables us to tokenize real-time assets, reduce operations costs, efficiently manage ownerships of a pool of assets, discover alternative market opportunities, better management of financial instruments, reliable asset portfolio management, and also help us to take timely investment decisions. One of the major advantages of using blockchain in real estate is that it could be used to greatly improve the land registry process.
Closing thoughts
One of the roadblocks to blockchain adoption is business leaders' mixed reactions to the importance and significance of blockchain technologies. But whatever their stance, it cannot be denied that there are businesses that have realized billions in cost savings by implementing blockchain technology. With use cases spanning from financial applications to fashion and healthcare, it would not be surprising for blockchain technology to be adopted even beyond the pandemic.