A Recap: The First Four Months of My Gap Year in San Francisco
A Recap: The First Four Months of My Gap Year in San Francisco

Last Friday marked the end of my semester at Horizons School of Technology. Here are some quick stats to quantify my experience:
16 weeks living in San Francisco
1000+ hours coding (I tended to code 12 hours a day and many hours over the weekend — I was not the norm)
3 hackathons (TechCrunch Disrupt SF, Hack Your Tomorrow, Horizons School of Technology Fall 2017)
10 technologies learned (HTML, CSS, JavaScript, React, React Native, MongoDB, PostGres, Web Sockets, Node.js, Express.js)
25+ meetups (mostly blockchain/cryptocurrency related but also a couple React/Node/HTML themed)
2 conferences (TechCrunch Disrupt SF and Bitcoin Edge Dev ++)
120+ people (attended the Steemit SF meetup I hosted)
39 friends (the many wonderful peers I coded with, walked home with, joked with, and ate with over the course of Horizons)
Looking back, it's hard to believe how much has happened since I started Horizons back on September 1st. To recap my experience, I'll share with you my top 3 moments from the semester:
My Capstone Project: dPoker
TechCrunch Disrupt SF Hackathon
Hosting 120 + people for the SF Steemit Meetup
---
Experience #1: dPoker

As part of the curriculum, the final 3 weeks of Horizons was spent working on a final "capstone" project to demonstrate and solidify the skills we learned over the course of the semester. For our final project, my friend Nate and I built dPoker, a decentralized, peer-to-peer poker game utilizing the Lightning Network for fast, cheap, secure transactions. Finishing my semester demoing dPoker was the ultimate ending; after twelve weeks of learning full stack development and attending blockchain meetups, I had found a way to combine the best of both worlds. In front of a crowd of over 100 people, we successfully demonstrated a full round of poker complete with the successful distribution of the pot to the winner (myself). While the game looked awesome and our demo ran smoothly, the game itself was pretty rough. With less than a week to go, we ended up forking a repo that efficiently packaged a light weight wallet client (Neutrino) with electron and transferred all our code to the new repo. With less than 24 hours to go, we realized some of our assumptions about the Lightning Network were false, and had to come up with a hacky workaround for the final presentation. With less than 4 hours to go, we had a pink background and only one of our views was styled. Thus, our final product resembled more of a hackathon project than an MVP ready for beta release. However, the technologies we used, problems we dealt with, and architecture we designed were cool, complex, and the ending product mostly worked… so it was definitely as success in my book!
---
Experience #2: MemoSpace
Having just finished binge watching HBO's Silicon Valley, there was no way I was going to pass up on the opportunity to participate at the TechCrunch Disrupt SF 2017 Hackathon. While it was only the first week of Horizons, and I didn't really know anyone, I sent out a message on the Horizons Slack and before long had a team of five to attend (these guys became my closest friends at Horizons). Leading up to the Hackathon, one of my teammates, Pete, came up with a very interesting idea, localized photo sharing in augmented reality with Apple's ARKit… MemoSpace. Even though none of us had really worked with Swift in a long time and none of us had any experience with AR, we decided to go full steam ahead with this idea. 24 hrs hours later, we come up with a semi-presentable product… and with nothing to lose we focused on the presentation. Capitalizing on the humor of Silicon Valley, we pitched ourselves as SO-MO-LO, a socialized, mobile, photo-sharing experience based on a user's location. While we didn't win the grand prize, we received laughs from the audience, and two free tickets to the TechCrunch Disrupt SF conference.
---
Experience #3: Steemit SF, A Night With Ned Scott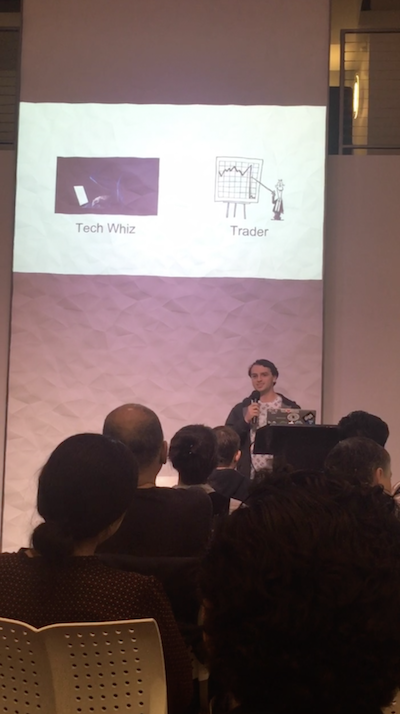 After really becoming a part of the blockchain meetup culture in San Francisco, I came to desire two things:
I wanted to host a meetup
I wanted to revive the Steemit SF Meetup group
So, I emailed Jun, the current Steemit SF Meetup organizer, and we scheduled a call for the following week. Within ten days we had scheduled Ned Scott, CEO of Steemit to come speak in SF. With our partner host, the San Francisco Blockchain Collective, we packed the Digital Garage space as 120+ people came to hear Ned speak. I had the incredible opportunity to be the opening speaker and discussed why I started my crypto journey with Steemit; it was crazy being on the other side of the mic! While the meetup went well, and Ned's speech was fascinating, the best part of the meetup was the people I met .
---
So Where Now?
That is a great question. I have a few very exciting opportunities that I am working on for the new year. But first, let me catch up on some sleep and spend time with my family… expect an update maybe in the next couple weeks. Until then, cheers and have a wonderful New Years!