URunit – A Platform where Players own Online Gambling Industry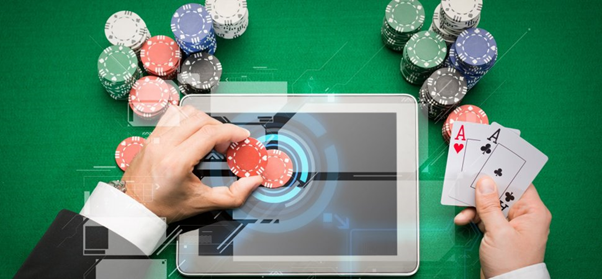 Introduction
URunit is a Blockchain based Gambling platform which is managed by its community only where players are controlling the whole services like hosting all the games and receiving most of the profit. According to data, the online gambling market capacity is expected to reach $81.7 billion by 2022 from $52 billion of 2018. On the other side, casinos and other providers constantly try to attract new clients with new gimmicks like rewards, bonuses, prize etc. But, right now technologies transformed from simple wooden table and slot machines to online games and blockchain technology.
So, URunit is come up with their idea to bring a blockchain based platform where it is totally managed by their community by players who control all the services of gambling.
Problem – Gambling Market
The problem is in an existing gambling market where players went to casinos and spend their money hoping for a quick win. But, most of the players lose and don't have even a slightest chance to affect the work of the casino in any way. Players are just a cash cows for casinos where casino customers are very venturous people who are ready to take any risks. On the other side, they get bored quickly and move to another casino for diversity. So, it will become difficult for casinos to attract new customers or players where customers won't stay for long.
Solution – URunit
The solution where URunit is come up with their idea to integrate the blockchain technology to the casino or gambling industry by changing their total principle. They are providing a platform where it is managed by the players only, who host all the games under it. Here, each game is hosted by a certain player by becoming an owner of the game.
The owner decision is done by the drawing of the lots which held automatically, and winners should pay a small fee in URUN tokens to confirm their ownership rights to the game. The owner of the game not only monitors but also authorized as a moderator. They are getting ownership as in a lease period where during the game, users plays then bigger their bets and the rank is also getting higher. The higher the player's rank, the more chances they hold the ownership rights of the game.


The Team
Roman Grushkovsky – CEO & Co-Founder – He's a serial entrepreneur, having extensive experience in the field of Software Development. Team Management and Business Management. He's having more than 15 years of Software Development experience in Banking and Gaming Industries.
Max Vaschuk – CMO & Co-Founder – He's having expertise in Software Engineering, Electrical & Electronics Engineering, Marketing etc. Also, serving marketing departments of the major companies in Ukraine.
Leonid Rubin – COO & Co-Founder – He's a serial entrepreneur, having expertise in Software, IT, Programming, Marketing etc. Currently, he's also a Co-Owner and Owner of Rubirand Imports and Nextlab respectively for more than 12 years.
Token Matrix
Token – URUN
Total Supply – 80 Million URUN
Price – 0.00125 ETH
Soft Cap – 5000ETH
Hard Cap – 75,000ETH
Crowd Sale – 1st September to 15th October 2018
Social Media Reach
Facebook – 17.9k+ Followers – https://www.facebook.com/urunit
Twitter – 22.8k+ Followers – https://twitter.com/URUNIT_IO
Telegram – 49.4k+ Members – https://t.me/urunit
Verdict
The Social Media hype is excellent, and they are very much active on their Telegram Group.
The Website is explained in detail and it is very appealing. The Whitepaper also well-explained in detail and easy to understand.
There are 21 core members in an executive team who are having expertise and experience of working in Digital Marketing, SEO, Developer, Law, Cyber Security, Financial Services, UX/UI Designer, Content Writer, Software, Marketing and Blockchain Technology.
They have 10 advisors on board who are having expertise and working experience in Casino or Gambling Industry, UX/UI Designer, Fintech Industry, PR, Software, ICOs and Blockchain Technology.
The team are having working experience from such reputed companies are Microsoft, Matrix, HP, Morgan Stanley, VISA, Leumi Card etc.
The Roadmap is very well-explained and framed well in detail with their milestones till 2020 and beyond. Currently, MVP is not available where according to the Roadmap, the release of an Alpha version of the platform will be held in Q2 2019.
They have partnered with Bancor, LAToken, TokenDesk, ZClassic Coin, STOX, TechInForm, B2B Slots etc.
For Detailed Information
Website – https://www.urunit.io/
Whitepaper – https://www.urunit.io/docs/whitepaper_eng.pdf
ANN Thread – https://bitcointalk.org/index.php?topic=3396208
Bitcointalk Username – ritikagupta
Bitcointalk URL – https://bitcointalk.org/index.php?action=profile;u=1375471
ETH Address – 0xA6119b0AF2EC4A3e8A64f8ADA1dBF152f06eC392