SOAR – Revolutionizing Drone Industry with Blockchain Technology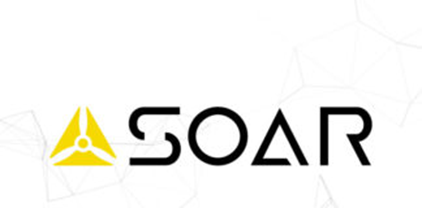 Introduction
Soar is a Blockchain based decentralized platform which providing high-quality drone content that connects customers with content creators directly in a secure, trustless and distributed blockchain community. The Soar marketplace having a drone content which includes still images, video, aerial maps and other specialist drone content. They are allowing the drone operators to upload and sell content to other Soar users anywhere in the world. They are also integrating a Smart Contract to secure the drone content metadata which Soar automatically and transparently publishes the location, time and equipment type used to capture content onto the blockchain.
Soar platform is integrating the blockchain technology to eliminating the problems of getting fake news. They are creating a dynamic database for collecting contents from thousands of drone operators which called world's first super-map.
Soar Marketplace
Soar platform is integrating blockchain to stepping into an emerging opportunity to become the leading open marketplace for drone content with geospatial data or information to anywhere in the world. They are allowing buyers to easily locate and buy drone content already on Soar platform. A platform where buyers can offer a SkyBounty on an area which rewards drone operators to upload content to match the SkyBounty needs. Here, drone operators can upload a content under a SkySponsor arrangement for sale in an open marketplace.
Soar platform is providing content providers and buyers to transact with the SkyMap (SKYM) token.
Growth of Drone Market
The Soar platform is designed to tap into the growing drone industry. Today, the market for consumer and commercial drone industry is expected to grow rapidly over a time which will help drone operators to realise improved commercial returns from their drone content. The global addressable market for aerial drones across all industry sectors has been estimated around $127 billion USD, which is based on eliminating manual labour services by drone powered solutions.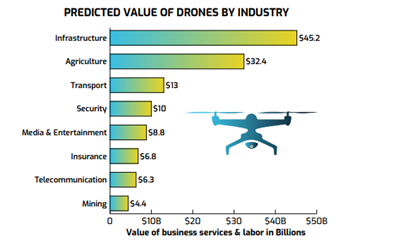 Drone Applications
The market growth of drone applications is being increasing with the capabilities of their hardware, sensor and software platforms. The drone content industry is having broad market applications which including industries such as –
Infrastructure – Drone is being used in monitoring construction site surveys and data gathering for progress reporting. Through drone, they inspect and maintain identifying assets which needs to be repaired or being replaced.
Insurance – In this drone is being used for the risk and damage assessment in areas which exposed to natural disasters. They get claims about management and fraud prevention through an initial assessment of properties and rapid, low cost detection of change after the report of an incident.
Agriculture – For agriculture, drone is being an important part for them by doing analysis from start to end process. They can plan about crop, soil and field analysis through their high-quality 2D or 3D maps. The drones carrying near infrared (NIR) to monitoring crops with multispectral or thermal cameras to identify crops underwater areas and the crops areas which affected by weeds or disease. Drones also used for spraying to the crops with the range of chemicals to specific locations which provide treatments to the crops.
Mining – It is being used in mining to be mapping for mine site planning and logistics. Drone providing environmental monitoring to detect changes in vegetation, waste disposal and potentially identify from which any pollution produced.
Emergency Services & Medical – It is being used to deliver of medical supplies in disaster areas.
News, Tourism & Entertainment – Here, it is used for filming any kind of reporting for news or sporting events. They will capture footage for movies and advertising. This will also help in content for tourism promotion.
Soar Solution
Soar is a Blockchain based decentralized platform which will revolutionize the value, applications and significance all the drone content industry. This platform will provide all the accessible commercial value of drone content where a single data will upload which represents an infinite number of commercial applications and facilitate monetary opportunity for existing owners of drone content.
Soar platform is using SkyMap token (SKYM) which is an ERC20 compatible token, allows customers to utilize the platform and rewards content creators under the platform.
SkyBounty System
It is a marketplace featuring of the Soar platform as a mechanism to create a system for capturing drone imagery for a desired location. They allow token holders to drive image capture and upload about geospatial data or information on the platform. They also provide instant rewards to drone operators and their SkySponsors for uploading content which taken within the SkyBounty area.
SkySponsor Model
Here, they are eliminating the complexity and costs of interacting with a decentralized market and at the same time lending their credibility to the content creators who providing high-quality content to the consumers.
Token Details
Token Matrix
Token Name - SkyMap
Token – SKYM
Total Supply – 350 Million SKYM
Hard Cap – $19.5 Million USD
Token Allocation
Private Sale – 32.9%
Ecosystem – 19.4%
Community Building – 15.4%
Partnerships – 13.7%
Team – 12.3%
Public Sale – 4.3%
Advisors – 2%
Use of Funds
Marketing & Sponsorship – 30%
Operations – 35%
Research & Development – 20%
Infrastructure – 10%
Legal/IP – 5%
Social Media Reach
Facebook – 1.9k+ Followers – https://www.facebook.com/SoarEarthOfficial/
Twitter – 1.4k+ Followers – https://twitter.com/Soar_Earth
Telegram – 5.3k+ Members – https://t.me/SoarEarth
Verdict
The Social Media hype good, and they are very much active on their Telegram Group.
The website and Whitepaper both explained very much in detail and easy to understand the project.
There are 8 core members in the leadership team who are having working experience in UX/UI Graphic Designer, Marketing, Mobile Developer, Blockchain Developer etc.
They have 10 advisors on board who are having expertise in Sales & Marketing, ICOs, Digital Marketing, Investments etc. Some of them are retired from US Army and some of them are Investor or Investment Advisor to several companies. But the background detailed information about the team members and advisors still not updated on their website. They will be updating soon.
The Roadmap is explained in detail with their milestones till 2019. Currently, MVP is not available but according to the Roadmap, the stage 1 Mobile App will be releasing in December 2018.
They have Investors and Partners on board are Alibaba Cloud, Takor Group, JRR Crypto, Node Capital, Lateral Capital Ventures, Otsana Capital, Alium Capital Management, ViaBit, Blockfolks and Peregrine Corporate.
For Detailed Information
Website – https://soar.earth/
Whitepaper – https://soar.earth/soar_whitepaper_print.pdf
ANN Thread – https://bitcointalk.org/index.php?topic=4807008
Campaign Special Link: https://soar.earth/?utm_source=content&utm_medium=bounty
Krypital Bounty Group: https://t.me/KrypitalBounty
Krypital News: https://t.me/KrypitalNews
Bitcointalk Username – ritikagupta
Bitcointalk URL – https://bitcointalk.org/index.php?action=profile;u=1375471