Update and Short Preview — Quadrant Protocol Update #1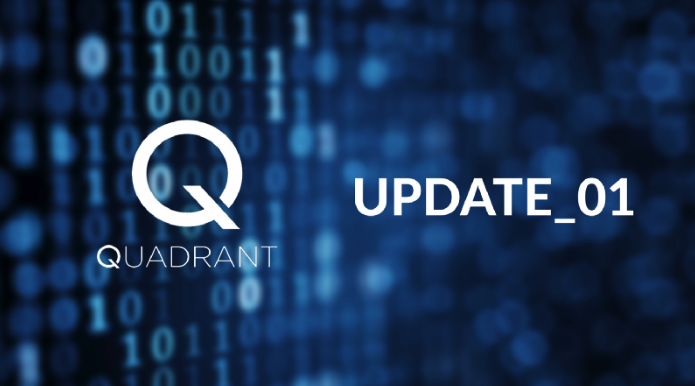 While we work in the background, focusing on building our product and establishing concrete partnerships, we are very happy to see the gaining momentum and support for Quadrant Protocol.
Here's an update on recent progress and a short preview of some of the excitement ahead.
Filling Allocations
First, we are humbled and grateful over the huge response to the start of our private sale.
The results speak for themselves: contribution offers to Quadrant Protocol's private token sale reached the $3 million soft cap on the first day and doubled that within just 24 hours. This means well over a third of our private sale allocation was immediately filled — and the contributions keep pouring in.
We are also optimistic that the conversations we are having based on this success are attracting the right kind of supportive strategic investors that can add long-term value to Quadrant.
This is all thanks to the overwhelming support of Quadrant's growing and increasingly engaged community that has put wind in our sails as we seek to create the blueprint for decentralized data. Our followers are topping 1,300 on Twitter and we have more than 2,500 members in our Telegram channel with the numbers swelling each day.
While we still have weeks to go in the private sale, we also plan to keep back an allocation for our public crowdsale. Overall, our goal is to raise $20 million, including $5 million in the public sale.
For members of our Quadrant community who don't want to wait for the public sale, you can express interest in the private sale on Telegram:
More Partnerships on the Horizon
We also want to whet your appetite a little for what's to come.
We were proud to have announced our partnership with decentralized database services company Bluzelle last month. And it won't be the last. We have more partnership announcements planned over the next few weeks, and suggest you especially mark your calendars for May 21.
Testnet Info Coming Soon!
We will soon release news on our Testnet, a significant and highly-anticipated step for Quadrant Protocol. We are confident this will reinforce our credibility within the blockchain community, so please watch this space for details.
Finally, a little further out, we have the public crowdsale. Nearer the time, we will inform everybody who wants to contribute about the whitelist and process for participating. And, of course, we will announce the official start date.
Blueprint for Decentralized Data
So, there's plenty to keep up to speed on … But let's not forget why we are doing all this.
As we have said before, we have seen and experienced major issues in the data economy. Quadrant Protocol was created to make the ecosystem a better one for all participants — data producers, data vendors, and data buyers. Quadrant Protocol's structure as a blockchain-based protocol that enables the access, creation, and distribution of data products and services with authenticity and provenance at its core.
Quadrant envisions a fluid and trusting data economy for everyone by providing a blueprint for mapping disparate data sources.
Reach Out
If you are in New York next week, look out for myself, Mike Davie at Consensus.
For further information on Quadrant Protocol and its vision, please head to the website and download the whitepaper.
You can ask any questions you may have regarding the whitepaper in our Telegram channel at t.me/quadrantprotocol. We will then connect you with our team and get back to you in due course!