PumaPay Wallet Significantly Improves User Experience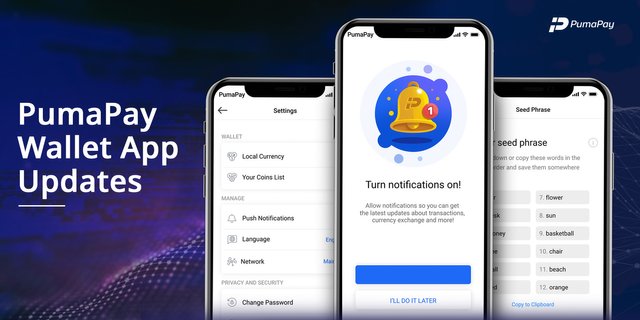 Our wallet app has received extensive updates today with the launch of exciting new features to help improve aspects across the wallet including a significant upgrade to the backend infrastructure. With this in mind, we highly recommend all users to update their app to the latest version. Anyone using a previous version of the app, may experience problems.
App Enhancements
Biometric Sign-In
You can now gain access to your account using Face-ID or Fingerprint-ID recognition giving you instant access through biometric security. You can still log in using your password and will need to keep the passcode available should the biometric sign-in fail.
Push Notifications Now Live
Push notifications have now been integrated directly into our wallet app. You can now be kept up to date with the status of your transactions and receive push notifications for:
The receiving of funds
The successful sending of funds
You can filter which notifications you wish to receive through the settings tab giving you complete control of your user experience.
Seed Phrase Access
A key focal point for the wallet update, was to streamline the user's experience whilst memorizing the unique seed-phrase. A feature highly requested by our community was the ability to regain access to the seed phrase should it be misplaced or forgotten. You asked and we listened! Users can now regain access to their seed phrase, should they need to do so, through the settings tab of the app.
Note, you will need to enter your passcode to gain access to your seed phrase to ensure we keep our high-level security measures in place.
Keep Your App Up to Date
As explained above, the level of enhancements and upgrades this time around are substantial and we suggest that all app users install the latest update. If you prefer to stay with the previous version, you may experience problems. If so, please close the app fully and restart it. If you continue to encounter problems, we advise that you update the app.
Please note: Prior to updating the app, you will need to know your seed phrase. If you have lost or forgotten your seed phrase, send any funds you have to an external wallet. Then re-install the PumaPay wallet, create a new wallet and send the funds back.
It is your sole responsibility to keep the 12-word seed phrase in a safe place. Your seed phrase is your private key and is required so that you can access and restore your wallet in the future.
At PumaPay, we are committed to delivering the best app possible. If you have any issues, we have a dedicated bug reporting group on Telegram.
We love to hear your feedback, send us an email or contact us on Telegram . You can also connect with us on Facebook and Twitter to stay updated with our latest news.
Visit the PumaPay site for more information about our Payment Solution.