Revolution towards A Better Recruitment - Eliminating Intermediaries with AI and Blockchain!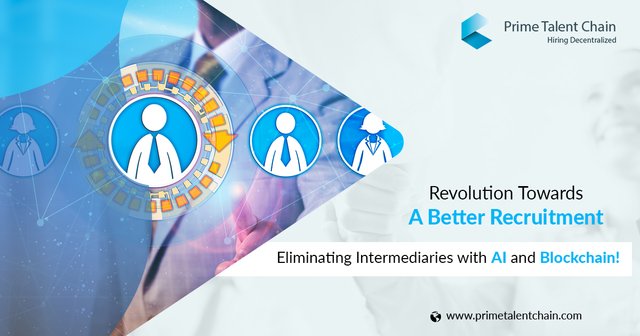 Do you know what's happening in the recruitment industry? Let this blog quench your curiosity with the newest technological additions and processes in the hiring space. According to a global survey by LinkedIn hiring the right candidate for the right job takes anywhere from days to months. Such lengthy hiring process incurs tangible and intangible losses to a company. 
Prime Talent Chain provides an apt solution, which hasn't been witnessed by the recruitment industry yet. It reduces the tedious hiring cycles which in turn saves the time and money spent on recruitment. By employing blockchain technology in its operations, it uses a unique consensus protocol to peer review the resumes of job seekers. 
The protocol functions on the basis of smart contract and once the conditions are fulfilled, the system will approve the process. When the consensus is achieved that the candidate's profile as 'True', there will be a green tick. It also does background checks and thus it helps employers to save cost.  
By the effective employment of ideal methods - Artificial  Intelligence, and Machine Learning, PTC ensures the highest probability of matching the right candidates with the right employers. 
Blockchain assures Privacy, Security, and Safety of the job seekers' personal details. There is no compromise when it comes to personal details. As the entire ecosystem is automated with a smart contract and there is no chance of leaks, hacks or data being stolen. 
So how does Prime Talent Chain work?
Prime Talent Chain plans to launch four products: 
Prime Source - Resume Sourcing Algorithm
The algorithm works in such a way that it collects resumes from multiple sources. Through predictable analysis, it also sources the resumes of passive job seekers. 
PrimeScreen - Technology enabled tool with a preliminary background check
This tool eradicates the need for extensive search engines by applying Artificial Intelligence, Blockchain, and Bitcoin. It also performs a background check. 
PrimeRecruit - Automated calling systems
It uses machine learning over IVRs, Chatbots, and automated calling systems to onboard candidates and also convinces them to download the PTC application. 
Prime Parser - Matches resume with Skill Community
This digital tool applies Machine Learning and Data Analytics to match the resume with the right skill community. 
Skill Communities are nothing but the collection of resumes with similar skills which are developed using blockchain technology. 
Prime Talent Chain incentivizes the participants with coins to peer review candidate and ensure that profiles are ideal for industries across the world. With zero transaction cost, users can now make the fastest transactions. As the entire ecosystem is developed on its own customized blockchain, users don't have to worry about gas prices or congestion in the network.  
With PTC, let's march towards a better, faster and decentralized recruitment industry.  Invest in PTC coins for a 'never before experience' in the hiring process.