How can PTC Repair the Fragmented Recruitment Industry?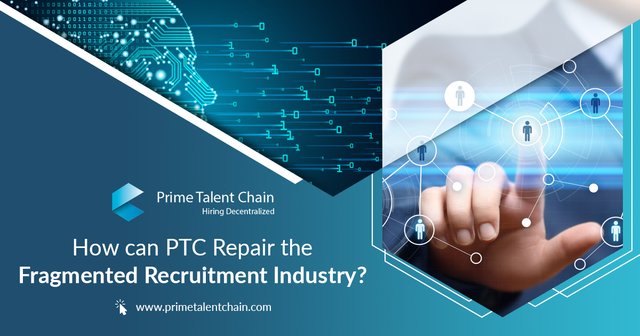 Is recruiting easy? Of course, not. The industry is repleted with issues that make hiring a difficult and time-consuming process. Companies are tussling hard to find the right candidates for their businesses. It has been found in a survey that it takes around 52 days for average recruitment.

Recruiters face issues such as lack of good candidates, high costs in hiring, large pools of resumes, and so on. Some of the key challenges faced by jobseekers are, 
Candidates search for a job through various sources such as social media, advertisements, employers websites, job portals, advertisements, and so on. Due to the absence of one relevant platform, candidates rely on various sources and that makes job seeking an excruciating process.

Candidates apply for a job after viewing job descriptions. But many a time, companies don't provide full-fledged information and details about the job. Sometimes the job descriptions posted on websites and job portals are completely misleading.

Some companies have way too many rounds of interviews, long application processes, lengthy hiring cycles with reference and background checks. This drains the candidate both physically and mentally.  

Employers receive thousands of applications for a job opening and it is not practically possible to send individual replies to all of them. Job seekers wait to hear back from them for a long time.
How to Revamp the Recruitment IndustryPrime Talent Chain offers a unique solution that will revamp the haphazard recruitment industry. Offering decentralized staffing solutions, PTC will change the face of recruitment as follows,

Imagine an ecosystem, where recruiters and job seekers are incentivized with tokens to peer-review and to have access to high-quality profile! That's how a decentralized system works! No intermediaries!

Artificial Intelligence and Machine Learning
AI and ML will save the time and money of employers & job seekers by matching the right talent pool with the right opportunities.

The increasing amount of data needs to be streamlined properly. It is necessary to convert the data into information; Big Data converts data streams to proven and analytical rules that alert hiring managers to take appropriate action.
Thus, PTC revamps the recruitment space with its decentralized and advanced solutions. Get ahold of PTC coins and make good fortune in a short span of time.