An Insight Into The Prime Talent Chain and The Blockchain Functionalities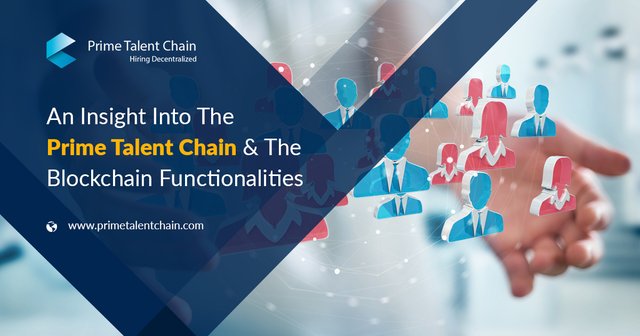 Prime Talent Chain is an end-to-end mobile platform that offers one-of-a-kind recruitment solution by integrating Blockchain, Big Data, AI and Machine Learning. The platform offers to transform the employers/ HR to access to the best resumes through the databases. But these databases are racked with problems concerning both the job seeker and employer's side. 
The concept of transparency is muddled, and this is where Blockchain comes in. The decentralization of Blockchain is preferred as the horde of resumes in the network are owned, controlled and authenticated by Blockchain. By employing Blockchain, a direct communication channel is open between hiring managers and candidates, thereby eliminating any need for centralized intermediaries such as job boards and recruitment agencies. 
The use of Blockchain also solves the problem of background checks. The candidates' records, identity proof, academic proofs and more can be validated and stored for further uses.
PTC employs a four-step process that makes up for the whole ecosystem of the recruitment process. 

Prime Source - Resume Sourcing AlgorithmThe algorithm works in such a way that it collects resumes from multiple sources. Through predictable analysis, it also sources the resumes of passive job seekers. 
PrimeScreen - Technology-enabled tool with a preliminary background checkThis tool eradicates the need for extensive search engines by applying Artificial Intelligence, Blockchain, and Bitcoin. It also performs a background check. 
PrimeRecruit - Automated calling systemsIt uses machine learning over IVRs, Chatbots, and automated calling systems to onboard candidates and also convinces them to download the PTC application. 
Prime Parser - Matches resume with Skill CommunityThis digital tool applies Machine Learning and Data Analytics to match the resume with the right skill community. 
Skill Communities are nothing but the collection of resumes with similar skills which are developed using blockchain technology.

Summing-Up
Prime Talent Chain is the next step in revolutionizing the hiring and staffing industry and has plans to reduce the hiring costs and time taken to choose a candidate by more than 75%. Investing in PTC would help investors to be part of a growing community and also rake in profits. 
Join Telegram: PrimeTalentChain