OKEx is Going Farther to More Former-Soviet States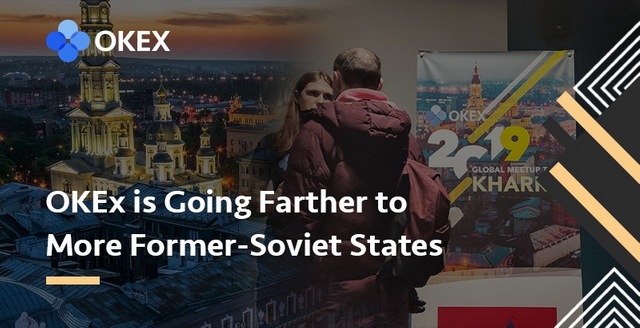 A list of crypto-friendly countries would not be complete without naming the former-Soviet states.
After the breakup of the Soviet Union in 1991, former-Soviet states have been eager to restructure their outmoded financial systems through different ways, but the chance didn't come until the creation of Bitcoin in 2009. Since then, many of the states have begun to look to blockchain and cryptocurrencies as a hope to make a comeback, economically and politically.
Among them, the proactive participation of Ukraine and Armenia in blockchain has caught our attention.
Ukraine — where Bitcoin and Satoshi are worshipped
The country is no stranger to us and the crypto space. Despite the fact that the government has not legalized cryptocurrencies, crypto mining has already become one of the robust economic activities in Ukraine since a few years ago, with a recorded USD 80 million invested.
While a number of high-ranking officials are reported actively participating in crypto trading, the Minister of Economic Development revealed that the government was planning to include crypto-mining into the official state register of economic activities in March last year.
Besides mining, trading activities can be found easily online and offline. There are more than 20 cryptocurrencies of about USD$2 million in value involved in daily trading. Hundreds of brick-and-mortar businesses accept Bitcoin and its likes for payment, showing signs of mass adoption every crypto enthusiast is keen to see.
In Kiev, the interest in cryptocurrencies is demonstrated in a way that a statue of Satoshi Nakamoto, the pseudonymous creator of Bitcoin, was even ordered to build in the same place where a Lenin statue used to stand.
Given the Ukrainian people's passion for crypto and blockchain, we are very excited to revisit the country in her second largest city, Kharkiv, to meet the local community.
We are very pleased to have Anton Bosenko from NEM, Iaroslava Tkalich from Paytomay, and Nazar Polyvka from Axon gracing our meetup as guest speakers and shared a lot about their blockchain technology can bring changes to the development-thirsty country.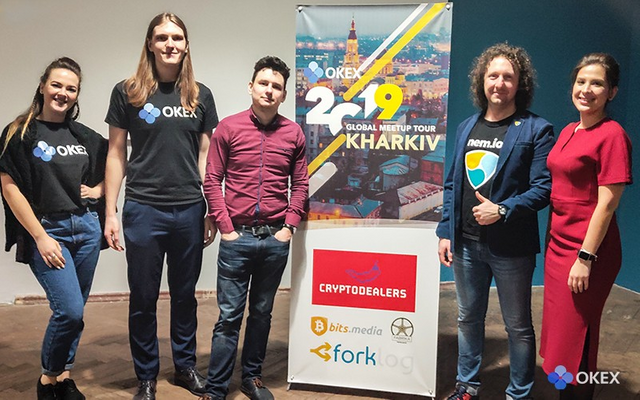 Iaroslava Tkalich, Anton Bosenko, and Nazar Polyvka (right to left) joined us at OKEx Global Meetup Tour @ Kharkiv, Ukraine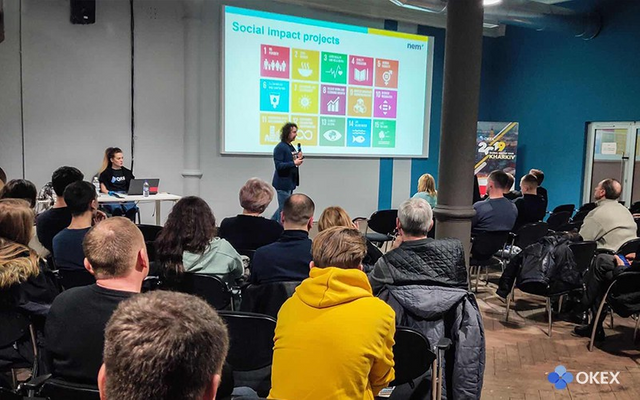 OKEx Global Meetup Tour @ Kharkiv, Ukraine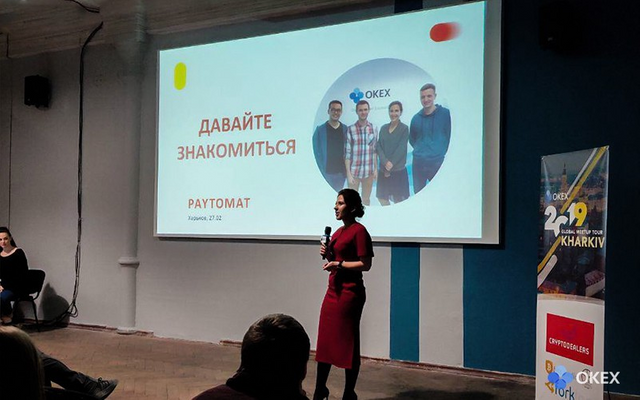 OKEx Global Meetup Tour @ Kharkiv, Ukraine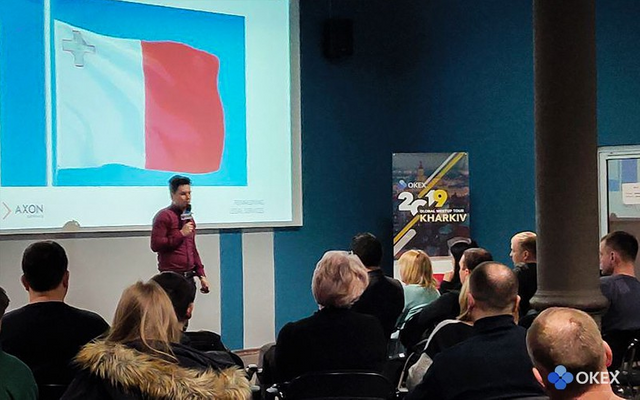 OKEx Global Meetup Tour @ Kharkiv, Ukraine
Armenia — a crypto haven on the rise
While its neighbor, Georgia, is rushing to make fast money with crypto mining, Armenia is also racing to establish its nation-wise mining business. But on the top that, the ex-Soviet country also has its own long-term plan to re-create a Silicon Valley by establishing a free economic zone to nurture a state-of-the-art technology center in the region.
Without a shadow of a doubt, Armenia is actively embracing all the chances blockchain and cryptocurrencies have to offer, from crypto mining, blockchain ballot, to innovations and digital transformation.
"The questions of implementation and use of the distributed ledger technology are becoming more and more relevant every day as it affects all the spheres of our activity," said the Minister of Economic Development and Investment Suren Karayan on Armenian Blockchain Forum 2018
The current landscape of local blockchain development is small but burgeoning. According to local industry players, a number of tech firms in the country focus on outsourcing services, such as smart contract writing for overseas companies. As the government remains a soft touch on regulating blockchain and cryptocurrencies, Armenia is expected to join other crypto-friendly countries in legalizing the technology very soon.
On February 22, we are very excited to step on the Armenian soil for the very first and hosted our first meetup in Yerevan. To celebrate this milestone, we invited an extended lineup of 6 speakers to join the event, namely Pavel Aramyan BetConstruct, Anait Ambartsumyan from Fasttoken, Gevorg Hakobyan from Elawphant Law Firm, Tigran Asriyan from Coinbox, and Eduard Avetisyan from Mutable Inc..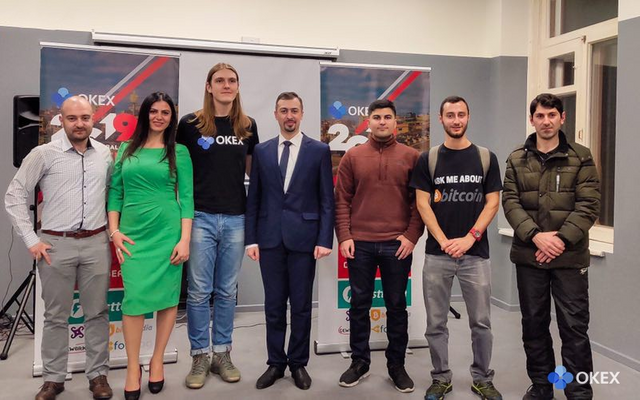 (From left to right) Pavel Aramyan, Anait Ambartsumyan, Yan Kwest (OKEx's Community Manager), Gevorg Hakobyan, Tigran Asriyan, and Eduard Avetisyan at OKEx Global Meetup Tour @ Yerevan, Armenia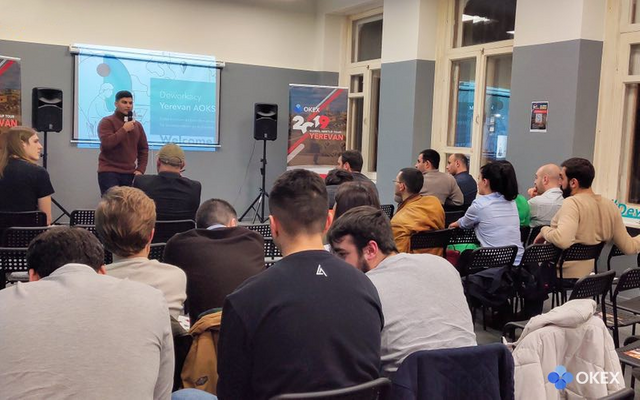 OKEx Global Meetup Tour @ Yerevan, Armenia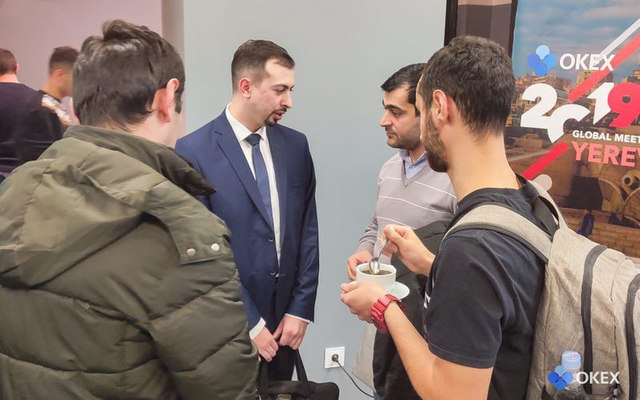 OKEx Global Meetup Tour @ Yerevan, Armenia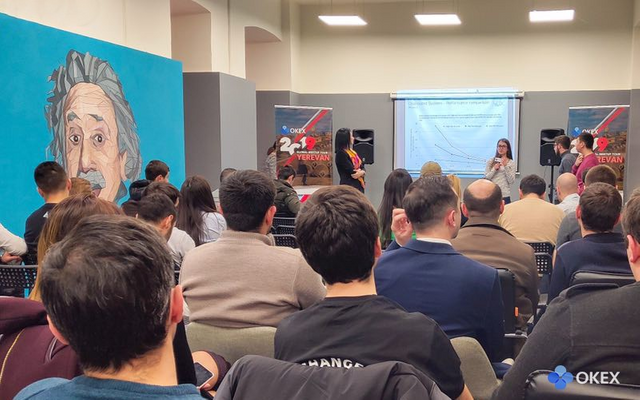 OKEx Global Meetup Tour @ Yerevan, Armenia
Follow OKEx on:
Twitter: https://twitter.com/OKEx
Facebook: https://www.facebook.com/okexofficial/
LinkedIn: https://www.linkedin.com/company/okex/
Telegram: https://t.me/okexofficial_en
Instagram: https://www.instagram.com/okex_exchange
Medium: https://medium.com/okex-blog
Website: https://www.okex.com