4 Facts About GRIN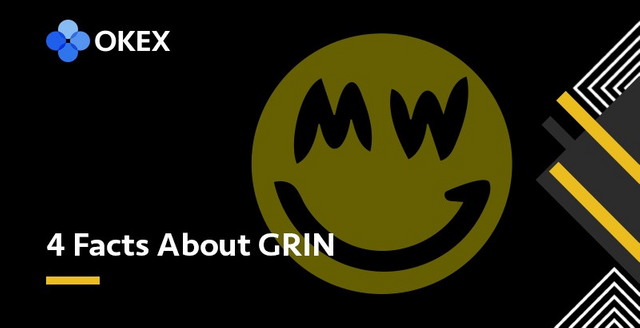 1. What is GRIN?
Debuted on January 15, 2019, GRIN is a blockchain that focuses on privacy and scalability. It adopts the innovative MimbleWimble protocol to change how transactions are constructed in Bitcoin.
2. The MimbleWimble from Hogwarts to Crypto
Does the name "MimbleWimble" sound familiar to you?
Dubbed as one of the most promising crypto protocols, MimbleWimble got its name from the Harry Potter universe — a tongue-tying spell that forbids someone from talking about a specific subject. The crypto MimbleWimble serves a similar ability as its counterpart, which fuses transactions together so that they become unreadable by a third party.
What's more interesting is that the anonymous founder of the protocol was called Tom Elvis Jedusor, aka the famous, unspeakable villain "Lord Voldemort" from the same fantasy world. Later in November 2016, another cryptographer named Ignotus Peverell, also a character from Hogwarts, released the first implementation of MimbleWimble — and this is how Grin was born.
3. Privacy is the top priority
Grin prides itself as a highly-anticipated privacy coin. Unlike most of the other digital assets, all the transaction values are anonymous, non-transparent and untraceable on its secure peer-to-peer system. The trading wallets communicate with each other to exchange data, so that only the participating parties can see the data and the information. What's better is that the parties don't necessarily need to be online at the same time during the transaction.
4. Go Smaller
Grin is also very scalable since it uses a different data storage method than Bitcoin, which needs only about 10% of the Bitcoin network to keep track of the blocks. The MimbleWimble technology compresses the size of the blockchain by eliminating the output of the first transaction and the input of the second transaction, leaving only one input and one output. Users can hence download and verify the blockchain significantly more efficiently.
Ready to trade?
OKEx's first OKNodes exchange — CoinAll — offers the trading pairs of GRIN/USDT, GRIN/BTC, and GRIN/ETH. If you are already an OKEx user, you can log into CoinAll without further registration. Simply transfer your funds from OKEx to CoinAll and you may start trading anytime.
Risk Warning: Trading digital assets involves significant risk and can result in the loss of your invested capital. You should ensure that you fully understand the risk involved and take into consideration your level of experience, investment objectives and seek independent financial advice if necessary.
Follow OKEx on:
Twitter: https://twitter.com/OKEx
Facebook: https://www.facebook.com/okexofficial/
LinkedIn: https://www.linkedin.com/company/okex/
Telegram: https://t.me/okexofficial_en
Instagram: https://www.instagram.com/okex_events
Medium: https://medium.com/okex-blog
Website: https://www.okex.com